Calamiteitenroutes
From Wazeopedia

We are currently updating the pages to include all regionally different guidelines. If you find inconsistencies, please refer to the English page. Thank you!
Calamiteitenroutes
Calamiteitenroutes in Belgium and are permanent routes that are used to reroute traffic in case of a closure of the main road.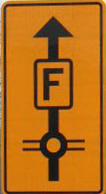 The route identification can be added as alternative name to the street name.

The road type should be at least Minor Highway.

Calamiteitenroute
The Belgium Calamiteitenroutes are marked with a single character, like F.
You can find more information on Calamiteitenroutes on wegenenverkeer.be.