Lieu signalé
From Wazeopedia
---

We are currently updating the pages to include all regionally different guidelines. If you find inconsistencies, please refer to the English page. Thank you!
Lieu signalé
Les lieux signalés sont des points d'intérêt qui posent problème.
Exemple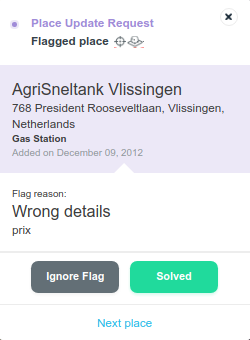 Dans cet exemple, un utilisateur a signalé un prix incorrect à la station-service. Il n'est sans doute pas au courant que n'importe quel Wazer, comme lui, peut les mettre à jour.

Au niveau du WME, nous ne pouvons pas y faire grand-chose. Il n'y a malheureusement aucun moyen de communiquer avec la personne qui le signale (le nom d'utilisateur n'est pas affiché, et il n'y a pas de case pour insérer un commentaire). Le seul moyen de régler ce genre de cas est de cliquer sur "Ignorer".