Gerapporteerde plaats
From Wazeopedia
---
Outdated translations are marked like this.

We are currently updating the pages to include all regionally different guidelines. If you find inconsistencies, please refer to the English page. Thank you!
Gerapporteerde plaatsen verwijzen naar plaatsen met een gerapporteerd probleem.
Voorbeeld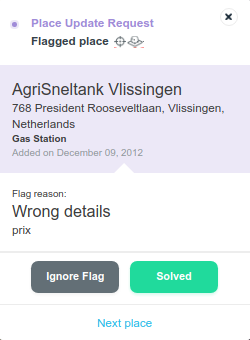 In dit voorbeeld meldt de gebruiker een incorrecte prijs voor dit tankstation. Hij is waarschijnlijk niet op de hoogte dat Wazers de prijzen zelf kunnen updaten.

Vanuit WME kunnen we hier niets aan doen, we kunnen helaas niet communiceren met de melder (de gebruiker wordt niet vermeld en er is geen vak om te reageren). Er is dus geen enkele manier om dit op te lossen en in dit geval kan je enkel "Melding negeren" selecteren.