Station Service
From Wazeopedia
---
Outdated translations are marked like this.

We are currently updating the pages to include all regionally different guidelines. If you find inconsistencies, please refer to the English page. Thank you!
Station service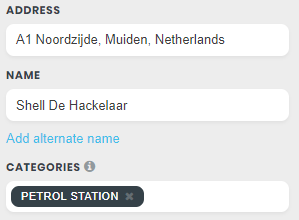 Ce type de
Point d'intérêt
est toujours dessiné en tant que
Zone
de minimum 500m² et doit être cartographiés aux limites de propriété (ou au minimum à la zone de manœuvre de la station service) pour être visible sur l'application. C'est une des sous-catégorie de
Entretien automobile
. Pour des stations service de plus grande taille, une route peut être utile pour la navigation vers et depuis la zone. Cette route devrait être dessinée en tant que
voie de stationnement
où la vitesse de 20km/h est encodée.

Il y a plus d'informations contenues dans une zone Station service que ce qui est visible dans WME, comme les carburants disponibles ainsi que les prix correspondants. Par pays, quatre types de carburant sont disponibles, ceux-ci étant affichés pour toutes les stations service.
Les stations service ont toujours un nom au format <⛽️> <Marque> <Nom de station> , par exemple "⛽️ Shell Flemalle". Ce nom peut être trouvé sur le site web de la marque. Choisissez la marque depuis le menu déroulant. Si le nom n'est pas suffisement clair pour situer la station, créez un nom alternatif tel que "⛽️ Shell nomdelaville" N'utilisez pas les "easy, express et autres mais privilégiez plutôt la marque principale (dans le menu déroulant) de manière à avoir toutes les stations de la marque visibles dans l'app quand vous choisissez une marque particulière (si vous avez par exemple une carte essence) Laissez cette option vide si la marque n'est pas listée.

Si la station service inclus également une boutique, vous pouvez la choisir en tant que catégorie secondaire (uniquement si les heures correspondent). Si la boutique a des heures d'ouvertures différentes, par exemple lorsqu'il est possible de faire le plein la nuit via paiement automatique (par carte), créez un Point supplémentaire pour la boutique et renseignez la catégorie "Commerce de proximité" en indiquant le nom (officiel) du shop. Par exemple "Shop&Go".

Si la plupart des stations ont des nom de société comme c'est le cas pour ARAL au Luxembourg, on indique le nom de la localité en primaire et le nom de la société en secondaire tel: "⛽️ ARAL Howald" et "⛽️ Petronelli Antonio".

N'hésitez pas à consulter la page: https://www.waze-belgium.be/edition-points-interet/ ou communiquer sur SLACK: http://bit.ly/waze-belux avec les éditeurs locaux.

There is more information contained in an Gas station Area than can be viewed in WME, such as available fuels and corresponding prices. Per country four fuel types are available, which are shown for all gas stations. Gas stations always get the name in the format <Brand> <Name Gas station>, for example "Shell De Rotonde". Choose the Brand from the drop down menu. Leave this option blank if the brand is not listed.
Use as brand name for gasoline stations the core <Brand> without an Express extension. If all Express stations are renamed to the core brand, the brand names with the Express extension will be removed from the dropdown list.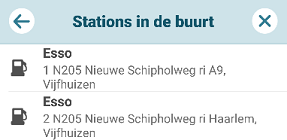 To distinguish between gasoline stations of the same brand, located on both sides of a highway, the direction can be added to the streetname. Add behind the street name ri plus a short indication where that side of the highway leads to.
If the gas station also includes a shop, you can choose that as a secondary category. If the shop has different opening times, for instance when at night gas taking is still possible via automatic payment, make an extra Point Place for the shop and categorize it as "Convenience Store".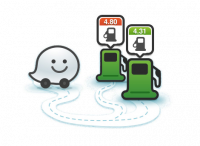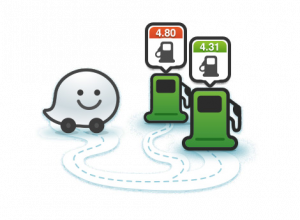 Le Wiki global a une description étendue des stations service (en anglais). S'il y a différences dans les lignes directrices, rappelez-vous que les lignes directrices du BeLux prévalent quand elles sont appliquées aux cartes de Belgique ou du Grand-Duché de Luxembourg.

Les stations service dans le BeLux sont verrouillées au niveau 3 ou aussi haut que votre niveau le permet (si votre niveau d'éditeur est inférieur à 3). Sur les voies rapides (autoroutes et Nationales) elles sont verrouillées au même niveau que la route.


The global Wiki has an extended description of Gas Stations. If there are differences in the guidelines, remember that the guidelines in the BeLux precede when applied to the map in Belgium, the Netherlands, or Luxembourg.
Gas stations in the BeLux are locked at level 3 or as high as your own level. On highways, as part of a Service Area they are locked on the same level as the road.