Flèches de jonction
From Wazeopedia
---
Outdated translations are marked like this.

We are currently updating the pages to include all regionally different guidelines. If you find inconsistencies, please refer to the English page. Thank you!
Flèches de jonction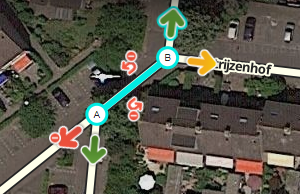 Quand vous sélectionnez un segment, vous pouvez définir les directions autorisées vers les autres segments en cliquant sur les flèches à l'intersection des segments. Ces Flèches sont aussi appelées Restriction de directions or TR.

Généralement:
Une Flèche verte signifie Autorisé
Une Flèche Jaune signifie Restrictions Partielles (Horaire ou en fonction du type de véhicule)
Une flèche rouge signifie direction interdite.
Cliquer sur une flèche change la direction d'autorisée à interdite (ou de partiellement à totalement interdite) et vice-versa.

Chaque flèche doit être définie adéquatement afin que Waze route correctement. Le statut initial des directions est fixé automatiquement par le moteur de routage. A ce moment les directions sont définies comme 'Soft turn'. Ces directions ne sont pas encore confirmées par un éditeur, vous pouvez les repérer grâce au petit point d'interrogation à proximité. Les 'Soft turn' peuvent être modifiés par le moteur de routage en fonction du trafic. Une fois que les directions ont été confirmées, elles ne seront jamais modifiées. Malheureusement, les directions interdites tant automatiques que manuelles, représentées par des flèches rouges ne peuvent être distinguées l'une de l'autre. Pratiquement, quand vous utilisez l'option pour autoriser toutes les directions, elle ne va pas complètement changer les réglages automatiques vers manuels, laissant ainsi peut-être ce qu'on appelle des 'Revcons'. Pour résoudre ce problème, il faut sélectionner la jonction avec la souris, ensuite dans le panneau de gauche, cliquer sur le bouton 'Interdire toutes les directions' ensuite cliquer sur le bouton 'autoriser toutes les directions'. Il est possible de faire la même chose en utilisant les raccourcis clavier, a savoir q pour interdire toutes les directions, suivit de w pour les autoriser.

Voir la section Réglage des directions autorisées du Wiki global pour plus d'informations.
Voir également la page globale Directions automatiques ou manuelles.

Raccourcis clavier pour les flèches de jonctionː
Presser s pour séparer les flèches superposées.
Presser a pour rendre les flèches transparentes ou opaques et ainsi voir ou cliquer des éléments se trouvant sous elles.
Presser q pour interdire toutes les directions
Presser w pour autoriser toutes les directions
Presser ⇧ Shift+z pour basculer de la vue de toutes les directions d'un segment vers la vue de toutes les directions interdites de toutes les jonctions présentent sur l'écran.
N'oubliez pas de revenir à la vue initiale si vous êtes en train de régler les flèches de direction d'un segment.


Ronds-points
Les ronds-points ont leur propre jeu d'instructionsː Pour un rond-point standard (4 sorties) l'instruction est par exemple Au rond-point tournez à gauche. Pour les autres ronds-points l'instruction sera par exemple Au rond-point prenez la 3éme sortie. C'est instructions sont définies par l'angle avec lesquels les routes sont raccordées au rond-point.
In General:
A green arrow means Allowed
A yellow arrow means it is Partially Restricted (time or vehicle-type based)
A red arrow with the circle-slash icon means Restricted
Clicking an arrow toggles between Allowed and Restricted (or, between Partially and Fully Restricted).
Each arrow must be set correctly for Waze to route correctly. Initial turn restrictions on roads that are imported by Waze, are set automatically by the Waze routing engine. At the moment these are called Soft turns. They are not yet confirmed manually by an editor and you can recognize them at the little question mark next to it. The soft turns can be altered by the routing engine, based on the driving activity. Manually set turns will never be altered by the routing engin. Unfortunately, both automatic and manually restricted turns are represented by red arrows and cannot be distinguished. Currently, when you use the option to enable all turns, it will not fully change the routing from automatic to manual setting, leaving possible so called RevCons. To clear these, select the junction with the mouse. Then, in the left menu pane, click the link to "Disallow all turns" and then "Allow all turns". Alternately you can use the keyboard shortcuts, by pressing the letter q to disallow all connections, followed by w to allow all connections.
See the section set allowed turns in the global Wiki for more information.
See the also global page on Soft and hard turns.
Keyboard Shortcuts for junction arrowsː
Press S to separate overlapping arrows.
Press A to make arrows transparent or opaque, so you can see beneath them or click items under them
Press Q to disallow all turns
Press W to allow all turns
Press ⇧ Shift+z to toggle between seeing the turns for one segement, or seeing all restricted turns (red arrows) for all junctions in your screen. Don't forget to toggle back if actually setting the junction arrows on a segment.
Remplacement des instructions de direction par défaut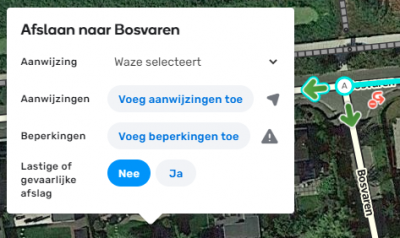 Le remplacement des instructions de direction par défaut (TIO) est une fonctionnalité du WME qui permet à l'éditeur de modifier l'instruction vocale afin de lui donner une valeur autre que le texte par défaut de l'instruction verbale au conducteur.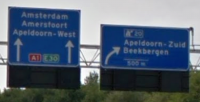 Si sur autoroute des panneaux indiquent qu'il faut aller tout droit, et qu'il y a confusion avec des séparation de bandes, l'instruction vocale des
flèches directionnelles
doit être "Continuer tout droit".
Par exemple si 2 bandes se rajoutent à droite de 2 bandes existantes, on n'indiquera rien sur le 2 bandes initiales allant tout droit. Par contre si un route à 4 bandes se sépare en 2 direction différente, il est utile de forcer l'instruction pour aller tout droit. Normalement on ne force pas l'instruction d'aller tout droit.

Note: Si vous trouvez un mini segment sur la carte permettant de forcer une instruction, vous pouvez le supprimer car il maintenant possible de forcer l'instruction grâce au TIO.
Note: A micro-dogleg (mDL), was a technique used for altering the angle Waze sees at a junction, which affects turn instructions. The TIO replaces the mDL technique as the standard way for forcing turn instructions..