Junction Box
From Wazeopedia
---
Outdated translations are marked like this.

We are currently updating the pages to include all regionally different guidelines. If you find inconsistencies, please refer to the English page. Thank you!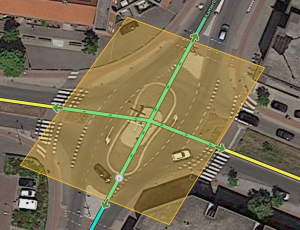 Junction boxes (JBs) worden gebruikt om ETA berekeningen te verbeteren en voor routing door moeilijke kruispunten en knooppunten. Junction boxes worden getoond als meerdere segmenten met meerdere in- en uitgangen. Ze zijn eigenlijk een hint dit editors aan de Waze routing service kunnen geven dat ondanks dat er verschillende kleine segmenten bij elkaar liggen, ze eigenlijk als that "although these few segments are cut in a knooppunt moeten gezien worden met verkeer uit verschillende richtingen.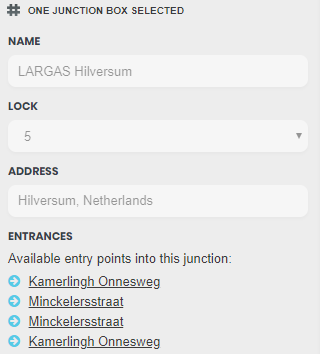 Een complex kruispunt als één punt beschouwen heeft verschillende voordelen:
Speed data voor elk pad door de junction box kan apart verzameld worden.
Turn restrictions kunnen afzonderlijk voor elk pad door de junction box ingesteld worden.

Voor ETA redenen beschouwt de routing server segmenten niet als één geheel in de junction box, maar hij beschouwt de junction box alsof alle segmenten die in of uit een junction box gaan als verbonden met dezelfde alleenstaande junction node.

Junction boxes worden enkel door de routing server gebruikt. Junction boxes hebben geen effect op de navigatie commando's. Junction boxes zijn niet zichtbaar in de app of de live map. Junction boxes hebben geen invloed op de zoek functie; de startplaats of bestemming kunnen in een junction box zijn.
Considering a complex intersection as a single point has several beneficial properties:
Traffic speed data for each path through the junction box can be collected separately.
Turn restrictions can also be separately controlled for each path through the junction box.
For ETA purposes, the routing server does not consider segments wholly within the junction box, but rather treats the junction box as if all the segments which enter or exit the the junction box are connected to at a single junction node.
Junction boxes are considered only by the routing server. Junction boxes have no effect on navigational prompts. Junction boxes have no visibility in the client or on the live map. Junction boxes do not effect the search engine; the origin or destination of route may be contained in a junction box.