Carte en temps réel
From Wazeopedia
---
Outdated translations are marked like this.

We are currently updating the pages to include all regionally different guidelines. If you find inconsistencies, please refer to the English page. Thank you!
Carte en temp réel
La carte en temps réel est une version internet opérationnelle représentant la carte Waze de votre smartphone avec le trafic et les rapports des wazers. Celle-ci peut être utilisée par des éditeurs pour visualiser les instructions fournies par l'application quand les erreurs de carte sont simulées.

Passez sur la carte en temps

A partir de WME avec le affiché dans le coin inférieur droit.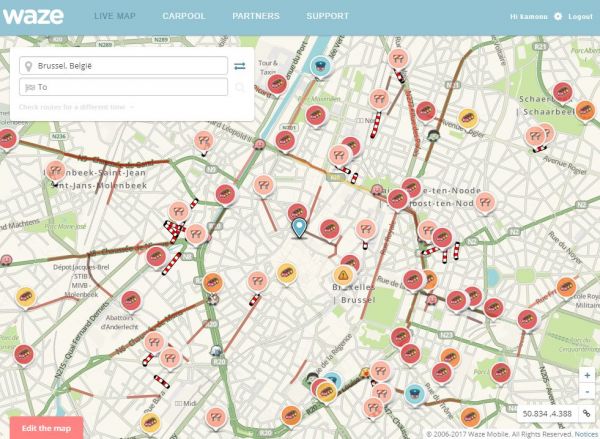 Request the Live map directly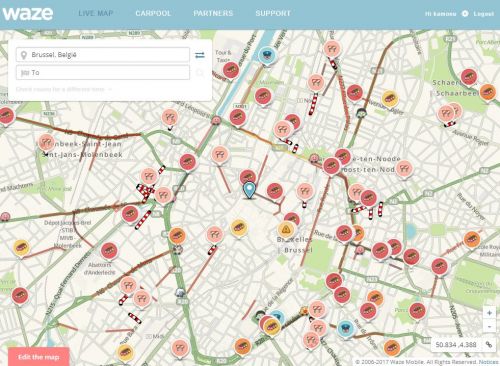 En cliquant sur Editer la carte dans le coin inférieur gauche vous démarrez l' éditeur de carte.
Pour créer un permalien cliquez sur le

.

Plus d'information sur le Wazeopedia global (en anglais).
More on the Live map see the global Wiki page.
Remarques
les demandes de mise à jour peuvent être introduites à partir de la carte en temps réel pour apparaître ensuite sur WME.
Les mises à jours sont parfois visibles sur l'application avant de l'être sur la carte en temps réel.
La mise à jour de la carte en temps réel est souvent en retard par rapport à l'application. Cette mise à jour est faite par zoom successifs et il se peut que les mise à jours rapprochées ne soient pas encore visibles.


Recherches:
Les POI's provenant de google apparaissent en premier sur la carte en temps réel alors que l'application propose prioritairement les de la base de donnée de Waze.
Si les POI's Google et les points d'intérêt existent séparément, les premiers résultats affichés seront ceux de Google. Cliquez sur Plus de résultats... pour recevoir les points d'intérêt de Waze (affichés en gras).

il est important de fusionner les POI Google et les points d'intérêt de Waze pour éviter ces problèmes
La navigation est toujours à jour même si la carte en temps réel ne l'est pas encore.
Searching:
The Live map uses above all Google places for proposing destinations. The app uses where possible the Waze Places.
The first set of destinations is offered by Google. Click on More results... to get also destinations offered by Waze. The Waze results are the ones that are displayed in bold characters.
The Waze routing and destinations are up-to-date, even if the Live map itself isn't.