Parking wegen
From Wazeopedia
---

We are currently updating the pages to include all regionally different guidelines. If you find inconsistencies, please refer to the English page. Thank you!
Parking Wegen
 Parking Lot Roads 
Road type Parking wegen (PLR) worden gebruikt voor:
Wegen op parkings. (voor grote, kleine, en parkings met 1 weg)
Wegen door een tankstation
Ze worden ook gebruikt voor in en uitrit van freeways, service areas

Attributes:
| Street | City | Lock |
| --- | --- | --- |
| | | 1 |
Geen street name, tenzij de parkingweg een officiële naam heeft. Gebruik geen namen zoals 'Parking Theater', hierdoor wordt de straatnaam niet te veel getoond. De naam van de parking kan je toevoegen aan Parking Lot Place.
Gebruik geen lock, tenzij je ongewenst wijzigingen wil voorkomen. Als je twijfelt, bespreek het dan met Community.
Service area Parking wegen worden gelockt op het niveau van de snelweg.
Een parkingweg geeft een grote bestraffing, dit om ongewenst verkeer over een parking te voorkomen.

Snelheid
Gebruik geen snelheidslimieten op Parking Lot Roads, tenzij er een indicatie is van de snelheid bij de ingang van de parking.
Keep it simple
Wegen op parkings moeten spaarzaam gebruikt worden, dit om samenklitten te voorkomen. Het belangrijkste is dat mensen naar en van een parking kunnen rijden. Voor kleine parkings, is een enkel segment vaak voldoende.

Verkeerd: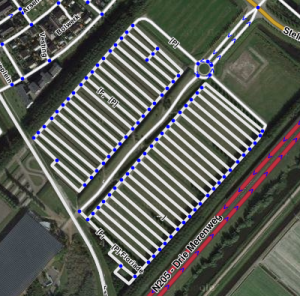 Goed: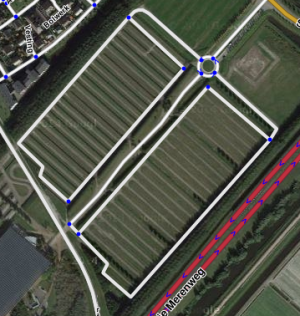 Voor grote parkings (BV een evenementen centrum), moet je enkel volgende wegen tekenen:
Hoofdingang aansluitend op de wegen buiten de parking
Wegen langs gebouwen
Wegen naast de hoofdwegen buiten de parking (dit om de verschillende snelheden te filteren)
Lange parking wegen om mensen van de ene naar de andere area the begeleiden.