Création d'une route (application)
From Wazeopedia
---
Outdated translations are marked like this.

We are currently updating the pages to include all regionally different guidelines. If you find inconsistencies, please refer to the English page. Thank you!
Créer une nouvelle route
La FAQ du Wiki global (en anlais) indique: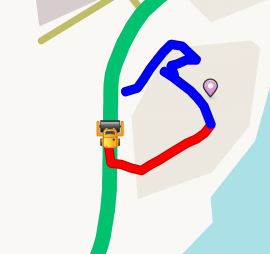 Une autre façon de construire de nouvelles routes consiste à utiliser le "buldozer" dans votre
application mobile
. Utilisez le bouton 'signalements'. Dans certains pays, il y aura un gros bouton avec une image d'un tracteur jaune. Dans les autres pays, choisissez "Problème de carte" puis "Paver" et suivez les instructions. Dès que vous vous éloignerez suffisamment d'une route connue, Waze commencera à enregistrer votre trajet sous forme de nouveaux segments de route, avec des jonctions (nœuds) au niveau de vos virages. Lorsque Waze détecte que vous êtes de retour sur une route connue, le mode de construction de route est automatiquement mis en pause.

Veuillez désactiver le mode de construction de routes lorsque celui-ci n'est pas nécessaire afin d'éviter l'enregistrement de routes en double causée par la de perte de signal GPS sur votre appareil mobile ou d'erreurs lors du téléchargement de certaines parties de la carte en raison d'une couverture réseau insuffisante.

Lorsque vous avez terminé, attendez que la route devienne rouge sur votre écran avant de désactiver le mode "création" pour vous assurer que le dernier segment est sauvegardé. Si vous avez accidentellement démarré le mode création de routes, veuillez rapidement désactiver celui-ci pour empêcher la sauvegarde.


Please turn off road building mode when it is not needed to prevent duplicate roads being recorded in case of GPS errors on your mobile device or errors downloading parts of map due to poor cellular phone coverage.
When you are done, wait until the road turns red on your screen before turning off paving mode to make sure the final segment is saved. If you have accidentally started to record a road in error, you can quickly turn off pave mode before it is saved.

Unvalidated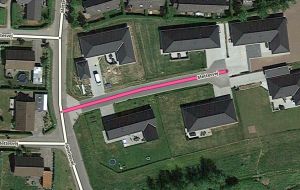 After paving, the created segments are still unvalidated. They are displayed with a pink color in the editor. Tidy up the segment, make the connections, add the specifics like name, speed. A tile update removes the pink color.