Hi Dror, on the | T junctions and one way roads chapter, which describes image Right_turn_1.png, it is not apparent at all, which of the three T-junctions with a one-way road you actually mean, as no one of them is anywhere near the middle of the screenshot ;-) (After deciphering the text I just suppose you mean going south over the Bakers Row.)
Well, a scary example; I'd actually hate any navi, which would suggest me there to "Continue straight on" :-(
--foxitrot 11:01, 23 January 2012 (UTC)
Does waze always choose a best continuation?
Some examples would help clarify this page.
How would waze handle this particular case:
[1]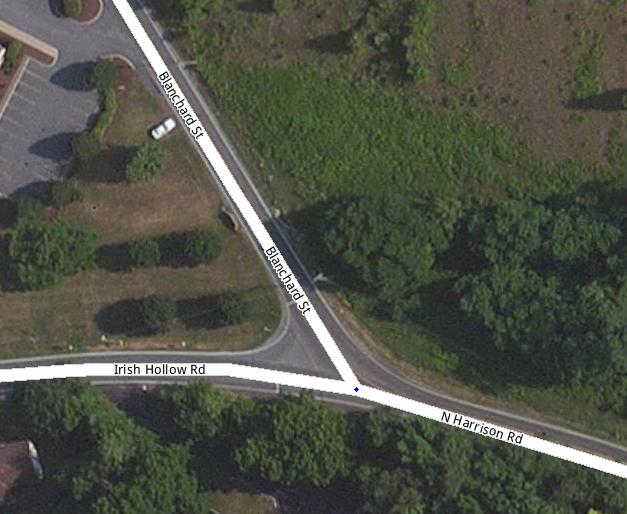 In my opinion, the natural directions when navigating from Harrison Road to Irish Hollow Rd would be "turn left onto Irish Hollow" or "continue onto Irish Hollow". When navigating from Harrison to Blanchard, the natural instructions I would give as a human being would be "turn right" or "slight right" or possibly "continue onto".
All three roads leading to this junction have different names but the same street type. Will waze pick a continuation regardless?
Despite how they are drawn in the picture, the reality of driving at this intersection is that regardless of which direction one approaches, one really needs to know whether to turn left or right (or "continue onto" one or the other.) There are stop signs at the end of Blanchard and the end of Irish Hollow. There is no stop sign when arriving from Harrison. How should these roads be connected in order to have waze do the right thing?
2014/06/08 The short answer is no, in this case approaching from the east going westbound Waze will give an instruction to Keep Left or Keep Right accordingly. -PesachZ