User:Ct13/Combined Names
From Wazeopedia
Area-Point combinations
There are some situations where it will be appropriate to mix both Area and Point Places. For example, shopping malls and shopping centers that could be considered a navigation destination themselves if they are large, distinct or well known, but there are also individual stores which are valid destinations.
When mapped in this manner, a mall would look like this: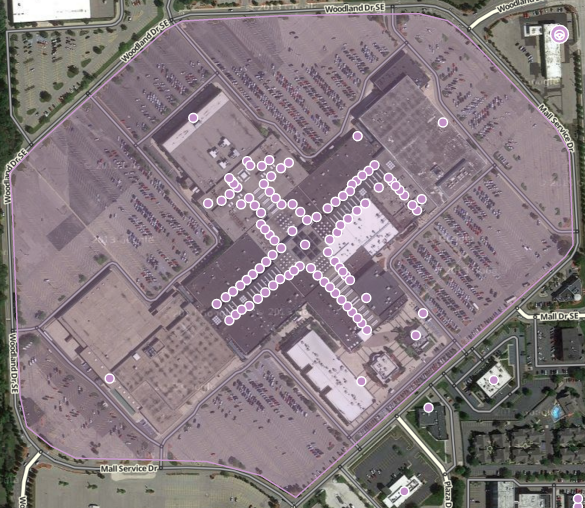 Combination naming
When naming a Point Place, which is contained within an Area Place, it may be desirable to include the Area's name in the Point Place name. If this is desirable, name the Point Places with the specific name first, followed by a hyphen, followed by the Area name, as such:

                 Point Specific Name - Area General Name

While combination naming can be used to clarify a location it should be used sparingly to create standardization and align with place harmonization efforts. Generally, chain locations do not need to be distinguished from one another, unless a place meet one of the reasons below.
Common scenarios where combination naming can be applied:
Chain locations which offer services that are not substitutes. i.e. "Holiday Inn - Chicago Midway Airport" vs "Holiday Inn - Chicago O'Hare Area"
Location is inside of an airport or behind a private entrance. "Starbuck - Dulles International Airport (IAD)" or "Dunkin' Donuts - The Pentagon"
Destination is less accessible than similar locations in the area. i.e. fast food restaurant in a mall or on a college campus. "Burger King - Mall of America" or "Chick-fil-a - George Mason University Student Union"
Locations that do not offer their usual, full services that are found at stand alone locations. i.e. "Starbucks - Target"
The context of the Place Point name is highly dependent on the Area Place name i.e. "Yulman Stadium - Tulane University"