User:Moweez/MMR India
From Wazeopedia
MapRaid! Tamil Nadu 2016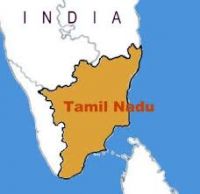 Start: tbd 2016 ??:00u IST
End: tbd 2016 ??:00u IST
Date and Times are approximate.
This MapRaid is for editors in India only. Registration is open to xxxx.
Please do not make any edits in the raid area until after the raid begins. This will allow us to get good mapraid statistics.
Goals
In order of importance:
Add top cities/towns
Ensure connectivity between those cities.
Mark all NH & SH correctly.
Add Speed Limits
Fix local issues within cities/towns.
Fix village names
Add Gas Stations
Solve URs and MPs
Improve Wiki page
Hosts
Communication
When working in the raid area, please set yourself to visible and the country as India in WME chat. Also, turn on the Live Users layer. This will serve to collaborate smoothly and get quick help at your location if needed.
We will use Slack as the main communication service. There is a special #raid channel for this raid. If you have trouble getting into the Slack team or channels, please reach out to one of the MapRaid hosts.
Raid Area
This MapRaid has only 1 group, working together in the state Tamil Nadu of India. We kindly urge you to stay within the raid area. Use the overlay as it will show the border.
Mapraid guidelines
India is on the World server. If you are on a different server (US, Canadian and Israeli visitors), and you enter an area at a different server, WME will warn you with an orange bar at the bottom to change. In the upper right hand corner of WME, where it says US & Canada, you can click it for a dropdown menu. To edit in India, change to the World server, commonly known as the ROW (Rest of the World) server.
People drive at the left side of the road. Distances are measured with the metric system. Make sure to have the right settings in WME. Also, in India, u-turns are allowed ánd used on almost every corner of the street. Please keep them allowed.
Because of national security legislations, civil and military Vital Areas (VAs)/Vital Points (VPs) should not be added to the map.
Keep in mind that if you are working in an area which has been edited recently, the Satellite Imagery may be out of date or something else is going on. Please be careful before changing others' work. You can always discuss it with one of the hosts or group leader.
You can find a lot of information in the Indian wiki pages, but the pages are in need of an update. Where applicable, we will refer to the correct info on these pages if they are needed or useful for the mapraid goal. We have made a special page with the latest updates. If there is anything unclear, please review the latest updates and/or just ask. We all want to have constructive edits and a good map in the end.
Add top cities/towns
district is the first identifier in a discussion. Only when more villages of the same name in a single district then neighbourhood (taluk) comes into picture
Ensure connectivity between those cities
Validate the routes provided by waze - with help of local wazer.
There are many aspects when we deal with connectivity. In the end, we all want drive to our destination in the fastest way. Therefore, we need roads. No roads, no navigation. These roads need to be connected, so there is a route possible from one to the other. The more experienced you get, the more you can do to improve connectivity, like using road types, naming, and corners, to improve routing and navigation instructions.
The first sub goal of connectivity is adding drivable roads.

Roads are build up from segments.
How to add roads is explained in the India Quick Start guide.
In India there are many narrow streets that are not drivable. See the extended explanation on Extremely narrow streets

These segments need to be connected in a good way

always check if a junction is working correctly
and don't forget that u-turns are allowed in India. You need to set these manually, as the default setting yields a restricted (red) u-turn.

Make sure to use the appropriate road type.
Check the corners and other aspects that are needed for good instructions (see detailed info)
We advise starting editors to stick with the first 2 sub goals of connectivity for the time being. If you want to learn more, ask a mentor to help you.
Adding Roads
If you notice any roads on the satellite layer that have not been added to the WME map, please first confirm that they exist before adding them. Make sure the road is complete, drivable, and is connected to the rest of the road network. Some clues you can use are:
GPS layer showing wazers are driving on the road
Street View on the road, showing it is in use
Information from local drivers who have been there (this can be you, if you have been there)
Some roads are partially completed. Before extending the road, make sure the "new" section is completed,drivable, and connected. If you are unsure about roads that were created by another editor before the mapraid, DO NOT delete them without instructions from a local host.
For more information on adding roads, please see India Quickstart#Roads.
Extremely Narrow Streets
The city of Bangalore, like in many locations in India. is extremely densely populated. Perhaps this is because they used to be villages that have been absorbed into one large city. Villages often have the same layout and structure. Many of the streets in these areas are too narrow to drive through, and shouldn't be allowed for routing. You can turn off the Roads layer to have a proper view on the Satellite Imagery.
As the pictures show, the primary street on the left side of the frame is a proper drivable road. On the right side, the buildings are densely packed and the streets are too narrow to drive through with a car.
If you see streets drawn over these areas, please turn the Roads layer off and verify if the roads are drivable or not based on the Satellite View. Also verify if there are NO GPS tracks by by turning on the GPS Points layer.
If both verifications confirm these streets are not drivable, delete them.
Always use extreme caution before deleting segments. If you have any doubt, please discuss it with your group leader, or contact one of the local map raid hosts.
Road Segment Locks
During the mapraid, please leave road locks as you find them, except for Freeways. Freeways may be locked to 5 after:
All ramps are connected
Stubs of lower-ranked roads are connected as needed, so that more editors may work on them.
After the mapraid, the roads will be locked to the locking standards for India. You can read more about road lock standards in India.
Mark all NH & SH correctly
A rough guideline to using Road types
The main roads in a district or town should at least be set to primary.
If segments will be used for through-going traffic or for longer distances connecting districts or towns, they should at least be mH (minor Highway)
Main interconnecting roads with fast traffic should ar least be MH (major Highway)
Please read the Quickstart guide to road types before changing the type.
Always make sure a road is at least connected to a same level of road type or higher. Thus, Waze should be able to route from primary to primary (or higher), from minor to minor (or higher), from major to major (or higher), and from Freeway to Freeway. Another way of explaining this, is that you should be able to continuously drive on the same or higher type of segments for the routing engine to use that road type in the calculations.
This means we need to sometimes make small roads mH, for the possibility of calculating long distance routing. Please discuss with the hosts/mentors if anything is unclear.
Add Speed Limits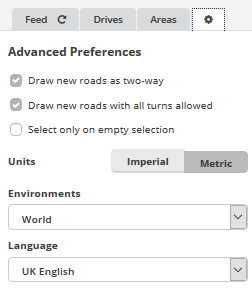 Although the fixing of the smudged city problem is a more important goal, we add this topic here as it can be added immediately with the previous goal.
Speed Limits in India are expressed in km/h. Always use the metric units setting (see picture) in WME when working with speed limits. There is a handy Speedhelper script that greatly facilitates entering speedlimits.
As we cannot use WME Street View to verify the Speed Limits, we will enter them according to the following guidelines: (to be modified)
| Road Type | default speed in km/h |
| --- | --- |
| Freeway | |
| Rural road, Major highway | 60? |
| Rural road, Minor Highway | 40? |
| Urban roads | 40? |
These are safe speeds and the Speed Limit Signs will be in this range.
(From Chris:
Street: 40 km/h
Minor Roads, Primary Streets (needs to be further defined)- 40
Major Roads (needs to be further defined): 60
Urban areas: ?
Rural areas: ?

Freeways: 80 km/h
All other roads outside cities: ?
https://en.wikipedia.org/wiki/Speed_limits_in_India?)
Notes:
The limits shown above apply only if there are no other signs present, as the signs may prescribe a lower or a higher speed limit. We are dependent on local editors to verify these speeds.
currently WME allows to specify only one speed limit for a single road segment. If a road has variable speed limits, we enter the lowest/highest/no speed limit -check(or map only the speed limit which is in effect most of the time during daylight hours (most hours of the day, days of the week). -check
Do not map advisory speed limits (generally blue rectangular sign with white lettering -check).
Do not map special speed limits for special vehicles. Waze only supports speed limits for private passenger cars.
Where the speed limit changes, make it change in the map. A new junction may need to be added, unless the remaining segment length is less than 20 meters.
Fix local issues within cities/towns
Fix village names
For the list of cities - the state captial, district HQ city/town, taluk HQ city/town + tourist destinations should be a good start.
Add Gas Stations
We would like to open up the Gas Stations feature in the Waze app and need to have as many Gas Stations as possible added to the map. You can find them via Street View, and searching the websites of Gas Station businesses.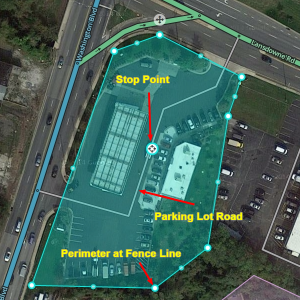 Gas stations (a.k.a Petrol pumps in India) should be marked according to the following guidelines:
A "Gas Station" is drawn as an Area Place.
The area is drawn over the entire forecourt, so it is visible on the map
Routes in and out should be mapped with type "Parking Lot Road"
All segments should have appropriate directions and junction arrows.
The correct brand of fuel should be selected.
Use the Place Name specified for the brand of fuel (see local wiki)
Add all of the alternate names for that brand (see local wiki)
If the station has a separate company name (Ex: Shaheed Jagat Singh Filling Station), add it in another Alternate Name field.
Address and phone numbers should be added, if known.
Lock a gas station at Level 2 to prevent loss of data. Gas stations on major highways need to be locked at Level 4 or above (ask your group for help if it is above your level)
For more information and how to add Gas Stations, see local wiki
Solve URs and MPs
URs (

update requests; map problems reported by waze users) and MPs (

automatically generated map problems) show where the map needs work. We must solve them to fix the map. URs also give us a way to contact our fellow wazers, who may become interested in editing.
Respond to URs in English.
Follow the guidelines below
You may use this list of responses to common UR problems to help you.
UR reporters are our partners in fixing the map. Always use friendly comments that show this. Always ask for information in a friendly way, thank them for working with you, and always leave a comment before closing.
If another editor is already working on a UR, communicate with them using Slack. You may find a solution together.
If one of the mapraid hosts has asked for more information before the mapraid began, you may begin to work that UR -- you do not need to ask for permission.
Some problems are easy. Some problems are difficult. Sometimes the reporter gives incorrect information. You can ask a more experienced editor for help solving a UR.
If you did not solve a map problem, do not mark the UR solved. If the problem is with the app, give the reporter a link to the waze support pages. If you did everything to handle the problem, but it can't be solved in the map, you can close it as Not Identified.
Recent URs (< 1 month)
If the report has enough information, please fix the problem. Tell them what you did. Say "thank you". Maybe they will send more helpful reports after this. After it is fixed, close the UR as Solved. Remember to send your closing comment.
If you need more information, ask. Be friendly, say thank you, and send.
If the reporter did not answer after 5 days, send a Reminder.
If the reporter does not respond to the reminder after 7 days, check again. Try to solve the problem. Check other URs in the neighbourhood for more information. If it cannot be solved, close the UR as Not Identified. Use a closing comment such as "I'm sorry we were unable to identify the problem. If it continues, please start a new report. Thank you for your help with the map" (or use the default response). Remember to send the comment.
Older Reports
Say we are working on the map and they can help fix the map if they want to (See default comment)
After your first response to the UR, allow at least 10 days before closing it.
Try to figure out the problem. Always look for other problems in the area.
Update the area before closing the UR.
Always leave a closing comment. Remember to send the message.
To learn more, please read about Update Requests. Follow the mapraid guidelines above.
Improve Wiki pages
As we are currently updating our Indian wiki pages, we can use your help. Tell us where it is unclear, needs examples, or when pictures are outdated. We are grateful for your feedback. You can use this form

to report your findings.
We are in the process of listing all updates to the guidelines in one page. Please check the latest updates if anything is unclear.
Mass edits and quality
We all want to drive with a good map! So, make sure you make quality edits that help all Wazers.
Your edits should always be constructive to the map. Be aware that we will monitor edits, so avoid unnecessary edits and hunting for points. Sanctions are strict, being banned from this and future mapraids. In addition, Waze throttles your edits and points when scripts are used excessively, meaning that you don't earn points for mass editing.
In short, if you make unneccesary edits:
You will not get credited for your edits.
You will not get any points for your edits.
You will be REMOVED from the MapRaid immediately.
Possibly banned from editing altogether.
Quality counts, not quantity!
If you are using a tool or script, you are fully responsible for its use and its consequences. Please make sure that you understand the features of the script you are using. You will be held accountable for any side effects.
If you are unsure about something, please ask.
Check and triple check.
We have great leaders here who can help you.
Let's make sure we do it right the first time, and set a great example for the rest of the world.
Editing Resources
Only use sources that are allowed by Waze.
Allowed sources:
Satellite Imagery and Street-view from within WME.
Websites from businesses.
NOT allowed sources:
Info from other Maps.
Google Maps
Google Street-view.
Warning: If you copy information from unauthorized sources, you may be removed from this mapraid. Also, every segment you edited may be removed from the map. Copying information from copyrighted sources is illegal!
Basic reference links
a printable double-sided tri-fold quick reference guide to some of the common topics used in WME. Please keep in mind it is made for USA originally, and some items do not apply.
Specific tools for this MapRaid
There is an [link| Overlay] to view the boundaries of the group areas via an extra layer. To use it, you need to have TamperMonkey (Chrome) or Greasemonkey (Firefox) installed. There is a short instruction movie on youtube guiding installation. The areas are kept simple for smooth working in WME. Please note that they may slightly differ from the actual areas you can edit during the raid.
Highly Recommended Tools
Many tools are essential for good editing, and others make the editing process much easier.
URComments
a time and labor saving tool for responding to URs. There is an adapted version for India available which you can get via Slack.
Read the documentation.
To use it, you need to have TamperMonkey (Chrome) or Greasemonkey (Firefox) installed.
Validator
This is a script that validates a map area in the Waze Map Editor, highlights issues and generates a very detailed report with U.S. wiki references and possible solutions. Keep in mind that the guidelines of of the country where you edit (if available on the subject) precede over the guidelines of the U.S..

WME Speedhelper
WME Speedhelper has made inputting speed data easy, with the use of handy speedsign images. You just need to select one or more segments and click the speed you want. If a segment isn't yet verified, don't worry, these checkboxes will be automatically checked.
To use it, you need to have TamperMonkey (Chrome) or Greasemonkey (Firefox) installed.
We encourage editors to learn how to edit without using scripts. If you start using scripts, always make yourself acquainted with the script before using it! There is a wiki page and a forum with more information about scripts.
!!PLEASE REMEMBER THAT YOU ARE RESPONSIBLE FOR THE USE OF ALL SCRIPTS!!