User:Dave2084/Colour Schemes/OS OpenData
From Wazeopedia
NOTE: This colour scheme is only suitable for Waze v3.x and will not work on v4.x.
A new daytime colour-scheme based on the Ordnance Survey colours used in their OpenData online maps:
This colour scheme is mainly intended for UK users.
This is a bold, high contrast colour scheme.
It is designed to be accessible to colourblind (CVD) users.
Railways and runways are shown.
---
Version History:
v1.0.0 (2 November 2014) - Initial Release
---
Download schema (Google Drive)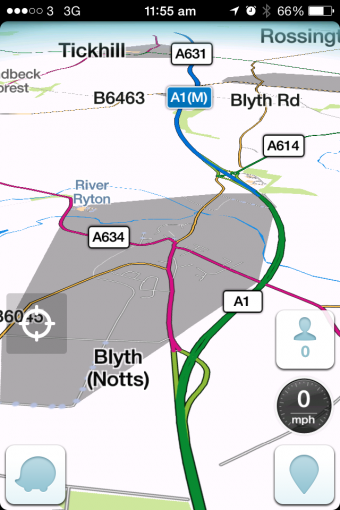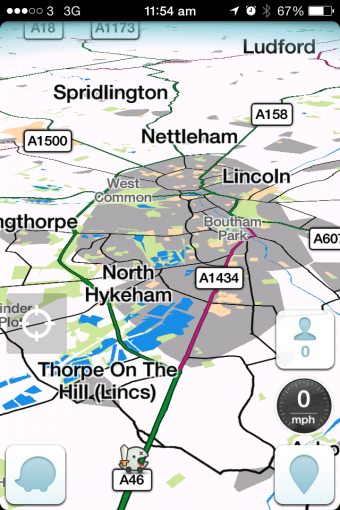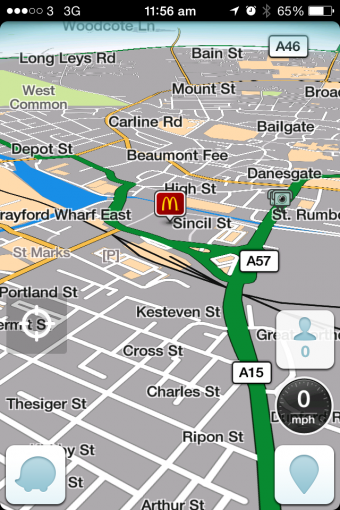 ##############################
#         OS OpenData        #
#        Colour Scheme       #
#         Created By         #
#          Dave2084          #
#       2 November 2014      #
#           v1.0.0           #
##############################



# General ###########

Map.Background: #fbfbfe
Labels.Color: #1f1f1f
Labels.BgColor: #ffffffbf

Console.Foreground: #000000
Console.Background: #edeae0



# Roads ###########

Freeways.Class: Road
Freeways.Color: #262730
Freeways.Color1: #0070d2
Freeways.Color2: #0070d2
Freeways.Declutter: 2147483647
Freeways.Delta1: -2
Freeways.Delta2: -2
Freeways.Thickness: 5

Primary.Class: Road
Primary.Color: #091e0f
Primary.Color1: #0b8b35
Primary.Color2: #0b8b35
Primary.Declutter: 2500
Primary.Delta2: -2
Primary.Delta1: -2
Primary.Thickness: 4

Secondary.Class: Road
Secondary.Color: #42303a
Secondary.Color1: #d41084
Secondary.Color2: #d41084
Secondary.Declutter: 2000
Secondary.Delta1: -2
Secondary.Delta2: -2
Secondary.Thickness: 4

Highways.Class: Road
Highways.Color: #0c0b0a
Highways.Color1: #f7bd4e
Highways.Color2: #f7bd4e
Highways.Declutter: 350
Highways.Delta1: -2
Highways.Delta2: -2
Highways.Thickness: 3

Streets.Class: Road
Streets.Color: #848484
Streets.Color1: #fcfcfc
Streets.Color2: #fcfcfc
Streets.Declutter: 120
Streets.Delta1: -2
Streets.Delta2: -2
Streets.Thickness: 2



# Ramps & Exits ###########

Ramps.Class: Road
Ramps.Color: #091e0f
Ramps.Color1: #8fb838
Ramps.Color2: #8fb838
Ramps.Declutter: 160
Ramps.Delta1: -2
Ramps.Delta2: -2
Ramps.Thickness: 4

Exit.Class: Road
Exit.Color: #beb28c
Exit.Color1: #ded2ac
Exit.Color2: #ded2ac
Exit.Declutter: 350
Exit.Delta1: -2
Exit.Delta2: -2
Exit.Thickness: 3



# Unpaved ###########

4X4 Trails.Class: Road
4X4 Trails.Color: #e0e0e0
4X4 Trails.Declutter: 160
4X4 Trails.Delta1: 0
4X4 Trails.Thickness: 1



# Railroads ###########

Railroads.Class: Road
Railroads.Color: #121212
Railroads.Color1: #121212
Railroads.Color2: #121212
Railroads.Declutter: 2147483647
Railroads.Delta1: -1
Railroads.Delta2: -1
Railroads.Thickness: 1
Railroads.LabelDeclutter: 1



# Runways ###########

Runways.Class: Road
Runways.Color: #c9bfae00
Runways.Color1: #c9bfae
Runways.Color2: #c9bfae
Runways.Declutter: 1500
Runways.Delta1: -3
Runways.Delta2: -3
Runways.Thickness: 2
Runways.LabelDeclutter: 1



# Ferry ###########

Ferry.Class: Road
Ferry.Color: #fcfcfc
Ferry.Declutter: 1500
Ferry.Delta1: 0
Ferry.Thickness: 2



# Private ###########

Private.Class: Road
Private.Color: #e0e0e000
Private.Color1: #e0e0e0
Private.Color2: #e0e0e0
Private.Declutter: 120
Private.Delta1: -1
Private.Delta2: -1
Private.Thickness: 1



# Parking ###########

Parking.Class: Road
Parking.Color: #e0e0e000
Parking.Color1: #e0e0e0
Parking.Color2: #e0e0e0
Parking.Declutter: 120
Parking.Delta1: -1
Parking.Delta2: -1
Parking.Thickness: 1



# No Vehicles ###########

Pedestrian.Class: Road
Pedestrian.Color: #e0e0e0
Pedestrian.Declutter: 160
Pedestrian.Delta1: 0
Pedestrian.Thickness: 1

Trails.Class: Road
Trails.Color: #e0e0e0
Trails.Declutter: 160
Trails.Delta1: 0
Trails.Thickness: 1

Walkway.Class: Road
Walkway.Color: #e0e0e0
Walkway.Declutter: 160
Walkway.Delta1: 0
Walkway.Thickness: 1



# Areas ###########

Stations.Class: Area
Stations.Color: #fadaaf
Stations.Color1: #8b857e
Stations.Declutter: 200
Stations.Delta1: 1
Stations.Thickness: 1
Stations.LabelColor: #817a7a

Cities.Class: Area
Cities.Color: #a9a9a9
Cities.Color1: #978785
Cities.Declutter: 2147483647
Cities.Delta1: 1
Cities.Thickness: 1
Cities.LabelColor: #090909

Airports.Class: Area
Airports.Color: #fadaaf
Airports.Color1: #8b857e
Airports.Declutter: 200
Airports.Delta1: 1
Airports.Thickness: 1

Hospitals.Class: Area
Hospitals.Color: #fadaaf
Hospitals.Color1: #8b857e
Hospitals.Declutter: 200
Hospitals.Delta1: 1
Hospitals.Thickness: 1

Malls.Class: Area
Malls.Color: #fadaaf
Malls.Color1: #8b857e
Malls.Declutter: 2147483647
Malls.Delta1: 1
Malls.Thickness: 1

Parks.Class: Area
Parks.Color: #cfe69b
Parks.Color1: #cfe69b00
Parks.Declutter: 200
Parks.Delta1: 0
Parks.Thickness: 1
Parks.LabelColor: #636362

Rivers.Class: Feature
Rivers.Color: #188ee5
Rivers.Color1: #188ee500
Rivers.Declutter: 300
Rivers.Delta1: 0
Rivers.Thickness: 3

Lakes.Class: Area
Lakes.Color: #188ee5
Lakes.Color1: #188ee500
Lakes.Declutter: 1300
Lakes.Delta1: 0
Lakes.Thickness: 1

Sea.Class: Area
Sea.Color: #188ee5
Sea.Color1: #188ee500
Sea.Declutter: 2147483647
Sea.Delta1: 0
Sea.Thickness: 1
Sea.LabelDeclutter: 100
Sea.LabelColor: #6383a0

Shore.Class: Feature
Shore.Color: #188ee5
Shore.Color1: #188ee500
Shore.Declutter: 2147483647
Shore.Delta1: 0
Shore.Thickness: 2


 
# Other ###########

Navigation.RouteColor: #9933ff
Navigation.PossibleRouteColor: #00ccff
Navigation.StopPointColor: #ff8cf6