Difference between revisions of "Scripts/WME Color Highlights"
From Wazeopedia
m

m (43 revisions imported)

 

(No difference)
---
Latest revision as of 10:54, 30 November 2015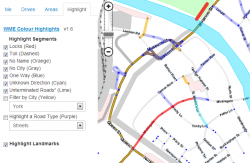 This script adds color highlighting to segments and landmarks according to their status and type or other criteria. The highlighting of segments is likely to be most useful, for it shows locked and nameless roads. Traffic locks highlight is available where applicable.

↓ DOWNLOAD ↓
| | |
| --- | --- |
| | Bring up comments or questions on this page in this forum . |