Difference between revisions of "Scripts/WME Route Checker"
From Wazeopedia
m

m (2 revisions imported)

 

(No difference)
---
Latest revision as of 10:54, 30 November 2015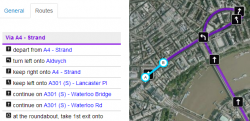 This script allows you to see the current navigation instructions in the editor.
Simply select two segments, and choose your desired settings in the secion that appears on the left (above the segment details). Then click the purple link to "Show routes between these two segments»"

↓ DOWNLOAD ↓
| | |
| --- | --- |
| | Bring up comments or questions on this page in this forum . |