States
From Wazeopedia
States and Union Territories
From geographical point of view, India is divided into 6 Zonal Councils. For Waze however, we use the administrative division of India. At this moment, India consist of 29 States and 7 Union Territories, which are listed in the State field of the addresses in WME.
States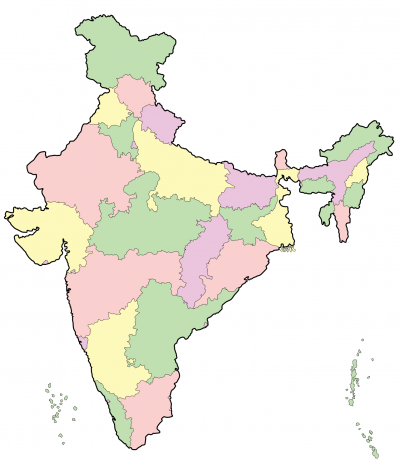 Andaman and Nicobar Islands (AN)
Andhra Pradesh (AP)
Arunachal Pradesh (AR)
Assam (AS)
Bihar (BR)
Chhattisgarh (CG)
Chandigarh (CH)
Dadra and Nagar Haveli (DH)
Daman and Diu (DD)
Delhi (DL)
Goa (GA)
Gujarat (GJ)
Haryana (HR)
Himachal Pradesh (HP)
Jammu and Kasjmir (& Ladakh?) (JK)
Jharkhand (JH)
Karnataka (KA)
Kerala (KL)
Lakshadweep (LD)
Madhya Pradesh (MP)
Maharashtra (MH)
Manipur (MN)
Meghalaya (ML)
Mizoram (MZ)
Nagaland (NL)
Odisha (OD)
Puducherry (PY)
Punjab (PB)
Rajasthan (RJ)
Sikkim (SK)
Tamil Nadu (TN)
Telangana (TG)
Tripura (TR)
Uttar Pradesh (UP)
Uttarakhand (UK)
West-Bengal (WB)

Note: From Augustus 2019 on, the state Jammu and Kashmir is a proposed Union Territory together with the proposed split up part Ladakh.

Districts and sub-districts
Each State or Union Territory is divided into smaller administrative areas, called "Districts". These in turn are further divided into "sub-districts". WME currently has no fields to include the districts in the address yet. Refer to the naming of roads (link to be added) to find more guidance.
The following table shows how the sub-districts are referred to in the various states.
State/Union Territory
Sub-district
Mandala
Circle

Bihar
Jharkhand
Meghalaya
Mizoram
Tripura
West Bengal

C.D. Block

Chhattisgarh
Haryana
Himachal Pradesh*
Jammu and Kashmir
Madhya Pradesh
Punjab
Rajasthan
Uttar Pradesh
Uttarakhand

Tehsil

Goa
Gujarat
Kerala*
Maharashtra
Dadra and Nagar Haveli
Daman and Diu

Taluka
Sub-Division
Commune Panchayat
Sub-Division

Andaman and Nicobar Islands
Chandigarh
Delhi

Tehsil