Places/Gas Station
From Wazeopedia
The Gas Station Places marks a well-defined area characterized by a fuel pumps and a cashier. A complete and accurate Gas Station Place allows drivers to search for their favorite brands of fuel near their current location or route. More about the gas station functionality in the client can be found in the Waze Help Center.
Add A Gas Station
Gas Stations Places have usually been imported from a 3rd party provider to the waze map, and may require significant updates to conform to Community standards.
Area or Point
Gas station places should be drawn as an area to the fenceline / curbline and should include all parking lots, convenience store buildings, car washes, etc, that are a part of the same business.
Some of the stations are small, stretching them to the limits should make them more visible on the client.
NOTE:
The geometry of places imported from 3rd party sources is not reliable, and usually only represents the rough location of the gas station.
Stop Point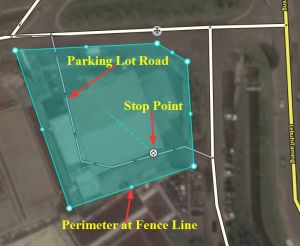 The stop point for gas stations should be placed on a parking lot road that accesses the area.
Category
With the implementation of Places multiple categories may now be assigned to a gas station. The primary (or first) category must be Gas Station, for additional features such as fuel prices (not available in Malaysia) and brand name to be enabled. Additional categories could include such categories: Convenience Store, ATM or Car Wash. A Car Wash or restaurant with difference ownership may merit a separate Place (point).
Additional Category : Charging Station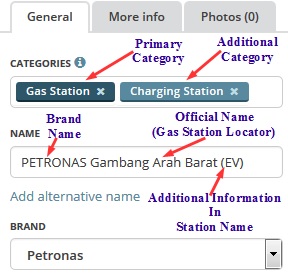 For the Gas Station that also provide Electrical Vehicle Charger (EV) service, Charging Station should add as an additional (or second) category.
Name
The name of Gas Station should reflect its brand affiliation, so that drivers can select their preferred brand from the gas station search results in the app. Please verify the Gas Station official name using the Gas Station locator at Place Name Harmonization page.
Alternative names may include the name as provided by the third-party provider, or the name of the associated convenience store.
Special Case Names
There may be special cases where the name could require additional information beyond the brand name.
For the Gas Station that provide extra service/fuels like Natural Gas For Vehicles (NGV) & Electrical Vehicle Charger (EV), please include the "(NGV)" and "(EV)" after the Gas Station official name. For example, PETRONAS Station that provide
Natural Gas For Vehicles : PETRONAS Putrajaya Precint 18 (NGV)
Electrical Vechile Charger : PETRONAS Gambang Arah Barat (EV)
Brand
If you know what brand gasoline a station sells, you should select it as the Brand. Stations named after their brands, such as big companies like PETRONAS, Shell, Petron, BhPetrol, Caltex, Mobil are easy to identify the brand which should be selected. If the brand not found in the brand dropdown list, leave the field blank.
Lock
To prevent loss of data due to automatic acceptance of submissions from "trusted users," Gas Stations should be locked to at least to level 3, but preferably higher (3+) in areas managed by area managers. On major roads and rest areas, lock levels 5 or higher can be used to protect the underlying gas station infrastructure from inadvertent changes.
Closure Of Gas Station
The method for handling a Gas Station temporary closure and the permanently close down are difference. Please verify first before further action is taken.
Temporary Closure
For the Gas Station that are temporary close for renovation or upgrading process, just insert "(Closed)" in the Gas Station primary name.
Permanent Closure
For the Gas Station that has permanent close down, remove the Gas Station from the Waze Map