Dashboard
From Wazeopedia
Waze provides a page for users to see their personal information and statistics inside Waze.
URL link
All users (worldwide) access the dashboard using the following URL: http://waze.com/dashboard/ and it will automatically redirect you to your correct server.
Overview
Inside the My Dashboard page, you will be able to find your Personal Information as well as your User Statistics. The information and statistics offered here are personal, and therefore will be accessible only after you signed into the website.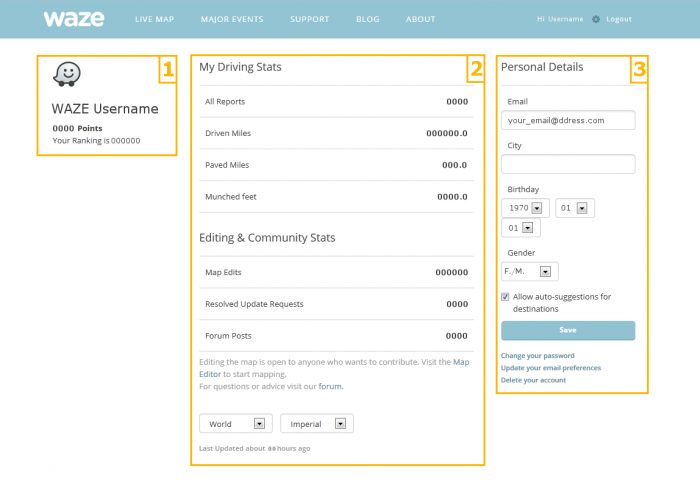 After signing in, you will see that your Dashboard has been divided into three different sections. You will find there either personal information or driving and editing activities inside Waze.
Username, points and rank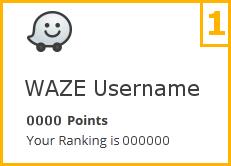 The first section, in addition to your username, displays your points and your ranking. In this section, you will be able to follow your progress and driving activity inside Waze. Each field represents a different type of activity inside Waze. Every night our system will calculate all of the points that you accumulated in all the different fields (basically driving and editing) through the day. Then the system will allocate your points and your new position inside the rank table. Your rank can hence change on a daily basis. Note that as of 2009 , you cannot change your username.
User statistics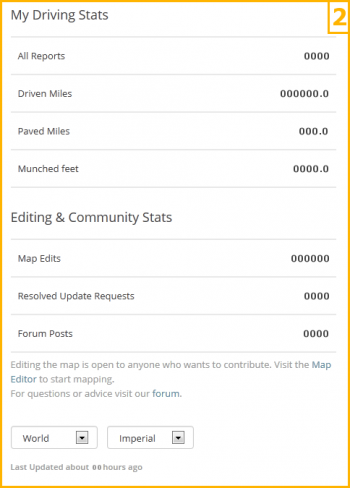 The second section presents your statistics. User statistics are divided into two subsections:
Driving Stats:*All Reports: the number of reports you made from the Waze client application.

'Driven Miles/'Kilometers: Distance you have driven with the client on tracking your drive. It does not require navigation to be turned on.
'Paved Miles/'Kilometers: Distance you have used the pave road feature in the client application.
Munched feet/meters: Distance you have driven on unconfirmed roads.
Editing & Community Stats
Note that if you are located in Northern America (USA/Canada) you need to select "USA & Canada" at the bottom of this section and "World" if you are from any other location in the rest of the world. Selecting the incorrect region will give you incorrect information from what you are expecting.
The last drop down box at the bottom of the user statistics section allows you to choose your preferred distance unit.
Selecting Metric will display statistics in kilometers and meters.
Selecting Imperial will display statistics in miles and feet.
Personal details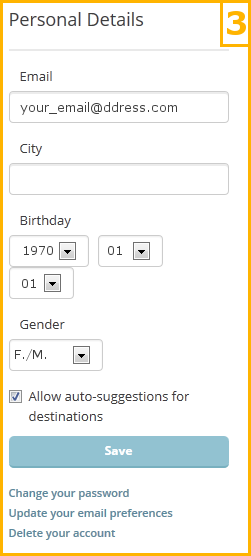 The third section, Personal Details, allows you to change and update your personal details such as account password, email address, location information and birthday.
The Allow auto-suggestions for destinations check box, when checked, will automatically select destinations from your favorites when Waze is started; for example if you have set the "Work" favorites, Waze will suggest it when starting Waze in the morning. Similarly, you will be suggested your "Home" favorite when starting the client application in the late afternoon or in the evening.
Additional functional links are also available at the bottom of this section:
Change your Waze password
Update your email preferences: Waze will send notifications by email based on different events such as events on map issues you reported, global news, offers or recap information about your driving.
Permanently delete your Waze account
After you change any information in this section, click the Save button.