Petrol Stations
From Wazeopedia
The Gas Station place marks a well-defined area characterised by a fuel pump and a cashier.
A complete and accurate Gas Station place allows drivers to search for their favourite brands of fuel, and the best fuel prices near their current location or route. More about the gas station functionality in the client can be found in the Waze Help Center.
Add a Gas Station
Area or Point
Gas station places should be drawn as an AREA place to the fenceline / curbline and should include all parking lots, convenience store buildings, car washes, etc., that are a part of the same business. The use of an area is best practice when you like to see gas stations visible in the app. Whether the app also renders it as a visible place in the client's display, is currently depending on size. By stretching the limits of the area to the outer boundaries of the gas station's area, there is a bigger chance of the gas station to be visible.
Internal road type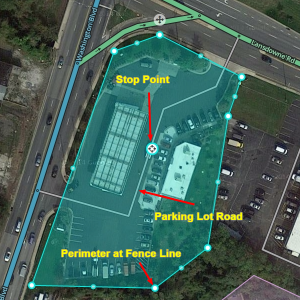 The navigation stop point for gas stations should be placed on a parking lot road (PLR) that accesses the area.
Adding PLRs as entry and exit of gas stations is a "best practice", based on the objective truths of the mechanics of Waze.  
Prevention of false traffic jams. Traffic will at least have the possibility of snapping to the PLR instead of the main road(s), preventing reports of slow moving traffic
Suppression of missing road URs. The road will no longer be missing...
Prevention of false historical road speed information. The merger process will more easily see that you have entered the gas station, therefore not polluting nearby roads with slow speeds
Better routing into gas stations. Waze encourages routing to gas stations by way of its gas prices feature. Although all prices are the same in the UAE, adding PLRs is important for routing to any gas station that is accessible from more than one road, and crucial when those roads are major. Which side of a station you route to can make several minutes difference at certain intersections in traffic
Better routing out of gas stations. This is possible now that U turns are working. This requires a U turn enabled at each exit, for stations that have exits onto more than one road (if all exits are to the same road, it doesn't matter). This allows Waze to give you the best route out of a gas station, to your next destination. This works whether you're in the gas station without a route set yet, or you're setting a stop point on a route. Further, it reflects the way people actually drive in gas stations – they leave out whichever way is more advantageous to them. Allowing the U turns allows Waze to tell them the fastest way to leave to get to their destination.
Category
With the implementation of places, multiple categories may now be assigned to a gas station. The primary category MUST be Gas Station, for additional features such as fuel prices and brand name to be enabled.
Additional categories could include such categories: Convenience Store, ATM, Garage / Automotive Shop, or Car Wash. A full-service automotive repair business, or restaurant may merit a separate place (point).
Name & Brand
The name and brand of a Gas Station should reflect it's brand affiliation ENOC, EPPCO, ADNOC, etc. so that drivers can select their preferred brand from the gas station search results in the app.
Lock
To prevent loss of data due to automatic acceptance of submissions from "trusted users," Gas Stations should be locked to at least level 3. On major roads and rest areas, lock level 5 can be used to protect the underlying gas station infrastructure from inadvertent changes.