Military Installations and DoD Facilities
The United States Department of Defense has installations and facilities located throughout the nation to train and support our Army, Navy, Air Force, Marines, and Coast Guard personnel serving in the Active Components, the Reserves, the National Guard, Veterans, and Retirees. This wiki is intended to address Installations and Facilities located within the Continental United States (CONUS), its overseas states of Alaska and Hawaii, and the territories of Guam, the Virgin Islands, Puerto Rico, and the District of Columbia. Another Waze DoD Military installation wiki is under development for all other DoD Installations stationed Outside the Continental United States (OCONUS).
The DoD has two general classes of facilities. The first type consists of Posts, Bases, Camps, and other military facilities that require DoD access authorization. They are geographically distinct from their surrounding communities and are most often gated and/or fenced. The second type is comprised of training complexes, airfields, schoolhouses, and offices that are located within civilian communities. Each base is unique in its place and purpose, but DoD installations have similar facilities and services. Throughout this wiki, the terms "Base", "Post", and "Camp" are used interchangeably.
Authorized Maps
Military Installations have many different kinds of maps available for reference. When mapping roads and places/areas, use only maps that are Unclassified, non-copyrighted, and are distributed for public/visitor use. These can include unclassified maps that are published and/or distributed by the U.S Government (.gov), the DoD (.mil), FEMA, USGS, MWR, Post Visitor Centers, On-base hotels, or Range Control for Hunting and Fishing activities.
Remember we are balancing the improved use of the Waze application with the Safety and Security of our Armed Forces. Editors who have trusted DoD access to more detailed information should not include that information in the Waze Map Editor.
Authorized Sources
DoD Installations comply with Operational Security (OPSEC) and Physical Security regulations. The Command of each military installation, facility and/or activity ensures that the information it provides to the public is legal and appropriate for public dissemination. The Public Affairs Office (PAO), Visitor Centers, MWRs and other Installation agencies host information that the public is allowed to know and to reference. Therefore, use official sources only, such as DoD websites, PAO, MWR, Military Community Services, authorized on-installation tenants and other official source information that the Installation hosts online and/or disseminates for public use. Do not use third party sources such as Google Maps or privileged sources not available to all of the public as information for mapping or approving DoD installations in Waze.
Naming
Road Segment City Name and Addresses
Primary Segment City Name
All road segments within the confines of the gated fenceline of a Military Installation should have the official name of the base/post as the Primary City Name. The private road segment starts at the point where a user has no option other than to go through the security gate.
Note that for Army posts with "Fort" in their name, 'Fort' is spelled out fully for the City area and can be abbreviated for Alternate City, Name and Description fields.
Examples: Fort Knox (Primary City name), Ft. McCoy (Alternate City name), NS Mayport, NAS Jacksonville, NSB Kings Bay, Tinker AFB, Camp Pendleton, CGAS Houston, March ARB. City names should change at the gates, where the installation's roads begin.
Alternate Segment City Name
Some DoD training centers, facilities, and offices use a USPS address, street and city name for their address designations. Use the address and street name as they are published by DoD official sources. These facilities should have the USPS City as the Alternate City Name on each road segment.
Building Names and Address Information
DoD Installations vary in the ways they name and address facilities and buildings. Use only official published sources when using the naming and addressing method, such as those listed in section 2. Remember that photos of any kind are not allowed.
Building Place Naming
When a building has a proper or Memorial name, use that listing as the primary name. These apply to facilities such as those listed as approved places for Military Bases, posted in section 1.6.3. Use the Building number as the primary name when a facility does not have or should not have a proper name listed. Do not use operational unit names when creating place points or areas. This helps protect for Operational Security (OPSEC). Additionally, some units rotate buildings based on their deployment schedules.
DoD installations use three common methods to list the location of places or buildings.
1) Building number - Example: "Building 197"
Add the following as alternate names when they are used by the installation:
Only fill in the address portion of a point or area place if it has an actual USPS address; otherwise fill in the street and Installation name, leaving the 'House Number' field blank

2) Building type and number "Designation ###" - Examples: "Naval Hospital 75", "CEP-200", "A-9"
Example 1: If the base calls it "Naval Hospital 75", then that is the primary name. Add "NH-75" as an alternate name.
Example 2: If the base just uses a designation like "CEP-200" or "A-9", then use that as the primary name.

3) USPS street address - Examples: "7924 14th Street, Norfolk, VA 23505", "Bldg 5701, 6170 Arnold St, Tinker AFB, OK 73145"
For all addresses - Use the official name of the installation in the Primary city name field
Use the Official DoD installation name within its fenceline area, even if there is no USPS address and the HN and Street fields are blank
Abbreviations for the Posts / Bases can be used in the Alternate Name, Alternate City, and Description fields
For Buildings that use any of the other naming conventions, link the USPS address in the External Providers section of the Place when it is available

Approved abbreviations are:
AAF - Army Air Field
AAFES - Army and Air Force Exchange Service
AASF - Army Aviation Support Facility
AFB - Air Force Base
AGB / ANGB - Air Guard Base / Air National Guard Base
ANG - Air National Guard
AFCC - Armed Forces Career Center (Active Duty and Reserves Recruiting Offices)
AFRC - Armed Forces Reserve Center (Army National Guard and Army Reserves)
AIRSTA - Coast Guard Air Station
AOC - Air and Space Operations Center
ARB - Air Reserve Base
ARNG - Army National Guard
ATTC - Aviation Technical Training Center
CG - Coast Guard
CGAS - Coast Guard Air Station
CGS - Coast Guard Station
Ft. - Fort, Army Posts (City Names will be spelled out as Fort, but Ft. can be used in Alternate Place and Street names)
FUDS - Formerly Used Defense Sites
JB - Joint Base
JBxx - Joint Base post acronym (i.e. JBSA is Joint Base San Antonio)
JFHQ - Joint Force Headquarters
JFTB - Joint Forces Training Base
JMTC - Joint Maneuver Training Center
JRB - Joint Reserve Base
JRBxx - Joint Reserve Base post acronym (i.e. JRBFW is Joint Reserve Base Fort Worth)
LORAN - Coast Guard Long Range Aid to Navigation Station
MCAS - Marine Corps Air Station
MCB - Marine Corps Base
MCLB - Marine Corps Logistics Base
MCRD - Marine Corps Recruit Depot
MCSF - Marine Corps Support Facility
MEPS - Military Entrance Processing Station
MWR - Morale, Welfare, and Recreation
NAB - Naval Amphibious Base
NALF - Naval Auxiliary Landing Field
NAS - Naval Air Station
NOLF - Naval Outlying Landing Field
NOSC - Navy Operational Support Center
NS - Naval Station
NSB - Naval Submarine Base
NWS - Naval Weapons Station
PAO - Public Affairs Office
PG - Proving Ground
RTI - Regional Training Institute
RTC - Reserve Training Center
SFRO - Store Front Recruiting Office (National Guard Recruiting Offices)
TA - Training Area
TS - Training Site
Words that are not abbreviated:
Academy - Air Force, Naval, Military (Army), and Coast Guard Academies
Armory - Army National Guard training facilities
Arsenal - Army Arsenal Installations
Barracks - Army "Barracks" Posts
Camp - Army and Marine Installations
Depot - Army and Coast Guard Supply Depots
Light Station - Coast Guard Lighthouse Service
Roads
Private Installation Gates
While road treatment is covered here, set the Private Road segment at the point where a user has no option other than to go through the gate. Typically use Street / Primary Street going out of the gate.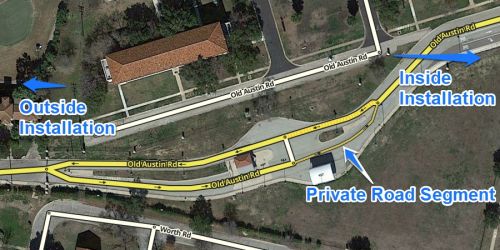 Routing is set up for commuters, employees, and residents. This means that all open gates get similar access for fastest commute. If there is a specific gate for Visitor Access, then set a point place at the Post/Base Visitor Center to facilitate public search queries. Do not set gates/access lanes with a double PR.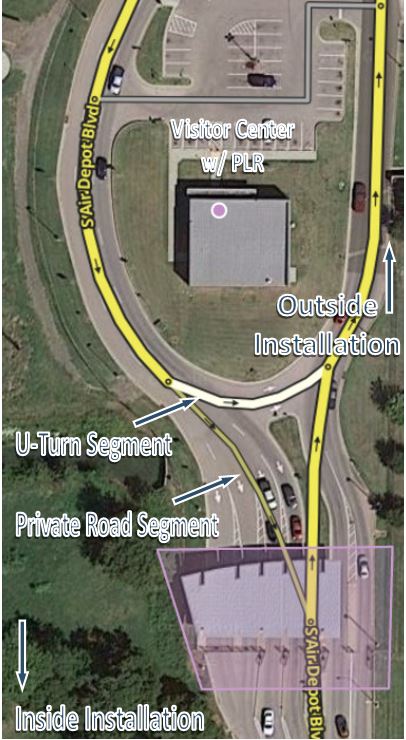 This gate has a Street-type U-turn that allows drivers to avoid going through the security gate. The PR routing segment begins at the point where a driver must go through the gate.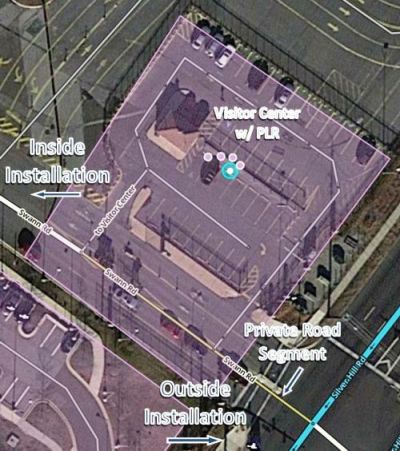 This road is a Private Road (PR) that has no U-turn capability. The PR routing segment begins at the point where a driver must go through the security gate.
Functional Classification
Base/Post/Camp road segments are typically not set with Federal or State functional classification guidelines, as they all fall outside of the jurisdiction of States' Departments of Transportation (DOTs).
Most roads within a DoD Installation are set to Street . Primary Street should generally be the highest classification of road. Roads leading to/from gates can be classified at the higher level road to match the FC of the incoming road. If a road is a high traffic road for the base, it can be classified as a Primary Street . If you believe a Minor Highway functional classification is needed, for example to support a major artery on a very large post, ask your SM to check with your Regional Coordinator.
Gates
Gates can have an Area Place over the gates and ID Security Inspection areas to denote the structures that are present.
List each Gate's unique name as posted by the Installation.
Gate Restrictions and Hours go on the incoming Private Road segment as well as on the segment leaving the base opposite to the Private Road. Please do not put hours on every segment involved in the gate structure. (This simplifies changes for OPSEC or holidays)
The website, phone number, and other data for Gates should reference the Installation's gate-information website, the Post Security Office or the Visitor Control Center, as available.
Convoy gates should be disconnected with an "air gap", in order to prevent routing. The Convoy Gate can be a Point place, not an Area place, to facilitate a search query.
Gates which are permanently closed should be disconnected for an "air gap." If the gate is permanently closed, delete the Area place.
Gates should have a tiered locking system which works like this: The incoming Private Road and one outgoing segment are locked at 5. Any adjoining segments connected to the L5 segments are locked at 4.
Places
DoD-specific Places approved for local communities
Point Places
Armed Forces Reserve Centers (AFRC)
Army National Guard and Reserve Armories
Military Entrance Processing Stations (MEPS)
Recruiting Offices (AFCC, SFRO)
Military Departments / Joint Force Headquarters, as listed by PAO offices
Area Places
Follow the Area Guidance listed below for Military Installations
Air National Guard Bases (ANGB)
Army Air Fields
Regional Training Institutes (RTI)
Military Bases
Most military bases do not need an area place to encompass the entire base. Smaller posts can have an area placed on it. If you can fit a large majority of the base into the screen at the 500' level, then it qualifies for an area. NOLF Imperial Beach is an example of this type of setup. Make sure all roads in the area are created and treated just as any other DoD Installation road.
Place and Area Guidance follows the National Waze guidance for point or area places, with a few exceptions. When publishing places and areas on DoD Installations, use the Building Number in the address field. The PAO and MWR of each post will often have separate web pages that support services and places. These include the unique address, building number, phone number, hours of operation and special access instructions. Use of these unique websites and information for these places is encouraged. DoD-specific places and areas are listed here.
DoD-specific Places approved for Military Bases
PHOTOS OF ANY KIND ARE NOT ALLOWED
To highlight the most recent changes in guidance, the following is a list of examples of what is allowed. For any other Places, please refer to the Places wiki.
Point Places
Civil Air Patrol (CAP)
Classroom buildings
Class VI
Commissary
Dining Facilities (DFAC)
Exchanges (PX/BX/EX/NEX)
Hospitals
Libraries
Lodging (base hotels)
Military Clothing and Sales (MCS)
MWR facilities
Museums
Parade Grounds
Public Affairs Office (PAO)
Range Control
Recreation Facilities (golf course, archery range, shooting range, outdoor equipment check-out, hunting check-in point, etc)
Religious Centers
Residential Place Points
Sick-Call Medical Clinic
Space-A Check-in
Sportsmen Services Centers / Check-in points
Shopettes
Theaters (MWR and Educational use)
Troop Clubs (NCO, Officer, Joint, etc.)
Area Places
Athletic Fields / Stadiums
Campsites / Camping Areas (MWR)
Gas Station (may include Shopette / Convenience Store)
Golf Courses
Installation Fire Departments
Installation Police Departments
Pass and ID Office
Schools
Visitor Center
Point or Area Places NOT Approved for Military Bases
Barracks
Hangars
Unit Headquarters Buildings and other buildings with Unit names (use the building's number for the HN function)
Naming for Commercial Places
Add (*Post Name* access only) behind commonly named places, (i.e. Food/Chain, Post Office, Bank, Golf Course, etc), so that people without base access are warned when they do a search; Example: "GNC (Tinker AFB access only)".
Visitor Access and Services Open to the Public
The PAO and MWR of most posts publish criteria, instructions, unique websites, addresses, phone numbers and forms for visitors to access their facilities. These descriptions can be found for Pass and ID centers, Visitor Centers, Recreation facilities, Sportsman Hunting/Fishing Check-in points, On-Post camping sites, Range Control, Museums, and more. Place special instructions in the description field for those public-access places. Some descriptions may simply read "DoD ID required for base access" or "Show ID", while others may provide short instructions to refer visitors to the websites and places they need to access, in order to apply for a pre-background check for "Unescorted Installation Visitor or Contractor Access", hunting/fishing permits, etc. Then provide the website, address, phone number and hours of operation for that Place/Area. Example: The Fort Sill Visitor Control Center has its own website which differs from the main Fort Sill Website. In addition to the unique information for the Visitor Center, the description Field would read, "Visit the Ft. Sill Website prior to your visit to access forms needed to apply for Post access http://sill-www.army.mil/vcc/"
Resources
DoD Resources (Joint Services)
Department of Defense.mil Military Installations
Department of Defense.gov Department of Defense
DoD Installations in the District of Columbia (Page under development)
DoD Installations on Guam (Page under development)
DoD Installations on Puerto Rico and the Virgin Islands (Page under development)
Army and Army Reserves
Air Force and Air Force Reserves
Army and Air National Guard
Marines and Marine Reserves
Coast Guard and Coast Guard Reserves