Minnesota/Special roads/Main
From Wazeopedia
Other drivable roads
Dirt Road / 4X4 Trail
| | |
| --- | --- |
| | Minnesota has different interpretations of Dirt Roads than many other locations. Even veteran editors need to pay attention to this section! |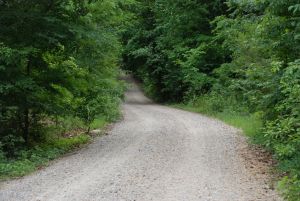 In the state of Minnesota, most unpaved roads are considered dirt roads. Knowing this will help you create the correct road levels. Undrivable roads should not be mapped, should be restricted, or should be listed as a trail instead and not be connected to any functional roads. Even though 4x4 is in the title, we will only use dirt roads for standard gravel or dirt roads that most vehicles can drive on. Keep in mind that because of the way Waze handles dirt roads, we will not use the dirt road class in the city limits of any town. Any in-town gravel roads will be streets.
Because most likely people in Minnesota feel a gravel road is a dirt road, we will use Dirt Road for both examples. Please be aware of any of these dirt roads that are minimum maintenance roads as these roads should have restrictions in place for winter months.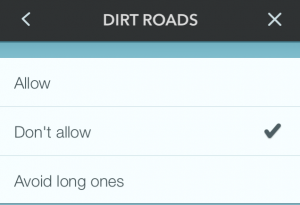 The reason the dirt roads classification is important is because a user can decide to not be sent on dirt roads or to only be sent on dirt roads for short distances in the settings of the Waze App.
Keep in mind that if the person does allow for dirt roads, Waze will treat the road as a Primary Street so do not try to make an exception to well maintained dirt roads as a street or you will cause the driver to be directed on undesirable roads. Yes, that's right, a dirt road can be seen as a higher priority than a street! This is very important in rural areas where the Street Category should only be used on very short road segments that are paved. In towns, the Dirt Road Category should be rarely used and an unpaved road should be considered a street or a private road.
Parking Lot Road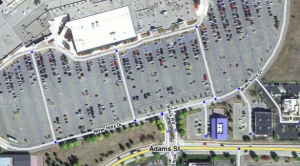 Parking lots roads are essential to navigating users to the proper destinations. It also helps to properly exit a parking lot. Follow these examples to creating parking lots correctly. Click the image to the right to see a well-designed parking lot section.
Simple is best. Do not map every lane
Map the main entrances from the roads outside the parking lot
Map lanes that run along storefronts
Map lanes that run along main roads outside the parking area
Map primary lanes that serve to get people from one area of the lot to another
For for information about mapping parking lots, follow this article
Private Road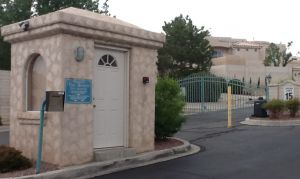 Private Roads should follow the Wiki Example on Private Roads. Please be very limited on using this for driveways as, for the most part, these should not be mapped at all.
Keep in mind that on the Waze App, a private road will look like a street. Nothing looks more off than a bunch of streets connected to a dirt road.
If you are adding a private road for a private housing section, make sure house numbering is correct or there is a place point or area within a private road section. This area will still be able to be navigated to the correct destination as long as it has a proper address to navigate to. Pay attention to this article for more information.
In the case of very long driveways, it may helpful to a driver to see the driveway mapped on the client app or even necessary for Waze to determine how to reach the destination. In those cases it may be prudent to add a road. See the article on Driveways for more information.
Alleyways
Avoid drawing alleyways unless it is considered a street by the general public. Most alleyways should not be used to direct traffic and will cause unneeded nodes in the road that can cause roads connected to the alleyways to be less desirable. Most alleyways that would be mapped will use the Parking Lot class.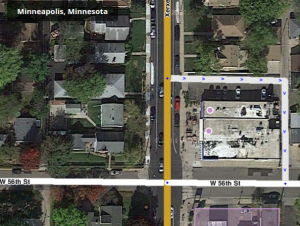 This is a good example of where alleyways will be mapped. This is in South Minneapolis at the corner of Xerxes Ave S and W 56th St. It is also the location of Pizzeria Lola. The parking at this location is on the side of the Cavé Vin building. It is a one-directional section and the only way to leave is through an alleyway. In this case, you would create the section as a parking lot road and you only map out what is needed to enter the parking lot and exit; however, you would not need to map any other section of that alleyway.
Roundabouts
Minnesota has been adding roundabouts in many locations throughout the state. It is important to note that most roundabouts should only have three to four connections or it will sound confusing to a driver. Following this Example will give proper turn information and roundabout icons on the screen. If you would use multiple-point access, it instead will say the exit number such as, "At the Roundabout, take the 3rd exit".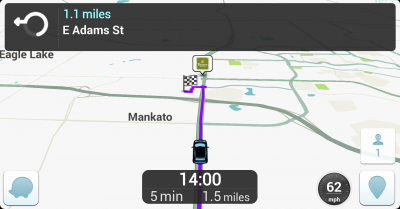 This is an indication of what a user of Waze should see on an upcoming Roundabout. It is clear at showing the direction of the turn. It also will verbally say what is referenced on the signage such as "At the Roundabout, Continue Straight" or "turn left". This is the Minnesota Standard for creating and editing Roundabouts.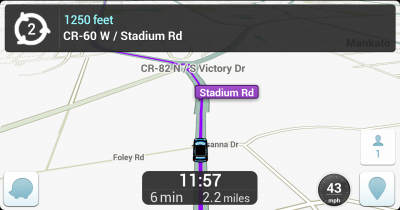 This is how it looks when more than four exit points occur. It does not give clear guidance to the driver on what way to go aside from the highlighted road ahead. This should be avoided, Only add multiple connections per side if the signs clearly mark Exit numbers (Commonly seen on signs showing 5 or more exit points).
Roundabouts will use the same functional class of the main route traveling through the roundabout. Follow This Article for more information.
If at all possible, drive through a roundabout after it has been created or updated. Verify that it seems to give correct information.
Bus or cab only lanes
When a road or lane is designated for bus or cab use only, mark that road segment(s) as a Private Road to prevent the Waze router from using that segment(s) for general traffic, since the majority of the users will not be able to use that lane. It is also advisable to set the turn restrictions to prevent turns into that segment(s), but permit turns exiting the segment.
If a road is one-way but allows bus or cab traffic to flow the other direction, leave the road as one-way with the normal flow of traffic. There is no need to create a second road traveling the opposite direction for the bus and cab-only traffic.
Non-drivable roads
Railroad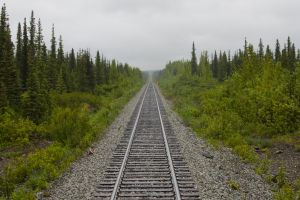 Railroads are not yet added to the map, but these can be added to prepare the maps for when it is. Mapping the tracks allows Waze to recognize spurious speed data from people Wazing on the train and prevent it from corrupting speed data for the adjacent road.
| | |
| --- | --- |
| | Please notice that railroads have changed from previous interpretations of railroad mapping. Even veteran editors need to pay attention to this section! |
Elevation will be set to the same elevation standards as a drivable road. When tracks junction a road on the ground, the Elevation should be set to Ground.
If the railroad crosses a segment of road, it should be connected to the road to so the historical data for the rail crossing will be more accurate.
Always select "None" for the city name. This avoids city smudging.
Set railroad to 2-way directionality and Restrict turns to and from the railroad segments.
Follow the Federal DOT Railroad GIS to verify the owner of the rail line to help on naming of the segment. Use the acronyms under RROWNER1 to help on naming.
Name each segment using the rail owner name acronyms or abbreviations railroad. For example, Twin Cities & Western Railroad uses TCWR. We would name this section TCW Railroad. We leave off the R in the acronym because it would be redundant to say, Twin Cities & Western Railroad Railroad.
Canadian Pacific uses the acronym CPRS, but it is more know as CP, so it will be called CP Railroad
Do not map every piece of parallel track, such as in sidings or yards, or industrial spurs that don't cross any roads. Your work may otherwise be seen as clutter, much like mapping every parking lot row.
Lock all railroads to a Level 2
Read this section for more information about railroads.
Runway/Taxiway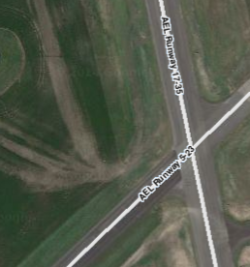 We will map all airports runways such:
These roads will not connect to any drivable sections
The runways will not be connected to each other
Using this article we will find the airport code. We will use the IATA code unless the airport does not have one, then we will revert to the ICAO code
After finding the code, we will use this to find the runway numbers for the airport
Most of the time, you will see the number of the runway at the beginning and end of each runway
Name each runway as such: [Airport Code] Runway [x-x] ... for example, in the image to the right, you will see the runways for Albert Lea Municipal Airport. The IATA code for this airport is AEL and it has two runways including Runway 5/23 & Runway 17/35 so one will be named "AEL Runway 5-23" and the other AEL Runway 17-35".
Please follow this Wiki article on Runways for information about how to set runways correctly. These roads should be locked to the same standard as Airport Area itself.