Places/Hospitals and urgent care
From Wazeopedia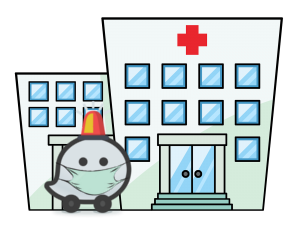 Properly mapping hospitals is important to routing and for proper search results. This wiki will cover how to map a hospital, urgent care clinic, place the stop point at the appropriate location, and how to name them. These entities are added to the Waze map as places, below we will discuss the proper methods.
Hospital Campus
When adding a hospital to the map, first identify the grounds where it is located. Many major hospitals are located on extensive grounds known as campuses or centers. These property types may include many buildings and multiple parking lots. Other hospitals are just a single building, usually with parking. To ensure that the hospital grounds are mapped correctly, please only use information either provided by that facility's website, or obtained by observation on-the-ground.
Emergency Rooms
Properly mapping an Emergency Room (ER) is very important for both routing and search results. The stop point of the ER should be set at the public entrance of the ER. If the facility has a website map, it will usually indicate the location of the ER entrance. If you can not find the entrance from facility sources, or first hand knowledge - and the ER has not undergone recent construction - you can use the Streetview in WME to find the ER entrance location.
In some cases, hospitals may operate standalone emergency centers at locations other than inside the same building as the hospital itself, especially in rural areas across the US. These locations only serve one purpose; emergency care -- the entire building is an ER (or space if inside a larger building like at a mall). To determine whether the ER place should be set as a Place Area or a Place Point, please reference the place type section below.
For the proper naming of the ER place, please refer to the naming section below.
Departments and Clinics
Medium and large hospitals will have specific entrances for large departments or specialty clinics that are inside the hospital. If a department has a specific main entrance, they should be added to the map as Place Points. The goal behind this is to provide users with direct routes to their exact destination instead of the main hospital entrance.
For the proper naming of department places, please refer to the naming section below.
Urgent Care
Urgent care facilities should only be added under the "Hospital/Medical Care" category if they truly provide walk-in urgent medical care services that do not require an appointment. A simple indicator to differentiate Urgent Care centers from basic walk-in clinics is whether they have in-house X-ray equipment which is a national requirement[1], and laboratory services.
NOTE: Be careful to set the hours correctly, especially for centers not open 24/7. This way the client app will display to users when they are closed.
Clinics that do not provide Urgent Care services, regardless of their name, should not be added using the "Hospital / Urgent Care" category. Instead, they should be added using the Doctor / Clinic category.
Place Type Determination
The assignment of point or area for the place is very important as explained in the Places page. This controls whether the polygon shape and name of the place will be displayed on the client maps. For this, special rules appl
Hospital Campus & Urgent Care Facilities
These types of properties are mapped as Place areas. As with many large places, they should be mapped to the fence line of the property, including the parking lots. Urgent Care facilities should follow these same rules unless they are encompassed inside a larger facility. If an Urgent Care is inside a larger complex, map it using a Place point.
Departments & Clinics
As stated above, adding these places provide more accurate routing to within the hospital campus. If a department or building has a specific main entrance, it should be added as a Place point using the appropriate categories (ex. Doctor / Clinic, Pharmacy, etc.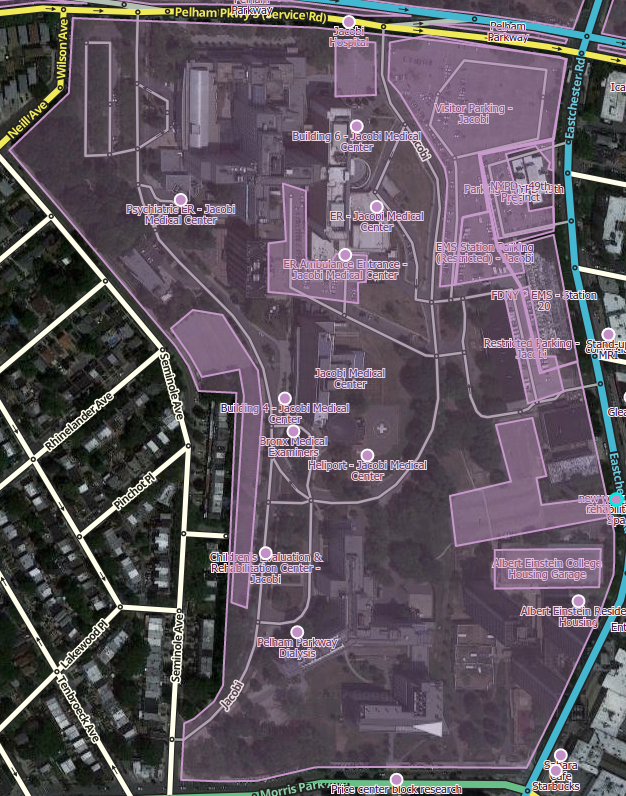 Emergency Room (ER)
ERs inside the main hospital building (encompassed inside the area polygon of their associated hospital's building) should be mapped as a point place (PP).
Standalone ERs (outside the main hospital building) should be mapped as an area place (AP). The AP polygon should cover the entire footprint of the ER, and may include the parking area as well.

Free Standing Psychiatric Hospitals Free standing facilities that offer dedicated mental health care should be point places, with category Doctor/Clinic. Naming should include a description indicating that these facilities only provide mental health or psychiatric care.
If a hospital provides a dedicated Psychiatric ER, they should use the Hospital / Urgent Care category and named appropriately (ex. "Psychiatric ER - Hospital Name").
Psychiatric Care and Mental Health may be used interchangeably based on local custom.

| Name | Use Hospital Category |
| --- | --- |
| McLean Hospital (Mental Health) | NO |
| Kingsboro Psychiatric Center | NO |
| Psychiatric ER - Jacobi Medical Center | YES |
Parking Lot Roads
It is essential that parking lot roads (PLRs) are properly mapped within hospital campuses to ensure correct routing. Many large hospitals have named roads that go through them. It is important to ensure these roads are named correctly as the addresses of many buildings are tied to them. Proper PLR mapping is also needed to ensure users are routed as close as possible to their final destination.
Stop Points
The Stop Point for a place controls where navigation will lead to (and ultimately end). It is highly important that we set this so users are routed to the most optimal destination point. Details on editing the Stop Point are in the Places article.
Hospital Campus
The stop point for the area place should be located at the main entrance to the hospital. Many hospital websites will include this in a map that they offer, or via an online directory. StreetView inside the editor may also be of assistance. If you are still unable to locate the main entrance, consult an SM or RC for assistance.
Departments & Clinics
Departments or specialty clinics with their own entrances should have their stop points located at the department or clinic's main entrance.
Urgent Care Facilities
Stand-alone Urgent Care facilities should have their stop point places at the main entrance to the Urgent Care on the closest segment, regardless of road type. Somestimes this requires adding PLRs.
Categories
As indicated in the Places article, and mentioned above, only Hospitals, Emergency Rooms, and places offering Urgent Medical Care should use the Hospital / Urgent Care category.
There used to be a single combined "Hospital/Medical Care" category which covered all medical places, and was decided to be used only for hospitals and urgent care. In March 2017 this category was split into two new categories: "Hospital / Urgent Care", and "Doctor / Clinic". On March 28th, 2017 an automated process was completed which migrated all places with the original category to the new Doctor / Clinic category.

If you see places which should be using the hospital category, and they were last updated by a Waze bot, please fix them.
Clinics which do not offer urgent medical care for should use the Doctor / Clinic category instead.
Medical office buildings that do not provide on-site medical care should use the Offices category, and be mapped using a Place point.
Naming
Please use the following naming format for Hospital / Medical Care names
Name the hospital Area: Hospital Name

If the ER entrance is in the same location as the main entrance for the hospital; add an alternate name to the main hospital to assist those searching for the ER: ER - Hospital Name

In these cases it is not necessary to create a separate place point for the ER.

Name the Emergency Entrance: ER - Hospital Name
If there is a separate ambulance entrance, please name it as: Ambulance Entrance - Hospital Name
Lock level
Lock levels vary by region or state. Please check your region or state's wiki page for the proper lock level of hospitals.
Sources