Places/Hospitals and urgent care
From Wazeopedia
| | |
| --- | --- |
| | This is the wiki page is for mapping hospitals in the US |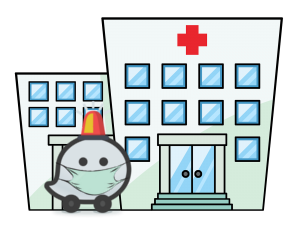 Properly mapping hospitals is important to routing and for proper search results. This wiki will cover how to map a hospital, place the stop point at the appropriate location, and how to name them. However, this does not include the topic of Urgent Care clinics. Please verify with your local SM or RC for local guidance.
Adding a Hospital
In order to map a hospital you must first identify the grounds that they are located on. Many major hospitals across the nation are located on grounds known as campuses or centers. These property types may include other buildings and parking lots or just one massive building with each section representing a different field of practice.
To ensure that the area is mapped correctly, please only use information provided by that facility via the facilities website. Many include maps of their proper, including specific parking for certain types of patients. Others will include maps of other facilities located in other parts of the building or property.
Place point or Area
The assignment of point or area is very important. For this, special rules apply.
Campus/Centers
These types of properties will be mapped as an area. As with many large places, you will map them to the borderline of the property. This is to include the parking lots.
Buildings on property
Many of the large properties will house or lease buildings that facilitate other medical practices. For these buildings, add a place point and ensure it is located at the entrance.
Hospital
The hospital itself will be mapped as an area. This will add a visual aid when navigating the large property.
Mapping Emergency Rooms (ER)
Properly mapping a hospitals ER is very important for both routing and search results. The place point of the ER should be located at the entrance of the ER doors. This would be at or right next to where the ambulance drops patients off. If this is not the proper location many hospitals will have building maps, on their website, indication the exact location of the ER entrance.
For the naming of the ER point, please refer to the Naming section
Stop Points
Campus/Centers
The stop point should be located at the main entrance (main point of access and not a side street). Many locations have signs along the road to guide visitors to location they are looking for.
Hospitals
The stop point for the hospital should be located at what would be considered the main entrance. Many hospital websites will include this in a map that they offer or via an online directory. If you are still unable to locate the main entrance, consult an SM or RC for assistance.
Categories
As indicated in Places/USA, only Hospitals, Emergency Rooms, and places offering Urgent Medical Care should use the Hospital/Medical Care category.
Clinics, and Medical offices which do not offer urgent medical care for Walk-Ins should use the Office, (and any other appropriate) category instead.
As for the campus/center areas, they should also utilize the office category and others in relation to what is found on that property (there are instances that a university may run a hospital and the location may be on or adjacent to the university).
Naming
Lock Level
Lock levels vary by state. Please check your states wiki page for the proper lock level of hospitals.
Parking Lot Roads
It is essential that parking lot roads (PLRs) are mapped properly to ensure proper routing. Especially with large hospitals with various place points. It is also helpful to utilize the GPS layer to get an idea of what PLRs are used the most.
Many hospitals, that are large enough, have named roads that go through it. It is important to ensure these roads are named correctly as the addresses of many buildings are tied to them.