User:Falco sparverius/Drafts/Parking Lot Areas
From Wazeopedia
Scope
The '''Parking Lot Area (PLA)''' Place marks a well-defined area constructed for off-street public or private parking, including parking structures and garages as well as at-grade lots. They are a special place category; you cannot add other categories to a parking lot place, or convert/add a Parking Lot category to another kind of place.
What qualifies?
Parking lot areas (PLA) should be added for all lots including businesses with small parking lots (less than 10 spaces). Start by adding parking lots to event venues, shopping centers, airports, public use lots, garages, multi-use parking lots, popular lots with heavy usage or URs, etc.
What does not qualify?
On-street parking should not be added at this time.
| | |
| --- | --- |
| | Following paragraphs should be summarized: this section should be brief (no sub-headings), serving to let editors know at-a-glance whether to continue with the article for their specific use case |
On-street parking
On-street parking should not be added at this time.
Gas stations
Gas stations do not require an additional PLA to be drawn on top of the gas station area. Gas stations handled uniquely by Waze servers. However, if there is significant parking worthy of recommendation to users navigating to nearby venues (e.g. a truck stop, etc.), then you may add a PLA there.
Valet only facility
Parking lots or garages accessed exclusively by valet staff, and situated away from the valet drop off point should not be added to the map. (If regular drivers are not allowed to drive up to the valet facility, and rather must drop the vehicle at a different location, and the valet drivers are the only ones driving to this facility location, then it serves no purpose being recommended ever.
In such cases, where the valet drop off is not near the stop point for the place it services, the valet drop off may be added as a PLA, and marked as valet only in the name.
If regular drivers are allowed to drop their vehicle at the valet facility, or there is mixed use of the facility where non-valet users can park as well, then a PLA should be added.
Basics
Drawing
The Parking Lot Area (PLA) polygon should be drawn to include all parking spaces in the parking lot and the access lanes used to reach each parking space. To prevent creating overly complex polygons and unnecessary geometry points, small medians, curbed areas, and building corners on the scale of around 5 meters or less may be overlapped by the polygon and not cut out by extra geometry points. Parking lots should never be attached, snapped or have their geometry extremely close to roads as this tends to make editing them difficult. Avoid including or touching any roads outside the parking lot. If a lot spans both sides of a street (excluding Parking Lot Roads), it must be mapped so the polygon does not overlap the street. This may require drawing the lot as separate places. If the lot is elevated above the street and the lot actually covers the street, then the PLA may overlap the street as well.
Entrances
Locking Standards
Once added, lock Parking Lot Areas to 3.
Lots by Category
On Premises Parking
It is important to create 2 separate places - A Point or Area Place for the destination, and a Parking Lot Area for its designated parking lot.
Multiple parking lots for one place: Create separate parking lots so the best parking lot can be recommended.
Valet parking - Valet is a service attribute of a place but is also an attribute for a parking lot.
Public & Municipal Parking Lots
| | |
| --- | --- |
| | Content needs to be written |
Rental Car Lots
Rental car facilities and returns, including at airports, should be marked with the Car Rental Place category for the desk and/or the building. A Parking Lot Area may be drawn for associated customer or return vehicle parking.
Malls and Shopping Centers
For a mall or large shopping center, break the parking lot up into multiple lots, as shown in the image to the right (use your discretion or discuss with your State Manager(s) or RC for official guidance if necessary.)
Multi-level, Elevated and Underground Lots
| | |
| --- | --- |
| | Needs review: summarize, simplify where possible |
Garages that are at least partially above ground should be drawn to cover its footprint at street level.
Underground garages should be drawn to cover the entrance, at street level. There is no need to draw the polygon to match the internal perimeter since there is no GPS signal underground.
Also: The drawn polygon should include both above ground areas and any underground areas near the entrances or exits in a single polygon.
If a lot has more than one entrance/exit the polygon must be made to connect all the entrances and exits. You may use a PLR to show multiple entrances as well, allowing the routing to choose the best route to access the lot, just as an above ground lot is drawn. It is not important however to draw the polygon to the entire footprint of the garage. The accuracy of the entry point (Setting the stop point) is very important.
Temporary Lots
Temporary parking established specifically for an event such as festivals, parades, concerts, etc. can be added and named accordingly. Take care that temporary lots are removed as soon as the event is complete.
Parking Lot Roads
Don't forget to map any necessary parking lot roads, to allow for proper navigation into and out of the parking lot. The parking lot place is not a substitute for properly mapped PLRs, as the two features are independent of each other. The best practices page provides detailed guidance on how to map roads in parking lots.
Parking lot roads are not required simply because a PLA exists. It is OK for small lots which do not qualify for their own PLRs to still be mapped as a PLA.
Primary Lot Type
| | |
| --- | --- |
| | Clearly explain the meaning of each type. Then it's OK to illustrate Cause => Effect in app. Special/commonly accepted exceptions (such as large Mall lots) can be explained at the end, or within the context of each Lot Category further down. ( TBD |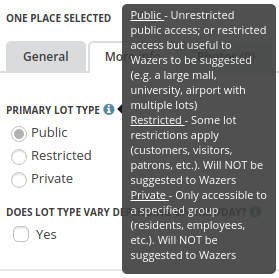 At the top of the 'More Info' tab when a parking lot is selected you can set the Primary Lot Type. This setting affects whether a lot will be recommended in the client app when a Wazer searches for nearby parking, or as a suggested lot when searching for a destination. Any lots marked here as Restricted or Private will not be recommended to any users in the app for the time being. As the feature is further developed, there will be the ability to set more details on these restrictions so the lots may be recommended under certain circumstances. As of March 2017 these are the guidelines accepted for the application of these settings, designed for optimal user experience.
Mark all parking lots with unrestricted public access as Public. This includes free and publicly owned parking lots, as well as for-profit garages, in which a Wazer may park, regardless of intent.
Mark parking lots where some restrictions apply (customers, patrons, visitors), but the ability to see or select between them is useful to a Wazer, as Public. For example, a university campus with multiple student, visitor, or faculty parking lots, or a large shopping center that contains multiple patron-only parking lots. A suburban fast food chain's parking lot is not.

Otherwise, mark parking lots where some restrictions apply (customers, patrons, visitors) as Restricted.

Mark parking lots where parking is restricted to a specific audience (residents of an apartment parking lot, employee garage of an office complex), but the ability to see or select between them is useful to a Wazer, as Public. For example, Employee, or permit parking at an airport, or large compound, large housing developments with multiple permitted lot, etc.

Otherwise, mark parking lots where parking is restricted to a specific audience (residents of an apartment parking lot, employee garage of an office complex) as Private.
Naming
If a parking facility or area has a documented identity, such as Beach Street Garage, 18th Avenue/Geary Lot, Lot 7 - <Stadium name>, Short-Term Parking - <Airport name>, Cell Phone Lot - <Airport name>, etc., its Place should reflect that name to facilitate searches. Generic park-and-ride lots should be named consistently according to local custom, for example as Park & Ride.
The foundational guidance for naming a PLA when the lot serves another entity, is to follow this basic format:
[Parking Descriptor] <restrictions> - [Entity served]
The framework is not recursive. In other words, there is only one business served in any lot name, and the rest of the name is the descriptor. As a rule the descriptor will always have a word in it identifying it as parking, e.g. parking, garage, or lot. The descriptor can be:
Completely generic - For single-business - single-lot
Parking - Starbucks
Purpose descriptive - Where there is only one lot of the type
Customer Parking - Office Depot, Employee Parking - Office Depot, Visitor Parking - LSU Eunice, Employee Parking - MSY [airport]
Location descriptive - Where more than one lot serve the same purpose for the same place
Southeast Lot - Big Hill Shopping Center, Macy's Lot - Big Hill Shopping Center, Grand Blvd Lot - Big Hill Shopping Center, Target Garage - Big Hill Shopping Center, Dillard's South Lot - Big Hill Shopping Center, North Lot - Offices at Buildingtown Plaza
Named - Where the lot is given an official name
Garage 2A - Mercedes-Benz Superdome, Credit Card Lot - MSY
Examples
| | |
| --- | --- |
| | simplify: Are these examples necessary in addition to those in the previous heading? If so, find a way to combine, or perhaps move to their relevant Lot Category sub-headings |
If a Parking Lot Area Place is contained within a larger Area Place, do not repeat the larger Area's full name. For example, if the Domestic Garage is contained within the "SFO San Francisco International Airport" Area Place boundaries, it need not be named "SFO San Francisco International Airport Domestic Garage"; "Domestic Garage - SFO" is sufficient.
If a mall or shopping center has several lots which can be associated with various anchor stores in the mall/shopping center, the lots can be named for the anchor stores. For example: "Macy's Lot - Big Hill Shopping Center"
In rare cases, a municipality or district provides public parking distinct from any other Area Place but without any documented or signed identity. These can be named after the municipality or district, for example, "Redwood City Public Parking". Do not use completely generic names such as "Parking" or "Public Parking" for anonymous parking facilities.
| | |
| --- | --- |
| | Simplify/consolidate. Suggest new heading/section covering Named Lots/Unnamed lots. Leading with 'block range/address' misleads the reader to the goal of the paragraph |
A block range or specific address should not be used to name a lot. If the lot does not have an official and/or signed name, then leave the name blank, and be sure to add the address details in the address field. Some imported PLAs were created with the address or address block range as the name, these names should be removed accordingly. Check your local guidance for any variations.
NOTE: It is very important if there is no name for the lot that there be a proper address in the address field. If you don't know the exact address you should at least put the street the main entrance is on, and - if you can - an approximate house number. The address is needed to be displayed in the search results, and differentiate the lot from all the others. Users can see the address displayed, and know which lot it is when viewing the results list.
Parking Limitations
If there are posted signs restricting the lot to only one certain category of users (e.g. Customers, Residents, Staff, Attendees, Permit Holders, Faculty, Students, etc.) ONLY, then put that restriction in the name. If the lot is restricted to more than one category of users, then put "(restricted access)" in the name. Also put the details of the restriction in the description.

| | |
| --- | --- |
| | Omit the restriction in the name if it is self-explanatory (e.g., Parking - Starbucks, is obviously for Starbucks patrons only). |
Examples:
Lot D (attendees only) - Cheery Stadium
Alpha Lot (permit only) - StudyHard University Parking allowed by permit only ( even if permits are available to multiple groups (eg for Students, and Faculty)
123 Somewhere St Lot (residents only)
Bravo Lot (restricted access) - StudyHard University Parking allowed for Students, and Faculty ONLY
345 Other St Lot (restricted access) Parking allowed for resident, guests, and staff
Description
| | |
| --- | --- |
| | "limitations" should not lead: they are not the primary/general case for writing a description. Move to later in the section, and make a note at the end of "Naming" to also add to description. Content for general description needs to be written. |
Any lot which is fully restricted in some way (e.g. permit/resident/customer only), and not open to the public for general parking, must include that information as the first line of the description. If only some of the available spots are restricted, but there are some spots in the lot open to the public for general parking, then it should not be mentioned.
Examples:
"Parking by permit only."
"Parking only for customers of John Doe's Supermarket"
"Parking only for residents of 123 Something St, and their guests"
"Parking restricted to 15 minutes or less"
"Valet parking only"
If you know the details or times of the restrictions you may add that information in the descriptions as well for users to see. This will also help for when those features become available in WME to have the details handy for mapping.
Detailed Lot Information
More Info (operator/spots/etc)
Opening hours - Hours lot is open. Set open times for the lot or select each day and the All day radio button for lots open 24 hours a day / 7 days a week.
Cars can exit when lot is closed - Check if the lot or garage does not restrict egress after the lot is considered closed.
Cost

Cost determination should be made based on parking lot fees for other similar and nearby lots for the same type of venue.

Example #1: Adding / editing parking lots near an airport; terminal parking may be the most expensive at $25/day, express parking the next level down (moderate) at $15/day and remote parking the next best option at $5/day (low).
Example #2: Hotel parking; on-site $50/day (expensive), self-parking garage at $30/day (moderate), and off-site parking at $15/day (low)

Each lot within approximately ⅔ mile (1 km) radius should be taken into consideration for PLA cost determination where appropriate.
Services (select services listed below)

Reservations - Lot accepts reservations or accepts pre-paid parking passes or permits.
Disability parking - Spaces exist for handicap parking / wheelchair accessible spaces.
Carpool Parking - Reserved spots exist for people who carpool to the location.
EV Charging - Lot contains a station to charge electric vehicles.
| | |
| --- | --- |
| | If adding the EV Charging Station attribute, also add a separate point Place for the EV station, as described in the Places/Charging station wiki. |
Car wash - A car wash is on premises within the parking lot (some airports and other venues have amenities such as this for those parking within the lot).
Security - On-site security for the specific lot exists

Number of Spots

List the most accurate number of spots within the specified parking lot area polygon.

Contact info

A link to the main venue to which the parking lot belongs or to the parking lot vendor's site (if applicable) is permissible here.

Phone

The phone number for the main venue to which the parking lot belongs or to the parking lot vendor is permissible here.
Parking lot photos
An ideal photo for a parking lot place should show the parking lot entrance, including any signage that would help a driver select the correct lot. Photos that show the parking lot in the context of surrounding structures are also useful.