User talk:Manoeuvre
From Wazeopedia

You are only seeing modifications of this page made up until Fri, 17 Sep 2021 23:13:46 UTC,
make sure to log in to the wiki to see the latest updates.
Locking Standard
Canada has active "Traffic Locks", these locks are based on usage from users. They are limited to a max rank of 4, but can be any rank below.
Segments that have restricted turns must be locked to a minimum Level 3.
If the current lock or traffic lock is higher than the minimum standards listed below, please don't lower the lock.
Minimum Road Locking Rank Standard

| Segment Type | Minimum locks |
| --- | --- |
|  Freeway  | 4 |
|  Ramp  | highest rank of connected segment |
| | 3 |
|  Major Highway  | 4 |
|  Minor Highway  | 3 |
|  Primary Street  | 2 |
|  Street  | 1 |
|  :|:|:|:|:Railroad:|:|:|:|:  | 4 |
Place Editing
PUR should be reviewed for accuracy, once approved all relevant information pertaining to the place should be entered. Please use each company's website to gather all information you can. Once a place is complete please lock to rank 3.
This practice will prevent app trusted users and most IGN editors from making incorrect changes to places we know are right. App trusted users and IGN editors are rarely rank 3.
Following are general standards for place locking in Canada:

Place Minimum Locking Rank Standard

| Place Type | Minimum locks |
| --- | --- |
| Airports | 4 |
| Hospitals | 4 |
| Major Tourist Attractions/Landmarks | 4 |
| Police/Fire Stations | 3 |
| Gas Stations | 3 |
Place Naming
Place Naming in Canada should adhere to the following guidelines. Following the government agency naming guide is a list of businesses which are chains or franchises. Please use these name spellings when creating or updating a place.
Hospitals
Hospitals with Emergency Rooms must have "ER/Urgence" prefixed in the place name, for example:
ER - Brampton Civic Hospital
ER - St. Michael's Hospital
Urgence - Hôpital de Verdun
Government Agencies
Police Stations: City, Agency followed by division name, for example:
Toronto Police 12 Division
Peel Police 22 Division
O.P.P. Collingwood Detachment
Fire Stations: City, Agency followed by station number, for example:
Brampton Fire Station 221
Toronto Fire Station 347
Place Name Harmonization
If you don't find the business you're looking for, please use this form to submit the missing information.
When to use Area or Point in Canada
Here is the Canadian guidance on selecting Area or Point for Places in the Waze Map Editor.
Optional Area shall only be used after consulting local area managers on regional guidelines. The place must be a significant landmark with navigational value in the community. For example: a Canadian Tire in Hepburn, SK (population 500) is of significance. However, the same sized Canadian Tire is of zero significance in the Greater Toronto Area.
We do not want to impose hard & fast rules for the Optional Area category. Please use some judgement, we do not want to see wall-to-wall areas for every single building structure on the map.
Optional Area shall be landmarked to just the building structure only, do not include the parking lot area.
Fence-line Areas shall be landmarked from fence line to fence line to include all parking lots, roads, and anything associated with the property. Parking lot roads (PLRs), parking lots, and gas stations all serve the same purpose.
The Primary Category for a Place is used to determine whether to use a Point or Area.
Parent
Category
Type
Comments
Car Services
Gas Station
Area
Many gas stations also have convenience stores and ATMs. Remember to use "Gas Station" as the primary category and the add any others which are relevant.
Professional and public
Conventions / Event Centre
Point
Professional and public
Hospital / Medical Care
Area
ONLY Hospitals, Emergency Rooms, and places offering Urgent Medical Care should use this category. ERs encompassed in a hospital Place Area should be points.

Clinics and Medical offices which do not offer urgent medical care for Walk-ins should use the Office category (and any other appropriate category) instead.

Professional and public
Religious Centre
Point
Professional and public
School
Area
Shopping and services
Hardware Store
Point
Shopping and services
Supermarket / Grocery
Point
Emergency Vehicle Roads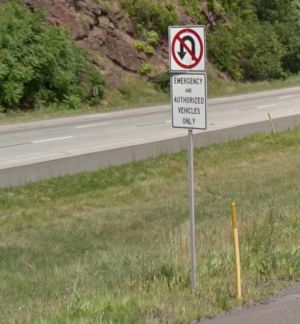 "Emergency and Authorized Vehicles Only" are to be treated as Non-drivable roads. These are found primarily through the median of divided highways to connect opposite direction lanes.
Champs Option A
If mapped, they should not be connected to any drivable road, with properties set to road type Private Road, and lock the segment at as high a rank as possible, up to rank 5.
Champs Option B
Do not map them at all in Canada.
Ferries
Please do not use the ferry road type, it's not yet functional in Waze. Canada will adopt U.S. guidelines with respect to ferries.
Use the FC/RC classification of the road leading to the ferry crossing.
If the ferry has a toll, mark it as a toll road.