Your Rank and Points
From Wazeopedia
Waze uses a point system to track usage of the the Waze client application, and also when you use the web interface to make edits to the map. Depending upon what actions you perform will determine how many point you earn. These points are currently used to define your status and "rank" compared to all other users in Waze.
My Dashboard
You can see your points and rank from the web interface by selecting My Dashboard, or from the client application you can select the Menu, then My Waze, then the Scoreboard. Select the following link for information on the other sections of the My Dashboard page.
From the web interface you will see the following table, through which you can follow your progress and driving activity inside Waze. Each field in the table represents a different activity inside Waze. Every night the Waze system will calculate all the points that you accumulated for each activity through the day. The system will then identify your rank among all other Waze users. Your rank will generally change on a daily basis, until you get very high in the ranking.
NOTE: Occasionally, the system has some delays with updating the points. If you think the points have not updated properly, it's worth checking the status page - http://status.waze.com - to make sure that there are no current issues with the points system. Generally these delays are cleared in a day or so, but may take longer.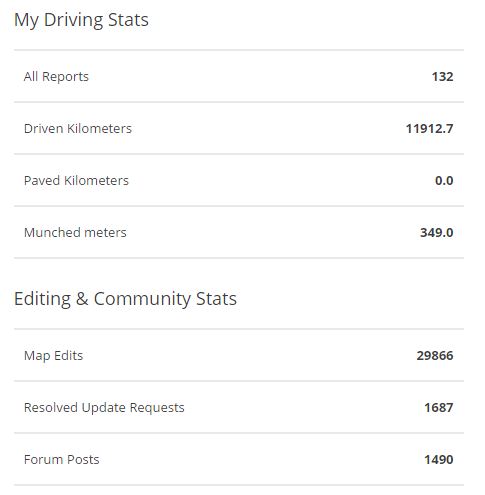 How are points calculated?
You receive a different number of points for each activity as listed in the tables below. Note that the number of points you get for distance related activities is different when measured in miles and in kilometers. In effect you get the same points for the same physical distance. The second table below shows you the translation of the two measurements system.
Based on the current point system, the Wazers who spend time on the web interface updating the map will generally accumulate the most points in any particular week. If your goal is to get a lot more points than you have now, you should consider investigating updating the map for your area.
When editing the map in the Waze Map Editor, the points are granted according to the number of changed segments/nodes/other objects. If you select several segments and edit them all, you will get a point for each segment. However, you will not receive more points for changing different properties of the same segment in the same Save.
For instance: Updating the level of 3 selected segments (in one operation) and then saving will grant you 3 points for changing 3 segments.
Giving segments a street name in that operation might get you more points in some cases. Allowing/forbidding a turn counts as a change in the node of the turn, so all changes in the same node will be granted only once.
Bonus point opportunities
There are other ways to earn points. Once you meet the criteria for one of the following tasks below, a message pops up in the Waze client application. The message states you've earned a "candy" that contains a particular number of points. Simply drive over where the candy is located and the points will be added to your total upon Waze's next ranking update. The bonus points can only be earned once unless otherwise noted.
If for some reason you are unable to drive over the candy, don't worry about it. The candy will come back at another location as you continue to drive, or when you use Waze again later. If you do not enable these "Road Goodies" in the Waze client application, you will receive the credits during the next weekly point update.
| Task | Points | Notes |
| --- | --- | --- |
| Your first 10 miles | 25 | |
| Your first report | 25 | |
| Your first weekend report | 30 | |
| First report of a map problem | 50 | |
| First friend on waze | 200 | Obtainable only by connecting your Facebook account to Waze. One of your Facebook friends has to also connect his/her account to Waze in order to obtain the bonus points. |
| First week1 you drove 2 days | 100 | |
| First week1 you drove 3 days | 200 | |
| Your first map edit | 200 | |
| First week1 you drove 4 days | 300 | |
| Resolve 50 map problems | 500 | |
| Top weekly user in your state | 500 | |
| Complete 500 map edits | 750 | Can be obtained more than once. Candy might not pop up until Waze's ranking servers update. |
| Drive 500 miles within a week1 | 1000 | |
| First five friends on waze | 2000 | See "First friend on waze" |
1 Waze bases a week on a work week which means the week starts on Monday and ends on Sunday.
Waze ranks
Client application rank
Each Waze user starts as the initial "Baby" rank. The table shows the various ranks and how you can move up in ranks. This rank is tracked in the Waze client application with the icons you see below.

| | |
| --- | --- |
| Waze Baby | Welcome to the world, Wazer! You're a baby now, but not for long... Drive 100 miles to become a Grown up. |
| Waze Grown-Up | You've matured and can now pick a new Waze mood. To become a Waze Warrior you'll need to seriously ramp up on points... |
| Waze Warrior | Behold the shield! You've reached the top 10% of high scorers in your region. Maintaining it won't be easy... |
| Waze Knight | The sword is yours! You've reached the top 4% of high scorers in your region. You're almost Royalty... Keep on looking for point opportunities |
| Waze Royalty | You've arrived! You're in the top 1% of high scorers in your region. Drive around knowing you're as VIP as they come... |

To reach Royalty rank (or king level), you have to be in the top % of all Wazers in your locality (in the US, this is determined by state).
The top % is calculated once a month, and if more and more Wazers get points, it's possible that the total amount needed to reach shield / sword / crown will actually go up. While it could be frustrating, it helps us guarantee that no one gets the 'royalty' level for good - it always gives a chance for new Wazers to come along and get it.
Map editing rank
VIP Users
There are special VIP ranks for users who go over and above with Waze. VIP users show up uniquely in the app (since version 2.4 on both Android and iPhone). The user's Waze icon has a special jump movement with a small bubble that shows how they got their VIP status.
Here's what you need to do to achieve a VIP rank:
| Achievement | How to obtain VIP Rank |
| --- | --- |
| 1 Million Points | 1,000,000 points |
| Mega Mapper | 200,000 map edits |
| Mega Driver | 50,000 km (31,068.55 miles) driven on existing roads |
| Mega Reporter | 400 different users thumbs up (or likes) your reports in the app |
When you reach one of these levels, send a message to the support team and they will apply that status for you.
Waze Champs
Waze Champs are fellow Wazers like everyone else, but they are generally very experienced using Waze and active in the forums with moderator privileges. Most forum questions are answered by these users as they give their time freely to the Waze community. They are selected by Waze developers and are generally in closer direct communication with the Waze development team. This group also includes the Wazers who attended the Meet Up in Paris, France, in 2011 and Palo Alto, California, in 2012. The Waze Champ status only appears in the forums as part of the user's profile history when they post a message. If for any reason you have a question you don't feel comfortable asking in the main forums, you can send a Private Message (PM) to a Waze Champ and they would be happy to answer your question.