Difference between revisions of "Counties"
From Wazeopedia
---
Revision as of 09:35, 26 January 2017
UK Counties
The counties of England, Scotland, Wales and Northern Ireland have been added to the Waze map as 'states'. Cities, towns and villages are associated with one state, and this is used for address searches.
Notes:
County names and boundaries are derived from official sources, and can be seen below
Waze have applied these counties retrospectively to all existing cities
County names are no longer required on the end of city names to keep them unique
For cities that have their own Unitary Authority, they can have suburbs defined instead
If you spot a problem with the name or state of a city, please request a change via this form.
County Map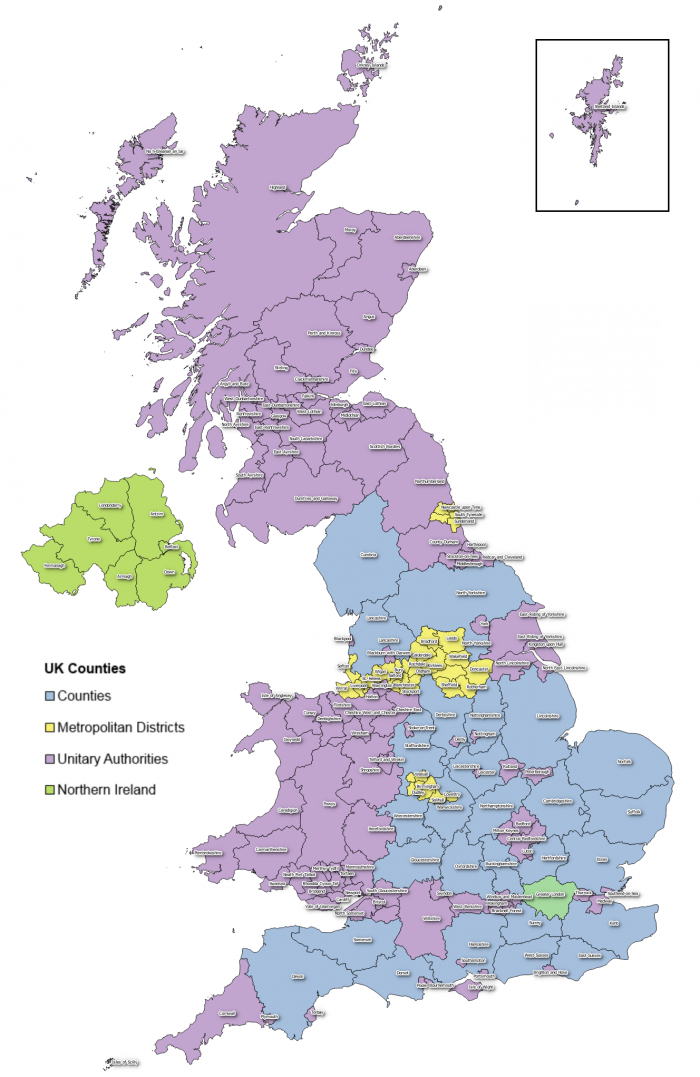 County List
Counties
| | | | |
| --- | --- | --- | --- |
| Buckinghamshire | Essex | Lincolnshire | Staffordshire |
| Cambridgeshire | Gloucestershire | Norfolk | Suffolk |
| Cumbria | Hampshire | North Yorkshire | Surrey |
| Derbyshire | Hertfordshire | Northamptonshire | Warwickshire |
| Devon | Kent | Nottinghamshire | West Sussex |
| Dorset | Lancashire | Oxfordshire | Worcestershire |
| East Sussex | Leicestershire | Somerset | Greater London |
Metropolitan Districts
| | | | |
| --- | --- | --- | --- |
| Barnsley | Gateshead | Rochdale | Stockport |
| Birmingham | Kirklees | Rotherham | Sunderland |
| Bolton | Knowsley | Salford | Tameside |
| Bradford | Leeds | Sandwell | Trafford |
| Bury | Liverpool | Sefton | Wakefield |
| Calderdale | Manchester | Sheffield | Walsall |
| Coventry | Newcastle upon Tyne | Solihull | Wigan |
| Doncaster | North Tyneside | South Tyneside | Wirral |
| Dudley | Oldham | St. Helens | Wolverhampton |
Unitary Authorities
Aberdeen
Dumfries and Galloway
Milton Keynes
Shropshire
Aberdeenshire
Dundee
Monmouthshire
Slough
Angus
East Ayrshire
Moray
South Ayrshire
Argyll and Bute
East Dunbartonshire
Na h-Eileanan an Iar
South Gloucestershire
Bath and NE Somerset
East Lothian
Neath Port Talbot
South Lanarkshire
Bedford
East Renfrewshire
Newport
Southampton
Blackburn with Darwen
East Riding of Yorkshire
North Ayrshire
Southend-on-Sea
Blackpool
Edinburgh
North East Lincolnshire
Stirling
Blaenau Gwent
Falkirk
North Lanarkshire
Stockton-on-Tees
Bournemouth
Fife
North Lincolnshire
Stoke-on-Trent
Bracknell Forest
Flintshire
North Somerset
Swansea
Bridgend
Glasgow
Northumberland
Swindon
Brighton and Hove
Gwynedd
Nottingham
Telford and Wrekin
Bristol
Halton
Orkney Islands
Thurrock
Caerphilly
Hartlepool
Pembrokeshire
Torbay
Cardiff
Herefordshire
Perth and Kinross
Torfaen
Carmarthenshire
Highland
Peterborough
Vale of Glamorgan
Central Bedfordshire
Inverclyde
Plymouth
Warrington
Ceredigion
Isle of Anglesey
Poole
West Berkshire
Cheshire East
Isle of Wight
Portsmouth
West Dunbartonshire
Cheshire West and Chester
Isles of Scilly
Powys
West Lothian
Clackmannanshire
Kingston upon Hull
Reading
Wiltshire
Conwy
Leicester
Redcar and Cleveland
Windsor and Maidenhead
Cornwall
Luton
Renfrewshire
Wokingham
County Durham
Medway
Rhondda Cynon Taf
Wrexham
Darlington
Merthyr Tydfil
Rutland
York
Denbighshire
Middlesbrough
Scottish Borders
Derby
Midlothian
Shetland Islands
Northern Ireland
| | | | | | | |
| --- | --- | --- | --- | --- | --- | --- |
| Antrim | Armagh | Belfast | Down | Fermanagh | Londonderry | Tyrone |