Northern Ireland
From Wazeopedia
This page contains resources for editing in Northern Ireland.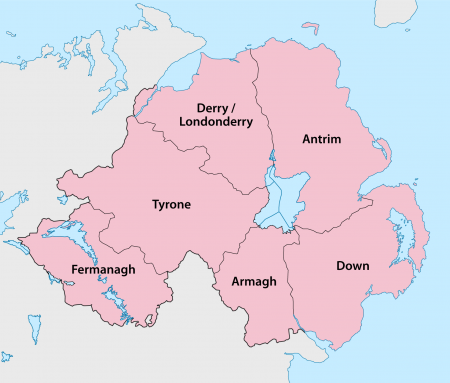 The road maintenance authority in Northern Ireland, Roads Service, is a central government agency within the Department for Regional Development. Roads Service is divided into four main areas: North, South, East and West, with the actual areas based roughly on the local council boundaries.
The Northern Division area covers the Antrim, Ballymena, Larne, Ballymoney, Ballymoney, Moyle, Coleraine, Limavady and Derry Councils. Eastern covers Belfast, Carrickfergus, Newtownabbey, Castlereagh, Lisburn and North Down. Southern Division is comprised of Ards, Craigavon, Armagh, Banbridge, Down, and Newry and Mourne. Western Division is the largest and most rural of the four areas, and covers the Strabane, Magherafelt, Cookstown, Dungannon, Omagh and Fermanagh councils.
Road Names
If you're looking for the definitive list of road names, then refer to this set of spreadsheets by Ikkabar: Northern Ireland Road Name Listings (read the Readme first)
How to Use the Spreadsheet
If you know the name of a road, filter it using that name in the Description column to show the road and any that connect to it, then use the length column to try and figure out or confirm the connecting road names against OpenStreetMap.
For Motorway, A, B, and C-Class roads, filter by the road type then sort the list by the unique column. You should be able to follow the route from beginning to end in sequence.
If you want to get a list of all the streets in an area, find the name of one road in the area and make a note of the sector, then filter the list using that single sector.
Other Resources
---
« Back to UK Editing Best Practice