Restrictions
From Wazeopedia
---
Outdated translations are marked like this.

We are currently updating the pages to include all regionally different guidelines. If you find inconsistencies, please refer to the English page. Thank you!
Restrictions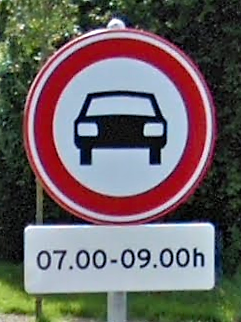 Pour chaque type de route, il est possible d'ajouter des restrictions horaires (par exemple, pour les marchés hebdomadaires) ;

Cliquez sur Nouvelle restriction pour A > B, B > A ou Double-sens ;
Si cela s'applique à la situation, cochez la case Route à péage ;
Enregistrez les restrictions en cliquant sur Appliquer.
Attention de ne pas utiliser les restrictions pour fermer une route. Celles-ci sont invisibles sur l'application et mettent plusieurs jours à être actives. Utilisez les fermetures
For an example of a time based restriction combined with destination traffic allowed see Complex Restrictions.
Types de véhicule
L'interdiction de certains véhicules sur une route dépend de la signalisation ou des moyens de blocage physiques :

Si des poteaux empêchent de passer en voiture mais qu'il n'y a aucun panneau de signalisation interdisant le passage aux cyclomoteurs, ils doivent être autorisés à l'aide d'une restriction horaire.