User:Wimvandierendonck/Editing speed limits
From Wazeopedia
| | |
| --- | --- |
| | This page is a work in progress. |
Introduction
Entering speed limits has been enabled. As always this is a generalised description, inform yourself about local guidelines in your country. If local guidelines can't be found or are unclear contact a state or country manager.
Entering Limits
The speed limit fields can be found in the Left pane with one or more segments selected.

These should be updated with the official speed limit on speed limit signs. You should know the area where you add them.

Manually entries are regarded as confirmed. Incorrect speeds will have a negative impact on the prediction algorithm by Waze.
Phased roll-out
The roll-out of speed limits is planned in three phases, as explained below:
Phase 1 - initial speed limit data (by community)

Minimum 10 000 segments on a localized area (e.g. city)
With all types of roads
Most importantly all types of speeds that exist in the country should be present.

Phase 2 - prediction algorithm (by Waze)

Wait for the Waze Team to generate Speed Limit predictions for all the country / metro. This takes a few business days

Phase 3 - speed limit verification (by community)

Verify the inserted speed limits by the Waze algorithm (use the 'Verify' checkbox inside the Editor). Focus on high speed roads (Freeways, Major Highways, Minor Highways).
Guidelines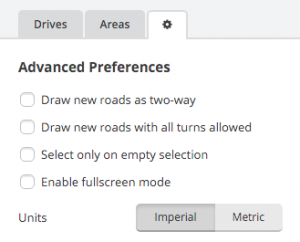 Make sure you're using the correct units for the speed limits.

Switch between Imperial or Metric in the Settings Tab.
The Gear icon is only visible when no segment or place is selected.
Tips & tricks
General
Do not include multiple road types in one selection or the speed limit text boxes will be unavailable.
Scripts
Please see the Community Plugins, Extensions and Tools for details on the Waze Map Editor extension/addon to allow easy correction of smudged cities, misspellings, etc.