Difference between revisions of "Scripts/WME center to begin-end of street"
From Wazeopedia
m (1 revision imported)

 

(No difference)
---
Latest revision as of 10:54, 30 November 2015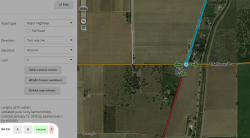 The script adds the ability to center the map at the beginning or end of the currently selected segment. The ends are selected with the A and B buttons. The script also remembers the last map position and zoom level before pressing either A or B. That feature is accessed with the return button. The X button will clear the last map position until A or B is pressed again (setting a new remembered map position).

↓ DOWNLOAD ↓
| | |
| --- | --- |
| | Bring up comments or questions on this page in this forum . |