Difference between revisions of "Scripts/Waze Edit Count Monitor"
From Wazeopedia
---
Latest revision as of 02:59, 31 March 2017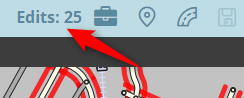 Adds an edit count to the header at the top right of the screen with the WME buttons. Updates after each save. Warns if you might be throttled (saves without edit count increase).
↓ DOWNLOAD ↓