Maine/Special roads/Main
From Wazeopedia
Dirt road / 4x4 Trail in Maine should be used only for poor-quality dirt roads. Maintained, graded gravel roads should be classified as Street (or higher, as dictated by the roadway's Functional Class) and flagged as unpaved using the "Dirt Road / 4x4 Trail" checkbox in WME.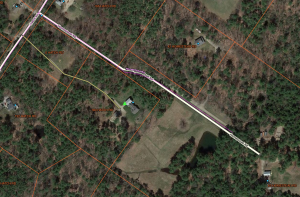 Long driveways may be mapped as Private Road when needed for correct navigation. For example, when a house is closest to a segment that does not access the property, then a driveway is appropriately drawn to allow correct navigation to that property. A Residential Point Place should be added for that property as well. If that driveway, in turn, now is the closest access to a neighbor, another driveway may be needed. To avoid this proliferation of driveways, it is best to avoid adding them altogether if correct navigation would occur without any of them. In the two examples shown, this test is met. In the first example, a road parallels the driveway; in the second example, a road cuts across the back of the properties. In both cases, the PVT segments are needed to avoid routing along these other segments.
Roads that are technically private (i.e. not maintained by the municipality) should not be marked as Private Roads unless they meet the national standards for a Private Road (e.g. gated). If a private segment is needed to enforce a "no through traffic" restriction, please consult with a state manager or other senior editor first.