Functional Classification
The Highway Functional Classification System defines the role a roadway plays in the overall road network. Each roadway is classified in two ways. First by whether it is 'urban' or 'rural' as defined by Rhode Island's Transportation Urban Rural Boundary map, and second by its function within the network.
RI to Waze FC conversion
We are utilizing the Federal Functional Classification system, because it matches up with other states.
Resource Links
RI DOT Class & Color Description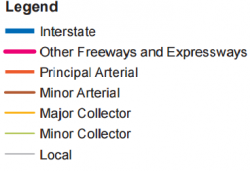 The Color/Classification Legend can be found on each of the Municipality FC maps provided by the state. The legend shows what classifications MassDOT uses and what color is assigned to each class.
Please refer to the GIS FC map found here, on the massDOT FC Maps webpage.
MassDOT to Waze conversion table
The numbers correspond to the Federal FC type indicated. (e.g. Federal Class 4 road is a Minor Arterial)
Highway Systems
Interstate
US Hwy (incl. some special routes)
US Hwy BUS, SPUR, LOOP
State Hwy (incl. some special routes)
State Hwy BUS, SPUR[a], LOOP
Locally-maintained
example>>>>>
I-95 N
US-2
US-460 Business
SR-27 (SR-27A)
SR-400 Loop
Robertson St
F
u
n
c
t
i
o
n
a
l

C
l
a
s
s

  Interstate 

 Fw 

n/a
n/a
n/a
n/a
n/a

  Other Freeways and Expys 

n/a

 Fw 

 Fw 

 Fw 

 Fw 

 Fw 

  Principal Arterial 

n/a

 Major 

 Major 

 Major 

 Major 

 Major 

  Minor Arterial 

n/a

 Major 

 Major 

 Minor 

 Minor 

 Minor 

  Major Collector 

n/a

 Major 

 Major 

 Minor 

 PS 

 PS 

  Minor Collector 

n/a

 Major 

 Major 

 Minor 

 PS 

 PS 

  Local 

n/a

 Major 

 Major 

 Minor 

 PS 

 Street