California/Functional Classifications Grids
From Wazeopedia
This page serves to provide resources and track the Functional Classification (FC) changes for California. The grid below identifies what parts of the state have already been completed. If you are a California editor, consider helping with these changes.
What is Functional Classification
Links to FC Map Resources
Functional Classification Grid Map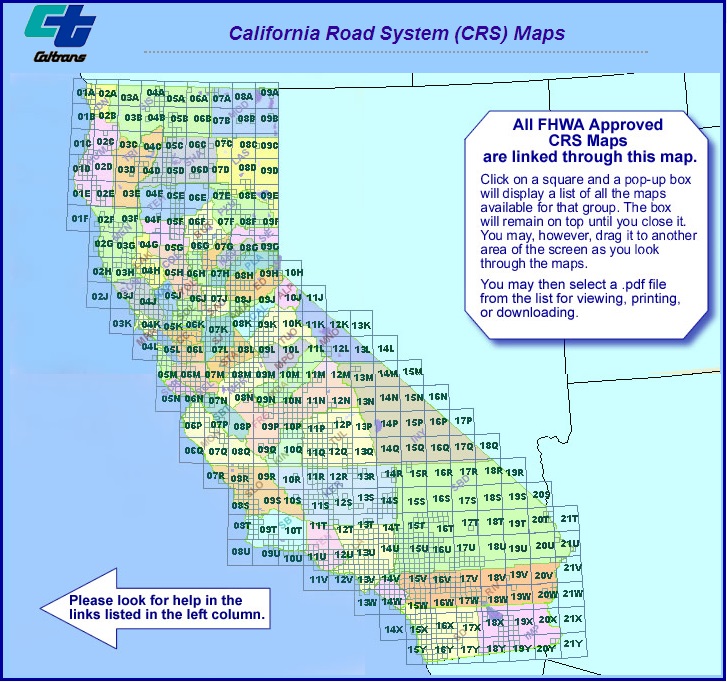 Table of Grids and Status
Please be sure to identify if you are editing a particular grid to prevent multiple editors working on the same location.
Follow the example below when filling in the table to keep this process neat and orderly.
Link your user name with a hyperlink to your PM for easier communication between editors.
Consider identifying which subsquares of your grid are completed if you are going to take multiple days to complete your work.
When all the roads in your grid are updated to the current FC, mark that entry completed.
When an editor completes a grid entry, consider signing up to check that grid and add your name to that entry.
Example
| Grid Number | Key city | Editor | Verified By | Comments/Status |
| --- | --- | --- | --- | --- |
| EX: 01Z | EX: Anytown | EX: Skidoomxz01 | EX: kentsmith9 Reviewing | EX: Complete |
| EX: 02Z | EX: Othertown | EX: kentsmith9 | | EX: Completed 02Zxx: 21, 22, 23 |
Group A - C
Group D - E
Group F - J
Group K - P
Grid Number
Key city
Editor
Verified By
Comments/Status
03K
Bodega Bay
ChuckBarlow
Completed: All
(June 2015)
04K
San Rafael & Petaluma
Baba_Yaga
04K35, 04K45, 04K55 - 4 miles around hwy 37 &101
05K
Napa & Concord
Baba_Yaga,
SCP1906,
ababcock
05K31, 05K32 - 4 miles around hwy 37; 05K33, 05K34, 05K43, 05K44 - 4 miles around hwy 37 & 80 (Vallejo); 05K41, 05K51 - 4 miles around hwy 101; 05K52 - 4 miles around hwy 80;

SCP: 05K11, 05K12, 05K13 (May 2015);
AB: Compl. 15, 25, 44, 45, 54, 55
06K
Pittsburg, Antioch, Brentwood, Rio Vista
ChuckBarlow
CB: 21, 23, 33 in progress (July 2015)

Completed: 24, 34, 35, 41, 42, 43, 51, 52, 53, 54
07K
Stockton & Lodi
Baba_Yaga,

CB: 13, 22, 23, 42-45 in progress (Aug 2015);
Completed: 11, 12, 21, 32, 33, 34

BY: 52, 53 - 4 miles around I-5 (Stockton);
CE: 53, 54, 55 (East of Stockton)
08K
Copperopolis & Angels Camp
CullenElliot
CE: 51 (Eastern edge of San Joaquin County)
09K
10K
11K
12K
(None)
ChuckBarlow
Completed: All
13K
(None)
ChuckBarlow
Completed: All
(very little of this grid in California)
04L
San Francisco (westernmost sliver)
Baba_Yaga
DL: 04L (San Francisco portion only) - completed;

BY: 15 - 4 miles around hwy 101 (Corte Madera)

05L
San Francisco & Hayward
Baba_Yaga, DwarfLord, & kentsmith9
KS9: 44, 45, 54, 55
BY: 11 - 4 miles around hwy 101 (Sausalito); DL: 21, 22, 31, 32, 41, 42, 51, 52, 53 (SF Peninsula from SF to Half Moon Bay/San Carlos/Foster City) - completed.
06L
Fremont & Discovery Bay
kentsmith9
Completed 06Lxx: All
07L
Tracy & Manteca, Modesto (west)
Baba_Yaga &

BY: 13, 22, 23, 32, 53 - 4 miles around I-5;
CE: 53, 54, 55 (East of Stockton) CE: 13, 14, 15, 21, 22, 23, 24, 25, 31, 32, 34 (East Manteca, Ripon, Escalon, Tracy)
08L
Modesto (east), Ceres, Oakdale
CullenElliot
CE: 11, 12 (Eastern edge of San Joaquin County)
09L
10L
11L
12L
13L
14L
05M
Palo Alto, south SF Peninsula, Santa Cruz Mountains
DwarfLord
11, 12, 13, 14, 15, 23, 24, 25, 33, 34, 35, 45: completed. 54, 55, & 05M remainder: in progress
06M
San Jose & Morgan Hill
Baba_Yaga
11, 12, 21, 31, 41: completed

22, 32: standing down with partially complete (east of Monterey Rd outside editable area) G: in progress = 43,44; complete = 45,53,54,55

07M
Patterson
Baba_Yaga
kentsmith9
Completed 07Mxx: All
08M
Livingston
Nagamasa
Completed: 08M23 only
09M
Merced
Nagamasa
Completed: 09M31-32 only
10M
Mariposa
Nagamasa
Completed: 10M11 only
11M
12M
13M
14M
15M
05N
Santa Cruz (West)
DwarfLord
wazxorz &
Completed 05Nxx: All
06N
Santa Cruz (East), Salinas, Gilroy
wazxorz, Baba_Yaga, Gizmomdk

Complete: 06N11, 06N12, 06N13*, 06N21, 06N22, 06N23**, 06N33. *: Missing Uvas Rd at NE, Redwood Retreat Rd at E. **: Missing Carlton Rd at E. BY: 52 - complete; 53, 43, 44, 34 - 4 miles around hwy 1 & 156 G: in progress = 35; complete = 13,14,15,25

07N
08N
09N
10N
11N
12N
13N
14N
15N
16N
06P
Monterey & Carmel
Baba_Yaga

11, 21 - Complete (Monterey, Carmel)

12,13 - 4 miles around hwy 1

22 - 4 miles around Carmel Valley Rd

07P
08P
09P
10P
11P
12P
13P
14P
15P
16P
17P
Group Q - U
| Grid Number | Key city | Editor | Verified By | Comments/Status |
| --- | --- | --- | --- | --- |
| 06Q | | | | |
| 07Q | | | | |
| 08Q | | | | |
| 09Q | | | | |
| 10Q | | | | |
| 11Q | | | | |
| 12Q | | | | |
| 13Q | | | | |
| 14Q | | | | |
| 15Q | | | | |
| 16Q | | purposeguy | | |
| 17Q | Tecopa | purposeguy | | complete |
| 18Q | | purposeguy | | complete |
| 07R | | | | |
| 08R | | | | |
| 09R | | | | |
| 10R | | | | |
| 11R | | | | |
| 12R | | | | |
| 13R | | | | |
| 14R | | | | |
| 15R | None | Loki2461 | | Needs Review |
| 16R | None | Loki2461 | purposeguy | complete |
| 17R | None | Loki2461 | purposeguy | complete |
| 18R | Valley Wells Station | purposeguy | | complete |
| 19R | Nipton | purposeguy | | complete |
| 08S | | | | |
| 09S | | | | |
| 10S | | | | |
| 11S | West Bakersfield, Kern City, Maricopa, Taft I-5 & SR-58 | | robertonthego | 11s15, 11s25 verified |
| 12S | East Bakersfield, Arvin, Lamont, Caliente, SR178, SR58, SR99, SR223 | | robertonthego | 12s11 verified |
| 13S | | | | |
| 14S | | | | |
| 15S | Lockhart | Loki2461 | purposeguy | complete |
| 16S | None | Loki2461 | purposeguy | complete |
| 17S | Baker | Loki2461 | purposeguy | complete |
| 18S | Kelso | purposeguy | | complete |
| 19S | Ivanpah, Cima | purposeguy | | complete |
| 20S | | purposeguy | | complete |
| 08T | | | | |
| 09T | Santa Maria | Mao_mauri | | |
| 10T | | | | |
| 11T | | | | |
| 12T | | | | |
| 13T | | | | |
| 14T | | | | |
| 15T | | | | |
| 16T | | | | |
| 17T | Ludlow | purposeguy | | complete |
| 18T | Siberia | purposeguy | | complete |
| 19T | Fenner | purposeguy | | complete |
| 20T | Needles | purposeguy | | complete |
| 21T | Park Moabi | purposeguy | | complete |
| 08U | | | | |
| 09U | | | | |
| 10U | | | | |
| 11U | | | | |
| 12U | | | | |
| 13U | | | | |
| 14U | | | | |
| 15U | Victorville | Speedy_Bagheera | | Mostly completed except 15U11 |
| 16U | Big Bear Lake, Big Bear City | citeman | | Most of 16U41,16U42,16U51,16U52 areas completed; |
| 17U | Landers, Yucca Valley | purposeguy | | complete |
| 18U | Twentynine Palms, Amboy | purposeguy | | complete |
| 19U | Chubbuck | purposeguy | | complete |
| 20U | Vidal Junction | purposeguy | | complete |
| 21U | Bluewater, Parker Dam | purposeguy | | complete |
Group V - Z
Grid Number
Key city
Editor
Verified By
Comments/Status
11V
12V
13V
Hollywood & Long Beach
jemay
Complete 44/54
14V
15V
Riverside
ScottZane &

Green = Complete, Yellow = In Progress, Red = Not Started

| | | | | |
| --- | --- | --- | --- | --- |
| 11 | 12 | 13 | 14 | 15 |
| 21 | 22 | 23 | 24 | 25 |
| 31 | 32 | 33 | 34 | 35 |
| 41 | 42 | 43 | 44 | 45 |
| 51 | 52 | 53 | 54 | 55 |

16V
17V
Twentynine Palms, Yucca Valley, Cathedral City
purposeguy
complete
18V
Twentynine Palms, Joshua Tree
purposeguy
complete
19V
Eagle Mountain, Riverside County
purposeguy
complete
20V
Freda, Rice, Vidal
purposeguy
complete
21V
Big River, Earp
purposeguy
complete
13W
14W
South Orange County
15W
Riverside
ct13
16W
17W
Palm Springs, Indio, Coachella, Mecca
purposeguy
complete
18W
North Shore, Thermal
purposeguy
complete
19W
Desert Center
purposeguy
complete
20W
Blythe
purposeguy
complete
21W
Riverside County
purposeguy
complete
14X
15X
Oceanside & San Diego (West)
Marine Mustang &
15X all complete
16X
Barona & San Ysidro
SkiDooGuy
34, 35, 41, 42, 43, 44, Still in progress 11, 21, 31, 32, 45, 51
17X
Borrego Springs, Ocotillo Wells
purposeguy
complete
18X
Brawley, Westmorland, Salton Sea
purposeguy
complete
19X
Glamis, Alamorio, Wiest
purposeguy
complete
20X
Imperial County
purposeguy
complete
21X
Imperial County
purposeguy
complete
15Y
La Jolla & Coronado
SkiDooGuy
gettingthere
Complete - 13, 23, 33, 34, 35, 44, 45, 54, 55
16Y
EL CAJON & Pine Valley
gettingthere
Complete - 11, 12, 13, 14, 15, 21, 25, 31, 41, 51
17Y
Boulder Oaks, Live Oak Springs, Boulder Park
purposeguy
complete
18Y
El Centro, Imperial, Heber
purposeguy
complete
19Y
Holtville, Calexico
purposeguy
complete
20Y
Winterhaven
purposeguy
complete
21Y
Imperial County
purposeguy
complete