Difference between revisions of "Dashboard"
From Wazeopedia
m (fixed double redirect)

 

(15 intermediate revisions by 7 users not shown)
Line 1:
Line 1:
−

==Liens vers My Dashboard==

+
 
+
 
 
 
+
 
 
−

USA/Canada

+

/

 
 
−

[http://www.waze.com/dashboard/ WWW Server My Dashboard]

 
 
 
 
+
 
 
−

Israel

+
 
 
−

[http://www.waze.co.il/dashboard/ IL Server My Dashboard]

+

[:..]

 
 
 
+
 
 
−

tous les autres

 
 
 
−

[http://world.waze.com/dashboard/ WORLD Server My Dashboard]

+
 
 
 
+
 
 
−

=Dashboard=

+

=

−

==My Dashboard==

 
 
 
−

Dans cette section vous trouverez une présentation des données accessible dans "My Dashboard"

 
 
 
−

Dans l'onglet "My Dashboard" vous trouverez les info de votre profil et vos statistiques de conduite. Les données présentées étant privées elles sont accessible seulement si vous êtes connecté  au site web.  Depuis l'Amérique du Nord via www.waze.com et  depuis world.waze.com pour le reste du monde. En vous connectant sur le mauvais site, vos données risque d'être incomplètes.

+
−

 
 
 
−

[[Image:Dashboard3.jpg|700px]]

+

[[:.|]]

 
 
−

Une fois connecté la page du Dashboard affiche quatre sections :

+

:

 
+
 
+
 
+
 
+
 
 
−

==Personal Details==

+
−

La première section , "Personal Details", vous permet de mettre à jour vos données personnelles, d'accéder au tableau des scores et de créer ou rejoindre un groupe de conducteurs.

+
 
+
 
+

' .

 
 
−

[[Image:Personal4.png]]

+

.

 
 
−

==Your Recent Routes==

+

section .

−

La seconde section affiche vos dernier trajets et le lien "show route" vous permet d'afficher le trajet sélectionné dans l'éditeur de carte. ( la date '"Last update" est celle de la dernière mise à jour de la carte LiveMap")

 
−

 
−

[[Image:Routes3.jpg]]

 
 
 
−

Pour plus d'info sur les trajets en archive consulter [http://www.waze.com/wiki/index.php/Editing_your_route_on_the_map#Finding_the_roads_you.27ve_driven cette page encore en Anglais] . Notez qu'il faut jusqu'a 24 heures pour qu'un trajet s'affiche sur votre Dashboard.

+

'.

 
+

'''' .

 
 
−

==Your Rank and Points==

+
−

La troisième section "Your Rank and Points"vous permet de suivre vos contribution à Waze. Chaque ligne détail une activité dans Waze. Une mise à jour des points accumulés est faites chaque nuit, et modifie votre classement qui peut ainsi évolué tout les jours

 
−

 
−

[[Image:Rank3.jpg]]

 
 
 
−

==Optimize your Daily Commute==

+

 

−

La dernière section, "Optimize Your Daily Commute",est encore en développement.

+

== ==

−

+

 

−

[[Image:Image4.jpg]]

+

section, , .

 
+

 

 
+
 
+

 

 
+
 
+

 

 
+
 
+
 
+
 
+

 

 
+
 
+

 

 
+

[[:]]
---
Latest revision as of 20:46, 16 January 2019
| | |
| --- | --- |
| | One or more images on this page requires updates. If you would like to contribute to this content, please consider posting in the US Wiki Discussion forum first to discuss your ideas. |
Waze provides a page for users to see their personal information and statistics inside Waze.
URL link
All users (worldwide) access the dashboard using the following URL: http://waze.com/dashboard/ and it will automatically redirect you to your correct server.
Overview
Inside the My Dashboard page, you will be able to find your Personal Information as well as your User Statistics. The information and statistics offered here are personal, and therefore will be accessible only after you signed into the website.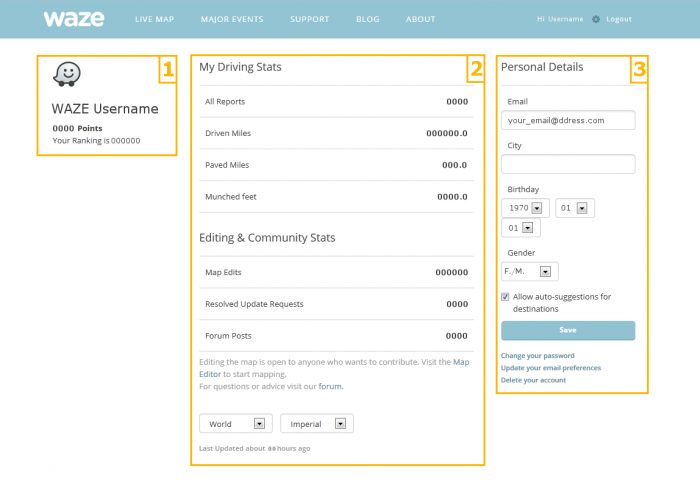 After signing in, you will see that your Dashboard has been divided into three different sections. You will find there either personal information or driving and editing activities inside Waze.
Username, points and rank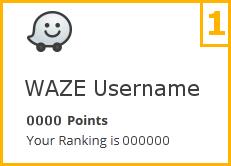 The first section, in addition to your username, displays your points and your ranking. In this section, you will be able to follow your progress and driving activity inside Waze. Each field represents a different type of activity inside Waze. Every night our system will calculate all of the points that you accumulated in all the different fields (basically driving and editing) through the day. Then the system will allocate your points and your new position inside the rank table. Your rank can hence change on a daily basis. Note that as of 2009 , you cannot change your username.
User statistics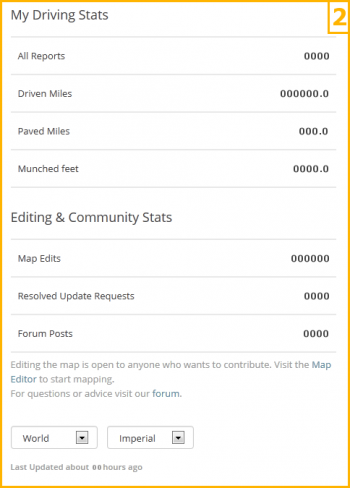 The second section presents your statistics. User statistics are divided into two subsections:
Driving Stats:

All Reports: the number of reports you made from the Waze client application.
Driven Miles/Kilometers: Distance you have driven with the client on tracking your drive. It does not require navigation to be turned on.
Paved Miles/Kilometers: Distance you have used the pave road feature in the client application.
Munched feet/meters: Distance you have driven on unconfirmed roads.
Editing & Community Stats
Note that if you are located in Northern America (USA/Canada) you need to select "USA & Canada" at the bottom of this section and "World" if you are from any other location in the rest of the world. Selecting the incorrect region will give you incorrect information from what you are expecting.
The last drop down box at the bottom of the user statistics section allows you to choose your preferred distance unit.
Selecting Metric will display statistics in kilometers and meters.
Selecting Imperial will display statistics in miles and feet.
Personal details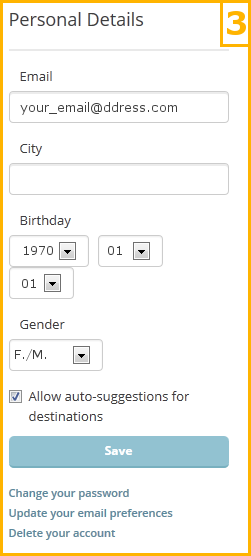 The third section, Personal Details, allows you to change and update your personal details such as account password, email address, location information and birthday.
The Allow auto-suggestions for destinations check box, when checked, will automatically select destinations from your favorites when Waze is started; for example if you have set the "Work" favorites, Waze will suggest it when starting Waze in the morning. Similarly, you will be suggested your "Home" favorite when starting the client application in the late afternoon or in the evening.
Additional functional links are also available at the bottom of this section:
Change your Waze password
Update your email preferences: Waze will send notifications by email based on different events such as events on map issues you reported, global news, offers or recap information about your driving.
Permanently delete your Waze account
After you change any information in this section, click the Save button.