Dashboard
From Wazeopedia
Liens vers My Dashboard
USA/Canada

Israel

tous les autres
Dashboard
My Dashboard
Dans cette section vous trouverez une présentation des données accessible dans "My Dashboard"
Dans l'onglet "My Dashboard" vous trouverez les info de votre profil et vos statistiques de conduite. Les données présentées étant privées elles sont accessible seulement si vous êtes connecté au site web. Depuis l'Amérique du Nord via www.waze.com et depuis world.waze.com pour le reste du monde. En vous connectant sur le mauvais site, vos données risque d'être incomplètes.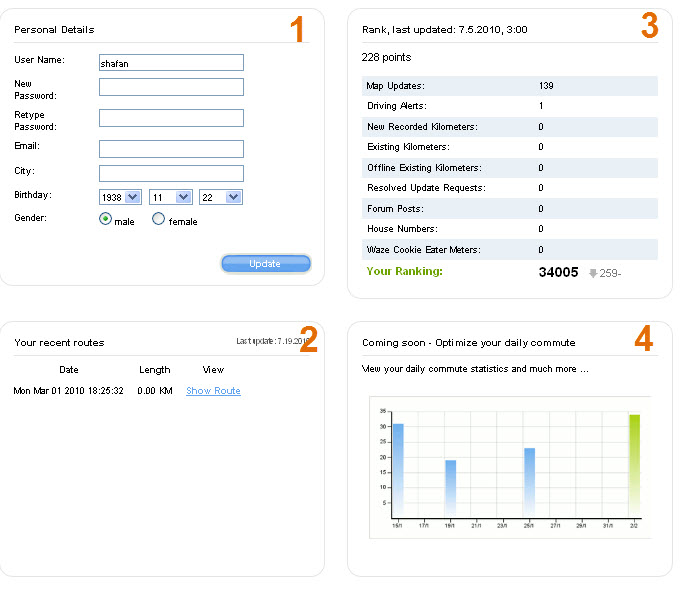 Une fois connecté la page du Dashboard affiche quatre sections :
Personal Details
La première section , "Personal Details", vous permet de mettre à jour vos données personnelles, d'accéder au tableau des scores et de créer ou rejoindre un groupe de conducteurs.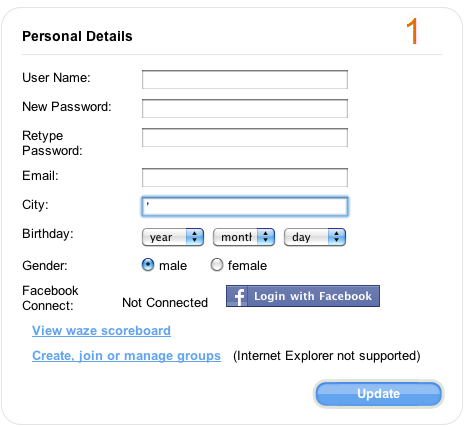 Your Recent Routes
La seconde section affiche vos dernier trajets et le lien "show route" vous permet d'afficher le trajet sélectionné dans l'éditeur de carte. ( la date '"Last update" est celle de la dernière mise à jour de la carte LiveMap")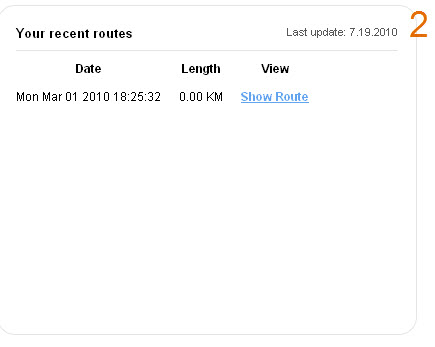 Pour plus d'info sur les trajets en archive consulter cette page encore en Anglais . Notez qu'il faut jusqu'a 24 heures pour qu'un trajet s'affiche sur votre Dashboard.
Your Rank and Points
La troisième section "Your Rank and Points"vous permet de suivre vos contribution à Waze. Chaque ligne détail une activité dans Waze. Une mise à jour des points accumulés est faites chaque nuit, et modifie votre classement qui peut ainsi évolué tout les jours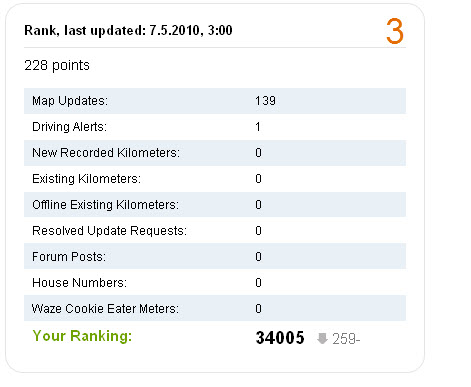 Optimize your Daily Commute
La dernière section, "Optimize Your Daily Commute",est encore en développement.