Difference between revisions of "Places/Gas station"
From Wazeopedia
m

Line 18:
Line 18:
 

[[File:GasStationStop.png|thumbnail|right|Correct Stop Point Location]]

 

[[File:GasStationStop.png|thumbnail|right|Correct Stop Point Location]]

 
 
−

The  [[Places#Area placement|stop point]] for gas stations should be placed on a  [[Road Types (USA)#Parking Lot Road|parking lot road]] that accesses the area only if needed due to restricted turns out of the gas station due to medians, etc. Otherwise, no parking lot road is needed.

+

The  [[Places#Area placement|stop point]] for gas stations should be placed on a  [[Road Types (USA)#Parking Lot Road|parking lot road]] that accesses the area.

 
 
 

=== Category ===

 

=== Category ===
---
Revision as of 03:39, 5 April 2015
The Gas Station Place marks a well-defined area characterized by a fuel pumps and a cashier.
A complete and accurate Gas Station Place allows drivers to search for their favorite brands of fuel, and the best fuel prices near their current location or route. More about the gas station functionality in the client can be found in the Waze Help Center.
Add a Gas Station
Gas Stations Places have usually been imported from a 3rd party provider to the waze map, and may require significant updates to conform to Community standards.
Area or Point
Gas station places should be drawn to the fenceline / curbline and should include all parking lots, convenience store buildings, car washes, etc, that are a part of the same business.
Most stations are small, stretching them to the limits should make them more visible on the client. Also, gas station areas are supposed to suppress some forms of automated reports. By covering the whole area, reports of people who park away from the pumps and get coffee with Waze running, in addition to those who just pump gas will be suppressed.
NOTE: The geometry of places imported from 3rd party sources is not reliable, and usually only represents the rough location of the gas station.
Stop Point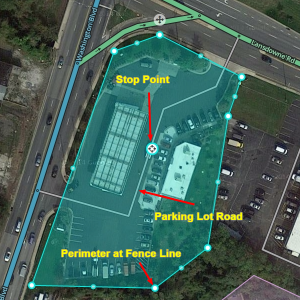 The stop point for gas stations should be placed on a parking lot road that accesses the area.
Category
With the implementation of Places multiple categories may now be assigned to a gas station. The primary (or first) category must be Gas Station, for additional features such as fuel prices and brand name to be enabled.
Additional categories could include such categories: Convenience Store, ATM, Garage / Automotive Shop, or Car Wash. A full-service automotive repair business, or restaurant may merit a separate Place (point).
Name
The name of Gas Station should reflect its brand affiliation, so that drivers can select their preferred brand from the gas station search results in the app.
Alternative names may include the name as provided by the third-party provider, or the name of the associated convenience store.
Special case names
There may be special cases where the name could require additional information beyond the brand name.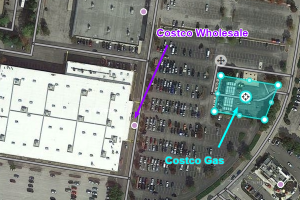 Gas stations affiliated with a larger grocery store, department store, or warehouse store should be mapped as a separate place. These gas stations must also have a differentiated name; for example:
"Costco Gas" vs "Costco Wholesale"
"Giant Gas" vs "Giant Food"
If gas stations in close proximity share a common brand, naming can be differentiated based on access from major roadways, or by unique characteristics; for example:
"Shell - Eastbound" vs. "Shell - Westbound"
"Exxon - Tigermart" vs. "Exxon - 7-Eleven"
Along major interstates, toll-roads and other limited access roadways, rest areas in either direction are often situated across from each other and can confuse drivers reporting prices or searching for destinations. The name should include the brand, then route number and direction of travel, for example:
"Mobil - I-95 Northbound" vs. "Mobil - I-95 Southbound"
Brand
If you know what brand gasoline a station sells, you should select it as the Brand. Stations named after their brands, such as big companies like Shell, 76, Mobil, Chevron, are easy to identify the brand which should be selected. Smaller or non-national stations may be harder to identify. Some are their own brand, and some buy a specific larger nationwide brand of gasoline. Do some research to find out this information. If it isn't clear or information isn't available, leave the field blank, do not select "unbranded".
Big-box and one-stop-type stores like Fred Meyer, Costco, Sams Club, Home Depot, Safeway, Winco, etc., often buy a larger national gas brand. However, to allow drivers to select their preferred retail brand (rather than Brand of gasoline), select the store name as the brand as well.
Lock
To prevent loss of data due to automatic acceptance of submissions from "trusted users," Gas Stations should be locked to at least to level 2, but preferably higher (3+) in areas managed by area managers. On major roads and rest areas, lock levels 5 or higher can be used to protect the underlying gas station infrastructure from inadvertent changes.
Best Practice Examples
Truck Stop / Travel Plaza
Notice in the example below that the truck entrance has a separate and unique entrance from the cars. Also, the restaurant on the property has its own Point Place.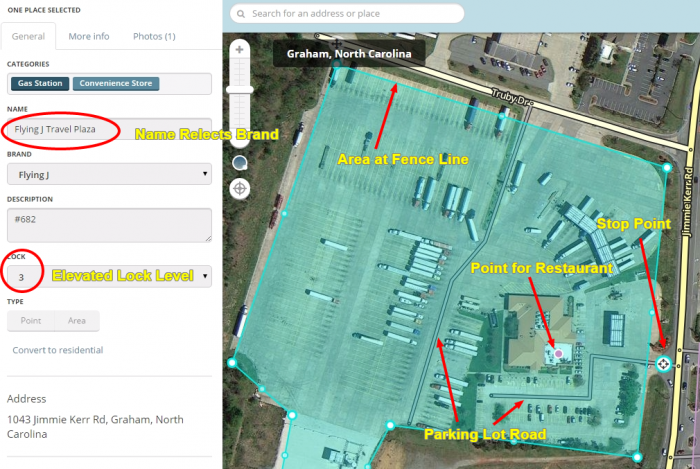 Rest Area Gas Station
Rest areas should have a separate and unique Gas Station Place. If a single rest area has more than one gas plaza, two stations may be used as shown below: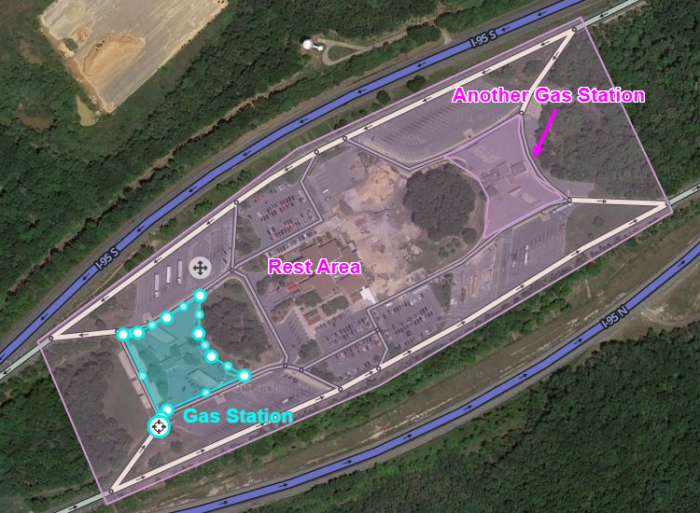 Store Associated Gas Station