Difference between revisions of "File:FixDE-04.jpg"
From Wazeopedia
---
Revision as of 19:15, 5 May 2015
For other uses, see Rank (disambiguation) or Points (disambiguation)

Waze uses a point system to track usage of the the Waze client application, and also when you use the web interface to make edits to the map. Depending upon what actions you perform will determine how many point you earn. These points are currently used to define your status and "rank" in points compared to all other users in Waze.
My Dashboard
You can see your points and rank from the web interface by selecting My Dashboard, or from the client application you can select the Menu, then My Waze, then the Scoreboard. Select the following link for information on the other sections of the My Dashboard page.
From the web interface you will see the following table, through which you can follow your progress and driving activity inside Waze. Each field in the table represents a different activity inside Waze. Every night the Waze system will calculate all the points that you accumulated for each activity through the day. The system will then identify your rank among all other Waze users. Your rank will generally change on a daily basis, until you get very high in the ranking.
NOTE: Occasionally, the system has some delays with updating the points. If you think the points have not updated properly, it's worth checking the status page - http://status.waze.com - to make sure that there are no current issues with the points system. Generally these delays are cleared in a day or so, but may take longer.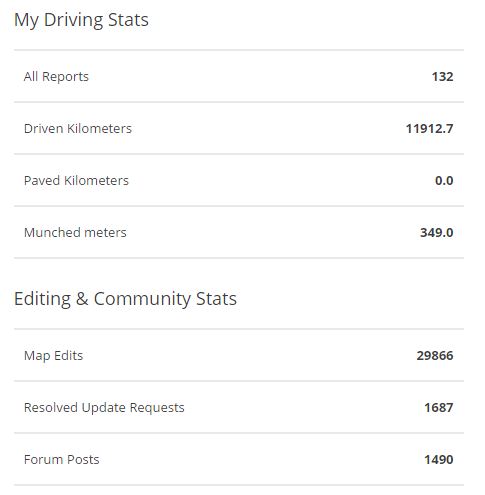 How are points calculated?
You receive a different number of points for each activity as listed in the tables below. Note that the number of points you get for distance related activities is different when measured in miles and in kilometers. In effect you get the same points for the same physical distance. The second table below shows you the translation of the two measurements system.
Based on the current point system, the Wazers who spend time on the web interface updating the map will generally accumulate the most points in any particular week. If your goal is to get a lot more points than you have now, you should consider investigating updating the map for your area.
What Is a Map Edit?
When editing the map in the Waze Map Editor, the points are granted according to the number of changed segments/nodes/other objects. If you select several segments and edit them all, you will get a point for each segment. However, you will not receive more points for changing different properties of the same segment in the same Save.
For instance: Updating the rank of 3 selected segments (in one operation) and then saving will grant you 3 points for changing 3 segments.
Giving unnamed segments a street name in that operation might get you more points in some cases. Allowing/forbidding a turn counts as a change in the node of the turn, so all changes in the same node will be granted only once.
Editing the same object multiple times in a single 24 hour period will only result in one edit for that object in that period. The changes will be saved and made to the map, but your total score will not increase with those additional edits within a 24-hour period.
What's the Difference Between a Change and an Edit?

In the map editor, any change is counted by the counter on the Save icon. A change is not equivalent to an edit. A change is an undo-able action. For example, if you select 10 segments which need their city changed, once you tap Apply, the change counter will increase by one. Why? Because you made one single, undo-able change. If you change one segment by aligning 10 geometry points around a curve, each time you drag and drop a geometry point, that is a change and the change counter increases because you can undo each of these actions.
In the first example, those 10 segments changed all at once will get you credit for 10 edits. In the second example, those 10 changes will get you credit for 1 edit. In the first, you changed 10 different objects. In the second, you changed only a single object.
As a final, extreme example: if you update an existing long segment, give it a new name, change the city, change the road type, the direction, the lock level and elevation, then adjust the location of 100+ geometry points, the save counter may show 160 changes. When you save, that is counted as a single edit to that segment. Other extreme: if you select 200 segments in a city and change them all from Private Rd to Parking Lot, the Save counter will show 1 change.
Also, when saving a large number of changes at once, the system will not credit you with more than 150 points each time you save changes. If you have more than 150 points worth of changes stored up before you save, the edits will be saved to the map, but you only get up to 150 points. Remember that points are not displayed in the save icon, only edits. Therefore when making a large number of edits be aware of the points per edit to prevent doing work that is not credited. To avoid problems simply save more often and with less changes between saves.
For those more interested in the details behind the calculations you can review this forum thread. Additional changes made to the point system are noted in this later forum thread.
The Table of Points
Bonus points and road goodies

There are other ways to earn points. Once you meet the criteria for one of the following tasks below, a message pops up in the Waze client application. The message states you've earned a "candy" that contains a particular number of points. Simply drive over where the candy is located and the points will be added to your total upon Waze's next ranking update. The bonus points can only be earned once unless otherwise noted.
Bonus candies only appear at road junctions and generally get placed on the road along your current path. If for some reason you are unable to drive over the candy, don't worry about it. The candy will come back at another location as you continue to drive, or when you use Waze on another trip. If you do not enable these "Road Goodies" in the Waze client application, you will receive the credits during the next weekly point update.
Other road goodies often coincide with special holidays and will appear in random locations on the map. Each type of candy has a set value and they are typically between 3 and 10 points. Like the bonus candies, you just need to drive over them to collect the points. However if you do not drive over these candies, they will not be relocated in your path in the future like the bonus candies.
| Task | Points | Notes |
| --- | --- | --- |
| Your first 10 miles | 25 | |
| Your first report | 25 | |
| Your first weekend report | 30 | |
| First report of a map problem | 50 | |
| First friend on waze | 200 | Obtainable only by connecting your Facebook account to Waze. One of your Facebook friends has to also connect his/her account to Waze in order to obtain the bonus points. |
| First week1 you drove 2 days | 100 | |
| First week1 you drove 3 days | 200 | |
| Your first map edit | 200 | |
| First week1 you drove 4 days | 300 | |
| Resolve 50 map problems | 500 | |
| Top weekly user in your state | 500 | |
| Complete 500 map edits | 750 | Can be obtained more than once. Candy might not pop up until Waze's ranking servers update. |
| Drive 500 miles within a week1 | 1000 | |
| First five friends on waze | 2000 | See "First friend on waze" |
1 Waze bases a week on a work week which means the week starts on Monday and ends on Sunday.
If you believe you have completed an achievement, but have not seen the bonus candy on the road, sometimes you just need to wait another week for it to catch up in the server. If the achievement was for something that required multiple days, the calendar resets at the beginning of the week on Monday, so the bonus will not happen unless it is between the Monday to Monday cycle. Also note that some bonuses cannot be earned in the same week and require a separate Monday cycle between them.
Waze Points Level (in client app)
Your Rank and Points/Client ranks
Waze ranks
Waze Point Rank
Your total points collected from all types of activities are compared to others in your Country or State depending upon what server you are located. You are also compared to everyone on both servers around the world. This rank is displayed in various locations on the app and in the My Dashboard through the web interface. The highest rank is 1.
Map Editing Rank
When you edit the map, you accumulate specific map edit points. These points are accumulated to change your editing rank and are displayed on the My Dashboard (covered above) as Map Edits. Your editing rank is associated with the cone number you see when editing the map using the web interface. Your rank is also the highest rank to which you may lock an element in the map editor and highest rank of an element that you may edit. Someone with a lower editing rank than the lock on the element cannot edit it. Traffic cameras that you approve are locked to your rank.
| | |
| --- | --- |
| | This is global content, for USA specific rules see here. |
VIP Users
As of January 2013, the VIP status is not available. The Waze team is working on a different approach to this status.
Waze Champs
Waze Champs are fellow Wazers like everyone else who are generally; very experienced using Waze, have tenure, are active in the forums with moderator privileges, contribute to the Waze Wiki, and participate in many Waze related projects.
Most forum questions are answered by these users as they give their time freely to the Waze community. They are selected by Waze developers and are generally in closer direct communication with the Waze development team.
This group also includes Wazers who were invited by Waze to the attended the various Waze Meet-Ups around the globe.
The Waze Champ status only appears in the forums as part of the user's profile history when they post a message.
If for any reason you have a question you don't feel comfortable asking in the main forums, you can send a Private Message (PM) to a Waze Champ who will be happy to answer your question.
Forum badges
The Waze forums use badges to indicate group membership for Waze editors. Some editors may belong to multiple groups, but only one badge can be displayed. Each Waze editor who has more than one badge can select which badge to display in the right pane of their forum posts. The following table identifies the current badges in use in the forums. Membership in these groups requires approval by a country's Self-Management and is applied to the forum by certain Champs or Waze administration.
Forum Badges
Global Champ
Editors selected by Waze management that show long standing contributions to the entire global Waze community. Typically requires having been a Local Champ for some period of time.
Local Champ
Editors selected by Waze management that show long standing contributions to the Waze community for their country. Typically requires having been a Country Manager for some period of time.
Country Manager
Editors who have reached the required map editing rank can apply to be a Country Manager.
State Manager
Editors who have reached the required map editing rank can apply to be a State Manager.
Area Manager
Editors who have reached the required map editing rank can apply to be an Area Manager.
Map Raider
Wiki Master
A group of dedicated volunteers working together with a Waze staff representative to organize, modernize and update the wiki.
Coordinator
Community members who work closely with Waze staff to ensure effective communications between them and the Waze user community.
Expert
Users who are Experts generally focus on a particular area of Waze. There is an Expert Forum focused on these different areas. Originally introduced in this forum entry.
Mentor Global Champ

Knowledgeable Waze editors who mentor new rising editors in the Formal Mentoring program.

There are three types of mentors: regular, Local Champ, and Global Champ.

Mentor Local Champ
Mentor
Localization Global Champ
Given to top Wiki translators who have dedicated a lot of time and effort to making Waze fit into their communities.
Localization Local Champ
Top Localizer
Beta Tester
Membership requires approval by Waze management. Information on applying can be found at the Waze beta site called Centercode.com.
Map Editor Rank 6
Membership is open, but is based on your editing rank.
Map Editor Rank 5
Map Editor Rank 4
Map Editor Rank 3
Map Editor Rank 2
Map Editor Rank 1
Management
Restricted to Waze management employees.
Waze Staff Administrator
Waze employees that manage and interface with Waze editors and users.
File history
Click on a date/time to view the file as it appeared at that time.
File usage
The following file is a duplicate of this file (more details):
There are no pages that use this file.