Texas/MapRaid
From Wazeopedia
Welcome to the Texas Style MapRaid. You have signed up for a MapRaid in rural Texas. This was designed with two goals in mind: to clean up the rural part of a large state while helping you gain experience as a low ranking editor. This raid is designed to help you gain the knowledge of making decisions and looking for the minute things which help Waze route people more efficiently.
Texas is not following the Waze national functional classification system. Instead, it is following the 100% changeover to functional classification. That means a US Hwy which is classified as a minor arterial is a minor highway. All primary streets you come across can be locked at a rank 3. Minor and major highways, you can lock to your level and ask a Texas SM to lock them down.
There will be NO boots on the ground for this MapRaid. Lubbock may have some boots on the ground through mredraider.
You can sign up in Slack
Results
Excellent work from txemt and his team.
Connectivity score is up to 98%
More than 5,200 places updated
~235,000 segments handled
37% deleted.
Please see the discussion on the mapraid forum
Segments
Most County Roads (which are named) can be made as dirt/4x4. Please follow street view and SATIMG. If you're not 100% sure, ask.
FC cross reference
An Interstate, Urban Principal Arterial Freeway & Expressway is a

 Freeway 

Any road that acts, looks, & feels like a freeway should be set to

 Freeway 

road type.
A Principal Arterial-Other is a

 Major Highway 

A Minor Arterial is a

 Minor Highway 

A Collector is a

 Primary Street 

All other roads are to be classified as

 Street 

or

 Off-road / Not maintained 
Some roads may not match current Texas map FC. If this is the case, please change them over. These may have been set to the old FC standards.
Road naming
Interstates = I-XX
US Highway = US-XX
State Highway = SH-XX
State Loop = State Loop XX
State Spur = Spur XX
State Park Road = Park Rd XX
State Recreation Road = Park Rd XX
Farm/Ranch to Market = FM/RM XX
County Road = CR-XX
Private Road = Private Rd XX
Basemap Roads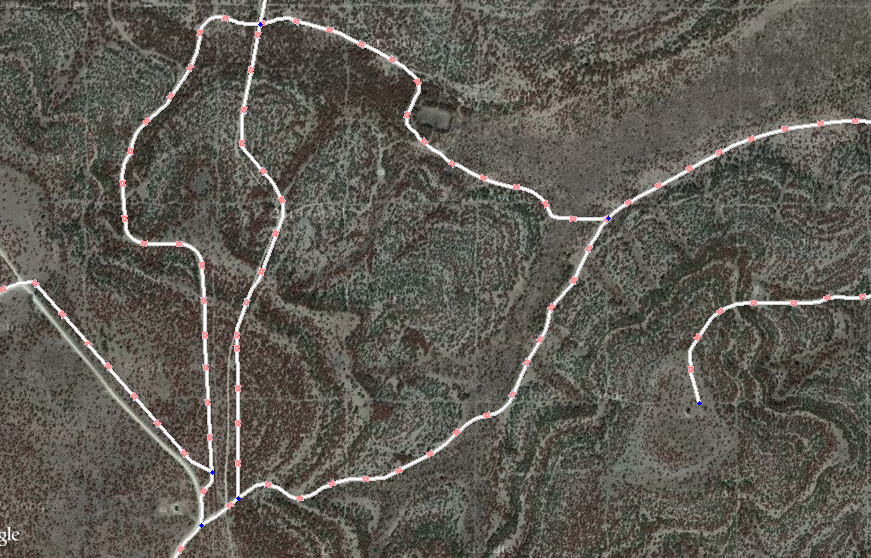 Roads such as those in the image can be deleted. These are typically roads which are on private ranches or farms and are not conducive to Waze. If they are named, you can keep them on the map and turn them into dirt roads.
After cleaning out basemap roads which have connected to other roads, please be sure to go back and clear out all of the nodes.
This will most likely be the most tedious part of the MapRaid. There are a lot of basemap roads in rural Texas.
Railroads in the area may be set to the old standard. Please update these to the current Waze standard.
Places
Most places in the small towns will be gas stations and schools. To find out information about the school, please Google your respective county name with "ISD" after it. If you are editing in Andrews County, Googling "Andrews ISD" would be what you type to find the schools in the county. A lot of Independent School Districts to spill over into surrounding counties, so it may be beneficial to check the next county over, especially for those towns closer to the border. For those who are editing in bigger cities, please adhere to the Places section in the wiki.
Contacts
| Username | Area Managed | Comments | Forum PM |
| --- | --- | --- | --- |
| txemt | US South Central & US Territories Regional Coordinator | Based out of Miami, FL born/lived/travelled through most of Texas | |
| karlrc9911 | CM / SM | Based out of Longview | PM |
| ctpoole | State Manager | Austin | PM |
| jstrangfeld | State Manager | DFW Metroplex | PM |
| randcon | State Manager | Based out of Houston | PM |
| shadoh | State Manager | DFW Metroplex | PM |
Cities
Large towns
Larger towns (Abilene, Amarillo, Lubbock, etc) may have more places than the typical small town. Please update everything in accordance with Texas wiki standards. Make sure all available information is on them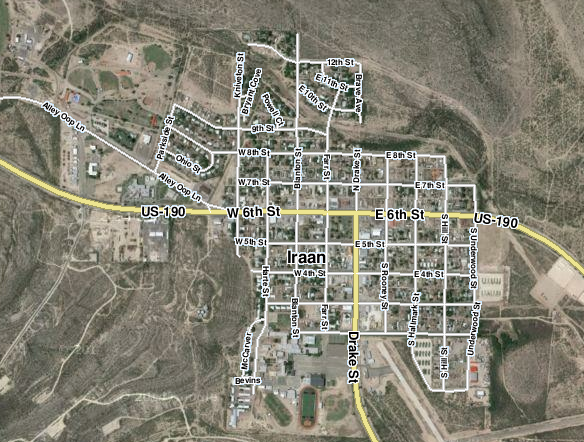 Small Towns
Most towns you will come across are pretty small and very simple to fix.
Use street view to find the city limit signs and make sure they're all correct.
Make sure alternate names also contain the city name on streets with more than one name.
Miscellaneous
If you come across a CR which all of a sudden changes numbers (or name) please leave the node and don't change to the name. Chances are, you've hit the county line. Figuring out county lines is sometimes hard to do when drawing out these areas.
If you see edits by txemt from before 1Jan15, please there is no need to ask or bring it to my attention. Please edit and make any changes you feel need to be made. A lot of those edits may be old and things may have changed from the time they were made until now.
Texas map for functional classification.
For those who are along the border with New Mexico & Oklahoma and think you can edit across the border, please don't.
For the ROW editors, please make sure you're on the NA server when making edits.
Make sure all roads are set to ground level which are not actually overpasses.
Any road which is a main road for a state park can be a  Primary Street . Other roads can be  Street .

In the event you come across a section of FC which all of a sudden changes from one classification to another, then back, please let txemt know, so he can forward it to TxDot.
Groups
MapRaid! Texas Local


Local Champ: txemt (PM)  
Username (rank)
Team Assigned
Comments




karlcr9911(5) [PM] 
01 - Group 1


Machete808(5) [PM] 
01 - Group 1


N4DOG(3) [PM] 
01 - Group 1


SeZAKxing(3) [PM] 
01 - Group 1


young7up(3) [PM] 
01 - Group 1


jbWLP001(2) [PM] 
01 - Group 1
phoenixhawke(2) [PM] 
01 - Group 1
Theateys(2) [PM] 
01 - Group 1
RiveR13(1) [PM] 
01 - Group 1
randcon(4) [PM] 
02 - Group 2



KeepFSUSafe(3) [PM] 
02 - Group 2


MarkStewartSpeedy77(2) [PM] 
02 - Group 2
N714LT(2) [PM] 
02 - Group 2
PressAltandF4(2) [PM] 
02 - Group 2
robertonthego(2) [PM] 
02 - Group 2


TheGreatNizzo(2) [PM] 
02 - Group 2
jdelosa(1) [PM] 
02 - Group 2
txcommuter007(1) [PM] 
02 - Group 2
kudu12323(4) [PM] 
03 - Group 3



jep65(3) [PM] 
03 - Group 3
Nimbus-(3) [PM] 
03 - Group 3


Rooksie(3) [PM] 
03 - Group 3


prosql(2) [PM] 
03 - Group 3


slow_si_2(2) [PM] 
03 - Group 3
wallydury(2) [PM] 
03 - Group 3


keithklee(1) [PM] 
03 - Group 3
purposeguy(3) [PM] 
04 - Group 4



slowpokezzz(3) [PM] 
04 - Group 4
BowlesCR(2) [PM] 
04 - Group 4
KiwiCoolDino(2) [PM] 
04 - Group 4
maxhedrm(2) [PM] 
04 - Group 4
ropaswan(2) [PM] 
04 - Group 4
TimmyVis(2) [PM] 
04 - Group 4


JetLaggedAgain(1) [PM] 
04 - Group 4
NoMo29662(1) [PM] 
04 - Group 4
JFeather60(3) [PM] 
05 - Group 5



Ohmanrayman(3) [PM] 
05 - Group 5
PvilleT(3) [PM] 
05 - Group 5


restless_in_nb(3) [PM] 
05 - Group 5


spaz926(3) [PM] 
05 - Group 5
maxjermo_2(2) [PM] 
05 - Group 5
RoyBob_(2) [PM] 
05 - Group 5
tonytx05(2) [PM] 
05 - Group 5
UltDriver73(2) [PM] 
05 - Group 5
jwe252(3) [PM] 
06 - Group 6



oldbeeg(3) [PM] 
06 - Group 6


ryanh85(3) [PM] 
06 - Group 6


jm6087(2) [PM] 
06 - Group 6
marveler24(2) [PM] 
06 - Group 6
ShadowMasterCM(2) [PM] 
06 - Group 6
wambuli(2) [PM] 
06 - Group 6
whatnt(2) [PM] 
06 - Group 6
SSGForti(1) [PM] 
06 - Group 6
john-cole(3) [PM] 
07 - Group 7



kjg53(3) [PM] 
07 - Group 7
MrByte_OnTheRoad(3) [PM] 
07 - Group 7


Onmywaysir(3) [PM] 
07 - Group 7
kyhtak(2) [PM] 
07 - Group 7
Subliminalowl(2) [PM] 
07 - Group 7
WarhawkTrombone(2) [PM] 
07 - Group 7


jakebutler6(1) [PM] 
07 - Group 7
WhiteShadow77(1) [PM] 
07 - Group 7
Japoro(3) [PM] 
08 - Group 8



johnseab(3) [PM] 
08 - Group 8


SAR85(3) [PM] 
08 - Group 8


subs5(3) [PM] 
08 - Group 8


Tater-Head(3) [PM] 
08 - Group 8


whoaitspete(3) [PM] 
08 - Group 8


Rfrsw101(2) [PM] 
08 - Group 8
tridom01(2) [PM] 
08 - Group 8
TTJustin12(2) [PM] 
08 - Group 8


Le_Mig402(1) [PM] 
08 - Group 8
oso802(1) [PM] 
08 - Group 8
jr1982jr(3) [PM] 
09 - Group 9



mredraider(3) [PM] 
09 - Group 9


mrsmith66(3) [PM] 
09 - Group 9


WilberJulianDuqueOrrego_(3) [PM] 
09 - Group 9


LilSnot(2) [PM] 
09 - Group 9
outdoorliving(2) [PM] 
09 - Group 9
Scrutator(2) [PM] 
09 - Group 9
Twintiggrz(2) [PM] 
09 - Group 9


rhuisking(1) [PM] 
09 - Group 9


Jbrianj(3) [PM] 
10 - Group 10



JustinS83(3) [PM] 
10 - Group 10
mtb2314(3) [PM] 
10 - Group 10
serega_12(3) [PM] 
10 - Group 10


lordmogra(2) [PM] 
10 - Group 10
paulec252(2) [PM] 
10 - Group 10
tchawkeye15(2) [PM] 
10 - Group 10
wahsaabi(2) [PM] 
10 - Group 10
wxmeddler(2) [PM] 
10 - Group 10
richt123(1) [PM] 
10 - Group 10
JButz2(3) [PM] 
11 - Group 11



mudge42(3) [PM] 
11 - Group 11


phil-mtl(3) [PM] 
11 - Group 11


tckma(3) [PM] 
11 - Group 11


lostmrcelophane(2) [PM] 
11 - Group 11
SetApart4Christ(2) [PM] 
11 - Group 11
vaindil(2) [PM] 
11 - Group 11
yepperoni(2) [PM] 
11 - Group 11
TortuousAugur(1) [PM] 
11 - Group 11