Chemin Piéton non routable
From Wazeopedia
---
Outdated translations are marked like this.

We are currently updating the pages to include all regionally different guidelines. If you find inconsistencies, please refer to the English page. Thank you!
Chemin piéton non routable
Le chemin piéton non routable (PB) fait partie des types de route non carrossables. Waze étant un gps pour véhicule motorisé uniquement, ce genre de segment n'est normalement pas utilisé.
Les chemins piétons non routables doivent être raccordés au réseau routier.

Pistes cyclables (RAVEL)
Chemins de randonnée
Allée dans les parc ou forets


Il est toutefois nécessaire d'ajouter de genre de segments si:
la navigation est plus simple en leur présence
la carte est plus claire.
ils permettent de rejoindre un parking ou un zone plus rapidement. Cela permet à Waze de proposer des itinéraires plus rapides pour retrouver votre voiture stationnée.
le segment piéton comporte des destinations avec numéros, utilisez alors les Chemins piétons routables à la place.

Pour plus d'informations, consultez la page des routes non carrossables.

Voir aussi l'infographie
In the following cases, PB's can or should be added to the map:
if navigation and/or if the map is unclear without them.

and for public transport.

Bug: It could lead users to and from a parking lot place, allowing Waze to estimate better walking times to parking lot places. At this moment this doesn't work. To offer this functionality, you should use Walking Trails.
Pedestrian Boardwalks are non-routable (not considered for routing), so unless you connect to an already existing (real) junction node, there will never be a need or reason to split another segment for them. Use Phantom nodes to connect or if the reason is purely visible you could choose not to connect at all.

This road type is not used to add house numbers, if the non-drivable road has destinations use road type walking trail instead. For more information see the page on non-drivable roads.

Propriétés:
| Rue | Ville | Lock |
| --- | --- | --- |
| | | 1 (2) |

Plus d'informations sur les chemins piétons non routables voir la page des routes non carrossables.
Voir comment verrouiller sur la page verrouillage des routes non carrossables.

Zones piétonnes et centres urbains
Ces zones doivent être ajoutées à l'aide de rues privées avec restriction et non pas en chemins piétons non routables.
Attention, si vous ajoutez ces segments aux endroits où ils ne sont pas indispensables à la circulation des véhicules motorisés, vous encouragez les piétons et cyclistes à utiliser Waze (alors que ce n'est pas son but).
En cas de doute, contactez le gestionnaire de zone
Vous pouvez aussi demander sur le forum ou sur Slack
Transport Publics - Taxis
Ne pas utiliser ce type de segments mais utilisez des segments normaux (rue) en y ajoutant les restrictions adéquates. Précédemment on utilisait les chemins piétons pour les transport en communs mais ce n'est plus le cas.

Inutile: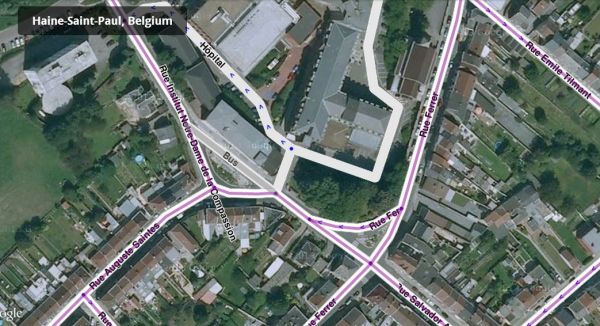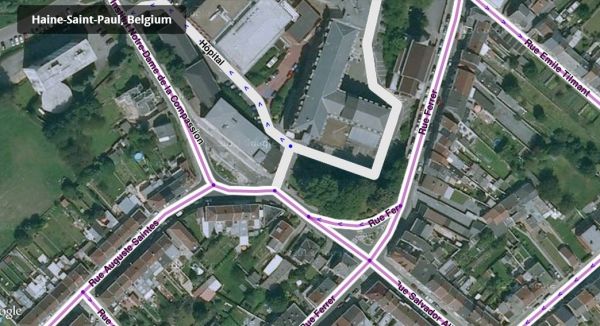 Necessary Pedestrian Boardwalk: