Numéros de maisons
From Wazeopedia
---
Outdated translations are marked like this.

We are currently updating the pages to include all regionally different guidelines. If you find inconsistencies, please refer to the English page. Thank you!
Numéros de maisons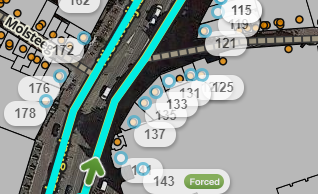 Depuis Novembre 2014 il est possible de rechercher une adresse à l'aide du numéro de maison prélablement encodé dans la base de donnée via l' éditeur de carte.

Il est possible d'ajouter un numéro de maison à toute une série de routes quand un nom de rue et de ville est spécifié.
Ajouter un numéro de maison avec une lettre comme ceci: 123A, 123B,..: Lettre en majuscule et pas de tiret.
Ajouter un numéro de maison avec un "sous numéro" comme ceci: 123-1, 123-2,...: tiret et "sous-numéro".

Source:
En Flandre on utilise le GRB vlaanderen.
Ces différentes cartes sont utilisées avec le script WME OpenMaps.

Ajouter un numéro:
Sélectionnez une rue
Cliquez sur Editer les numéros
Zoomez au minimum jusqu'à zoom=6
Cliquez au centre au dessus sur "ajouter des numéros de rue"
Placer le cercle bleu au centre du bâtiment et entrez le numéro.
Tirez éventuellement une cible si nécessaire vers la rue adéquate par où la maison est accessible.
Cliquez sur enregistrer
Format
Add house numbers with sub letters like 123A, 123B; letter in uppercase and without hyphen
Add house numbers with a sub number like 123-1, 123-2, with a hyphen
At this moment, combinations of sub numbers and letters like 123A-1 are not allowed.
Multiple house numbers at one entrance
When adding multiple house numbers at an entrance, as is the case with apartment buildings, best practice is make lines in such a way that an editor can trace, on the highest zoom level, each number individually.
Alternative is to make use of interpolation if possible: Give the lowest and highest number. This interpolation works only in case they are all even or all odd numbers with a uniform distribution. Use numbers for every difference of 20 maximum (e.g., 1-21 or 16-36, etc. also 16-32 will work)
Erreurs: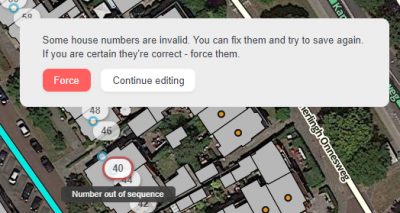 Il est possible de forcer la sauvegarde de certaines erreurs mais pas toutes.
Si il est possible de forcer la sauvegarde, le bouton "forcer" est visible. Cette option n'est disponible qu'à partir de Niveau 2 (L2).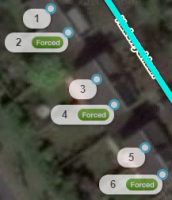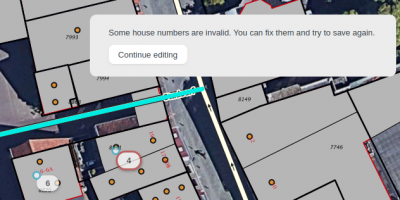 Plus d'information sur la sauvegarde forcée sur le Wazeopedia Global.

The following errors can be forced if you are an editor with Level 2 or higher:
Number too far from segment: House Number is beyond the standard allowed distance from its segment.
Number out of sequence: House Number stop point doesn't align with existing house numbers on the segment.
Number already exists: House Number already exists somewhere on the same selected segments.
Wrong side: House Number doesn't align with other existing ones for odd/even numbering scheme.
Reported issues that might involve house numbers
If the house numbers doesn't come up in the search result but is added to WME, tweak the geometry of the segment to force a map update.

In the rare case the number is never touched (no editor name linked to it), just "nudge" it: move it slightly and save.
Check Google Maps, if necessary adjust the address via a feedback form.
Add a residential place (RPP), this will give a faster result than changing a Google search result.

If the navigation destination shows the proper result, but navigation leads to another part of a road that has the name as an alternative street name, adding an RPP may also be necessary. This is often the case with street names prefixed by a "Road number", see Routing to matching Alternative Street names.
Remarques
Si vous recherchez une adresse avec numéro de maison dans l' application ou la carte en temps réel, Waze utilise prioritairement sa propre base de données et si le numéro n'existe pas, la base de donnée Google Maps.
Informations complémentaires
A lire sur le Wazeopedia Global, division house numbers (en Anglais).