Calamiteitenroutes
From Wazeopedia

We are currently updating the pages to include all regionally different guidelines. If you find inconsistencies, please refer to the English page. Thank you!
Calamiteitenroutes
Calamiteitenroutes in België zijn permanente routes die worden gebruikt om verkeer om te leiden in geval van een afsluiting van de hoofdweg.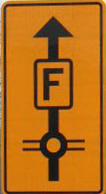 De route identificatie kan als alternatieve naam aan de straat naam toegevoegd worden.

Het weg type moet minstens Minor Highway zijn.

Calamiteitenroute
De Belgische Calamiteitenroutes zijn aangeduid met een enkel karakter, zoals F.
Je vindt meer informatie over Calamiteitenroutes op wegenenverkeer.be.