Vermont/MapRaid SL
From Wazeopedia
| | |
| --- | --- |
| | Vermont Speed Limit Mapraid 2016 ended on 18 Jul 2016 00:00:00 UTC. Please check back here for results and check the Mapraid Forum for mapraid announcements. |
The Vermont Speed Limit Mapraid will be 11 July through 18 July 2016. The participants will be divided into two groups, one for each section of the map. Each group will have both local and senior editors, including designated group leaders. Please direct all questions to your group leaders. The raid hosts will be available across all areas for added support.
Goal
Our primary goal is to put correct speed limits on segments in Vermont, with emphasis on the connecting roads. Please also make basic common-sense edits as you work on the speed limits: Fix errors in elevations, segment locks, bad turns and other obviously wrong information on the segments you are editing, but keep focused on speed limits. If you see bigger problems that can be addressed later, contact your group leader or

record it in this form.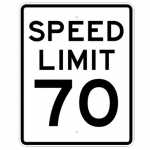 Hosts
Communication
When you are editing in the raid area, please set yourself visible and enable the Live Users layer. We will use Slack Channels If you are not already part of the WazeMapRaid Slack team, please look for your invitation to Slack after mapraid registrations are processed. If you have trouble getting into the Slack team or your group channel, please reach out to one of the MapRaid organizers.
You can also use WME chat. The WME Chat addon is recommended.
Groups
There are two groups on the Vermont raid:
Team 1 will edit the segments in the North half of the state.
Please use THIS LINK to access that area in WME
Team 2 will edit the segments in the South.
Please use THIS LINK to access that area in WME.
Team rosters are posted in the mapraid forum thread, HERE.
Group leaders are Machete808 and whoaitspete in Team 1, PhantomSoul and XXXX in Team 2. Please contact them by PM or in the Slack channel with any issues you encounter.
There will be no overlay for this raid, but most editors can easily define the boundaries by using the Editable Areas layer. Please check to make sure that is checked in the Layers menu.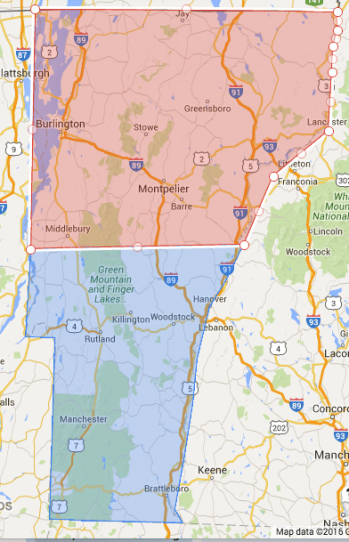 |lede=When you edit any segment during the mapraid, please set the lock level correctly.

Any road of a certain segment type must be locked at least to the rank (level) in the chart below. Roads may be locked higher for protection and special situations (areas with construction, tricky design, frequent mistakes, incorrect images, etc.).
   |title=Statewide
   |Fwy=5
   |Ramp=Highest rank of connected segments
   |MH=3
   |mH=3
   |PS=1 (Auto)
   |Street=1 (Auto)
   |Private=1 (Auto)
   |note=Do Not Mass Edit just to update locks to these standards

}}
Base Map Areas
There are still many areas in Vermont which have not been touched by editors since the "base map" was imported in 2009. Only touch these areas if it is necessary to reach the objectives of this mapraid. If no information is available for setting Speed Limits, and no elevation adjustments are required, do not fix these parts of the map. These areas will be addressed at a later time.
Before setting speed limits on a segment, set the road direction correctly and correct all turns and other obviously incorrect information.
If roads are very bad and very difficult to fix, you may report the problem to a group leader.
Edit Quality and Mass Editing
You are responsible for every edit you make, whether you make it by hand or use a script. Every edit you make should meet the goals of this mapraid AND make a noticeable improvement to the map. Do not make edits simply to gain points without improving the map. If a segment is "good enough" for the waze map, do not edit it.
If it looks like you are making unnecessary edits or hunting for points, you may be banned from this mapraid and from future mapraids. In addition, Waze will throttle your edits and points if you use scripts excessively.

Micro-Doglegs
We use micro-doglegs to control turn- vs. stay/keep/exit instructions. Zoom in very close to see the closely-spaced geometry nodes. Preserve them.
Update Requests (URs)
Some editors have made URs about speed limits they have seen on the road. These all contain the string "mph". If you can find these URs, you can use them to help you set the correct speed limit on that segment.
Other types of URs are not a focus of this mapraid. If you spot a big problem which should be addressed, please let a group leader know.
Road Types, Names, and Functional Classification (FC)
Road type classification is not a focus of this mapraid. Functional Classification updates have been completed for Vermont. If you see an easily fixable problem on the segments you are editing for speed limit, please fix it. If you find a large problem with road type, let a group leader know.
Road Names are not a focus of this map raid. If you see an easily fixable problem on the segments you are already editing, please fix it. If you see any large problems with road naming, please let a group leader know.
Places
Places are not a focus of this mapraid. If you see obviously incorrect Places that will cause incorrect routing, please feel free to fix it. Otherwise, please feel free to ignore Places.
Issues to Address after the MapRaid
Any major issues that need to be addressed will be followed up by local editors after the MapRaid conclusion. Issues such as city name merging, large scale naming (primary or alt), etc, will be handled after the fact. Remember, the concentration is speed limits.
Any issues that require future follow up should be entered on this form.
Issues to Address after the MapRaid
Mapping Resources
Only use Street View and satellite imagery from within Waze, websites from businesses, and the sources listed below. Do not use Google Maps. Do not use Google Maps Street View. Do not use any other online mapping resources.
Warning: If you copy information from unauthorized sources, you may be removed from this mapraid. Also, every segment or place you edited might be removed from the map. Copying information from copyrighted sources is illegal!
VT Mapping Resources
Resources Sheet Check this spreadsheet for links to mapping resources for Vermont cities and towns.
Tools for this mapraid
Basic References
Basic Scripts and Extensions
Advanced Scripts and Extensions
Mapraid edit lists
Spreadsheets and forms are being used to streamline management of various group efforts and track important edits. Below you can find links to use these these forms, sheets, and see the lists.
Results
| | |
| --- | --- |
| | Check back here after the raid is completed to see the results and achievements |
MapRaid Promotions
Some editors really let their bright side out, and let their community skills shine. This is even more evident in a concerted group effort with high-density editing like a MapRaid!. Editors of all ranks working closely with each other and the Champs, really lets us everyone get to know each other, and allows certain editors to be recognized for their skills and effort.
When the Champs see someone consistently editing well, interacting well with the community, and knowledgeable of the various details from the Wiki, they can issue promotions. This can be anything from the size of a managed area, to a rank increase, or even a new role.
| | |
| --- | --- |
| | Watch here for results of promotions during and after the raid. |