Oplaadpaal
From Wazeopedia

We are currently updating the pages to include all regionally different guidelines. If you find inconsistencies, please refer to the English page. Thank you!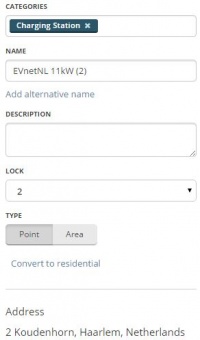 Oplaadpalen zijn Punt Plaatsen in de Garage subcategorie met de volgende eigenschappen:
Categorie: Garage > Oplaadpaal
Naam: Provider maxkW (aantal laadpunten)
Lock: 2, of zo hoog als je eigen level.
Adres: Toevoegen, en indien mogelijk het huisnummer.
Alleen oplaadpalen die beschikbaar zijn voor het publiek mogen op de kaart gebracht worden; geen private oplaadpalen.

Zoeken in de app
Zoeken voor oplaadpalen: Typ het volledige woord Oplaadpaal in het zoekveld van de app en druk op het vergrootglas zoeksymbool. Nu worden de Oplaadpaal locaties die in Waze zijn toegevoegd getoond.



Met onderbord